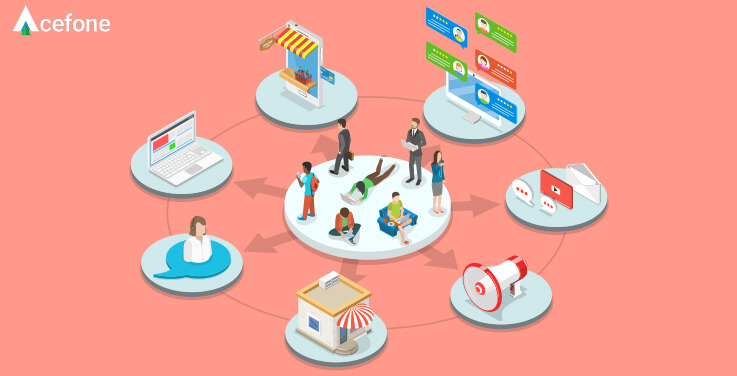 Even in these tough times, where no one knows when the pandemic is going to end, the key to success for the contact centres is still the same—good customer service.
No matter whether they're an SMB or a large enterprise, many organisations delivered exemplary customer service consistently and survived well even in the crisis. This shows the importance of delivering positive customer experiences.
What is an omnichannel contact centre?
Omnichannel contact centres are cloud-based contact centre solutions wherein customers are free to interact with the business across multiple channels, allowing them to switch back and forth among these channels freely. These channels comprise phone calls, chats, SMSes, video conferencing, emails, and social media platforms as well.
These contact centres offer superior customer service that not only allows you to successfully capture more leads but it also helps with customer retention. Not just that, they make work easier for representatives as well, considering that they can deliver seamless customer experiences irrespective of the platform the customer contacts them from. 
What is the difference between omnichannel contact centres and multichannel contact centres?
A multichannel contact centre is a customer services approach that includes multiple communication channels such as text, voice, website, social media and enables communication where customers spend their most time. Companies these days are shifting towards multichannel options for their contact centres such as SMSes, social media, etc. 
But, not many contact centres are using omnichannel yet. 
The main difference between both models is that of integration. When multichannel contact centres receive any query from a customer, they often assign it to an agent. The agent answers the query through a phone call or digital channels such as text, email and social media. 
However, these channels often work in silos. Thus, the agent won't have any knowledge of the customer's previous interactions with other agents that may have happened via other channels. This does not help in providing seamless customer service as, should the agent require, they would not be able to access important information 
Au contraire, in the case of an omnichannel contact centre, all customer interactions across various channels are integrated into one platform. All customer history and background information is available to the agent for every conversation.
As per the Intelligent Customer Engagement Research conducted in 2019-20 by Nemertes, a study of 518 organisations stated that the use of omnichannel contact centres increased from 8% to 31% from 2016 to 2019.  
How does an omnichannel contact centre provide better customer service
In the era of smart technology, businesses cannot fail at delivering smart and seamless customer experiences. An omnichannel contact centre is a sure-shot way to do so. Not only are you able to reach clients via platforms of their choices, you're also able to service them through channels that they prefer. 
So, if you have a customer reach out to you via email, then follow up on social media, and then ask for a resolution via WhatsApp? No problem! Your agents will always be in the know of previous interactions with other agents and the conversation will flow butter smooth.
You will be known for your professionalism, your consideration towards your customers, and your reliability.
Let's discuss some of the best ways in which an omnichannel contact centre provides better customer service to businesses.
1. Gather customer data and insights
Whether it's small or large, every business knows the importance of customer data and insights. Using the omnichannel approach, you can have a better understanding of your customer's demands and behaviour.  This understanding will help you to deliver the best customer service to your customers.
Being a unified system, an omnichannel contact centre is able to gather customer data on one dashboard. You can set 10+ KPIs and monitor various metrics. For instance, if you're wondering which service or product on your website gets the most number of clicks, you'll easily be able to identify the same via detailed and visually appealing reports.
When you have all the customer insights in one place, you can create better and effective business strategies. Needless to say, when you're deciding on marketing strategies, these insights play an influential role.
Omnichannel solutions follow client interactions across all channels and collect vital data. This data is helpful in identifying trends and patterns, eventually enabling proactive discovery of issues and effective resolution. This results in effortless communication along with a better customer rating and brand reputation. 
2. Intelligent routing
The omnichannel approach integrates your cloud-backed phone system with Customer Relationship Management (CRM) tools. These tools collect all customer data and information from all the previous interactions. This data helps businesses set intelligent routing strategies that ensures clients are connected to the right agents in a quick and efficient manner. 
3. Improves customer experience
As the world moves towards new and advanced innovations every day, customer expectations are also increasing accordingly. Businesses should focus majorly on understanding customers' needs and expectations in-depth. Once you have the data, you need to convert these insights into actions. 
Your business strategies should meet both––your business objectives and customer expectations. Through omnichannel cloud-based solutions that offer actionable insights, it's easier to achieve the same while proactively eliminating bottlenecks. 
These insights will help you determine customer behaviour so that you accordingly tailor your offerings and provide the best customer experience to your audience.
Omnichannel contact centres allow your customers to engage using any device. In this way, you can focus on retention and enhance the emotional connect between the company and the customers. 
4. Engage with customers in real-time
Customers expect their queries to be answered as soon as possible. And it is your duty to ensure first call resolution. If you fail to provide real-time answers to their queries, your customers may be inclined to switch to a competitor. 
Via omnichannel contact centres, you can engage with your customers in real-time through chats, videos, co-browsing and screen-sharing as well. Not just that, you can interact with them via irrespective of their and your device.  
Providing real-time solutions to your customers creates a good impression not just on your existing audience base but also on potential clients. This is one of the best ways to enhance your organic word-of-mouth marketing efforts. 
Summing it up
In the customer service sector, omnichannel contact centre will be the trend in the upcoming decades. It reduces the workload of the contact centre agents, improves first call resolution, thereby enhancing customer satisfaction with complete efficiency. In this approach, all the communication channels are kept open until the customer's issues get resolved. 
Omnichannel has been proved to be the faster, simpler, and more customer-friendly approach in providing better customer service to businesses of all sizes. 

Himani is a content writer at Acefone. She is an avid blogger and Youtuber as well. She loves to explore the miraculous world of technology. Connect with her on Linkedin
https://www.acefone.com/blog/wp-content/uploads/2021/05/how-omnichannel-provides-better-customer-service-to-smbs-and-enterprise.jpg
376
737
Himani
https://www.acefone.com/blog/images_acefone/logo.png
Himani
2021-05-03 05:34:00
2023-03-21 08:27:48
How An Omnichannel Contact Centre Provides Better Customer Services To SMBs & Large Enterprises?