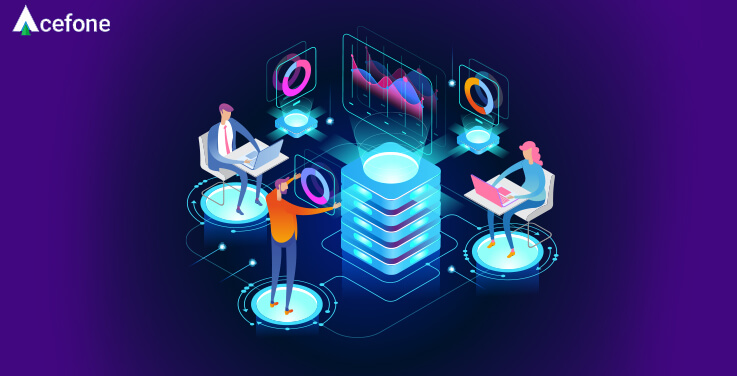 The current marketplace scenario is highly competitive. It isn't surprising then that businesses are leaving no stone unturned to prove their worth and stand out in the crowd. 
Amongst the several other factors that define a competitive and reliable brand, delivering contextual customer experiences is now considered one of the most important factors. You should look for different ways to strike the right chord among your target audience and leave a positive impression on them. 
This cannot be accomplished simply by fulfilling their momentary requirements. You should be able to go the extra mile and predict your customer's future needs. This proactiveness will help you differentiate yourself from others and earn a competitive edge. 
While there are many tools that can be used to analyse customer trends, deriving intuitive insights from existing customer data is important. Predictive analytics is one method that allows you to zero in on future customer demands from their past behavioural trends.
So, how well can predictive analytics make a difference? Let's read on to find out.
What should you know about predictive analytics?
The global predictive analytics market size was valued at $7.32 billion in 2019. It is estimated to reach $35.45 billion by the year 2027. This growth for the forecast period is at a CAGR of 21.9%.
Predictive analytics, as the term signifies, helps in predicting future events based on the analysis of historical data. Simply put, historical customer data is comprehensively analysed on par with the existing data, allowing you to predict the happenings of the future. 
Consider you have a typical contact centre, where several customers contact your staff every day. Your contact centre deploys a Customer Relationship Management (CRM) tool that houses all the customer data. This tremendous amount of data is refined and studied with the current trends of your customers. 
For example, you may try understanding the purchase behaviour of your customers in the past and try interpreting the changes that have happened to date. These changes will, in turn, enable you to predict customer personas of the future. So, how does this help you?
These insights will help you modify your products and services basis of customer preferences. They also help you understand the current and future demands of your customers. Thus, you're able to improvise your offerings in a better fashion. 
How does predictive analytics work?
The first step in predictive analytics is to define your goal. For example, if you wish to deliver better customer experiences through your contact centre, fix that as your goal and start looking for relevant data.
The major sources of information will include your CRM or any other data repositories you may be maintaining. Ideally, the customer information should include their purchase and transaction history, feedback, and demands. A thorough data mining process will help you relevant fetch data and place it in one common platform for the primary analysis. 
A predictive analytics software performs the next and most important step. This software mines through all the raw data and derives predictive insights. These insights are then presented in a simple fashion which enables you to easily comprehend the results on par with your business objective. Thus, you're empowered to make better business decisions.
The final step is to take actionable steps based on the trends and patterns obtained from the data––identify opportunities and utilise them appropriately. This will enable you to proactively check for upcoming customer trends and stay on par with the competition.
How can predictive analytics boost customer experiences?
Contact centres are the fuel of any business. They play an essential role in bridging communication gaps with customers and get companies up and running. 
Here are a few ways predictive analytics can make all the difference for your business.
1. Help track unhappy customers
In a typical contact centre, closely tracking unhappy customers is as important as earning satisfied customers. This may not be possible manually. Recording every call, monitoring conversations daily, and deriving insights from them can be a herculean task. 
Using predictive analytics can, however, ease this complete process. Predictive analytics can easily track every customer, the number of calls they have made, the type of expressions they have used,  competitor mentions, and any mentions of price bargains among several other capabilities. 
This tracking approach helps differentiate a happy customer from an unhappy one. 
Predictive analytics provide you with a complete list of unhappy customers, enabling you to use specific approaches to reach out to them. You can then offer special discounts and offers and try to resolve their issue to meet their needs. This takes us to the next point.
2. Boosts customer retention
When you have a list of unhappy customers, your capability to retain them is endless. You can target this set of customers by sending personalised messages with product updates or promotions they may be interested in. You can also make them feel special by recommending a product based on their previous purchase history through a call. 
Moreover, you can have your supervisor follow up with a call and enquire if their issues have been resolved. The client can rest assured that their concerns have been acknowledged. This will make them feel noticed, thereby motivating them to return to your brand rather than moving to another.
3. Helps identify customer sentiment
Note that a particular customer may not express their sentiments over a call alone. They may be vocal over other mediums of communication while not saying anything to your agent. Therefore, you mustn't stop mining at calling data alone.
Your customers may post their reviews, feedback, or snippets of their experiences on social media platforms. Your method of predictive analytics should be able to derive data from all these channels. 
Predictive analytics helps with customer sentiment analysis. It enables you to identify problematic instances from enormous data wherein customers have expressed concerns about your brand.
When your contact centre representatives are equipped with this information, it helps them handle these customers carefully. Further, your agents can use strategies to pacify the unhappy customers and alleviate their concerns, thereby boosting customer satisfaction. 
4. Allows better customer lifestyle predictions
Predictive analytics make your brand proactive. It closely monitors customer browsing and purchase history and compares it with their current browsing activities. Based on this then you get invaluable insights about when your customer may need help from your agents. 
This enables you to proactively reach out to customers and help them move a step further in the sales funnel. For example, if through predictive analytics, you find that a customer is unable to locate the cart or find a product on your page, your agent can simply reach out to them and resolve the issue. 
This will ensure that you do not miss out on prospects and also keep your customer happy.
5. Improves customer experiences
When you can predict customer needs and then be there for them, you're bound to have a happy clientele. After all, they're getting help even before they realise it.
On the other side, you can forecast bottlenecks from your customer's point of view and rectify them promptly, ensuring that you're solving issues proactively as you go. All these factors result in improved customer experiences, thereby increasing word-of-mouth referrals.
Thus, not only do you enjoy improved customer retention, but it's also easy for you to get new leads without having to invest too much time, money, or effort. Quite a win-win, we'd say.
Wrapping up
The delivery of customer experiences through contact centres is time-bound. The quicker your agent can resolve customer concerns, the better your company's customer retention will be. 
Predictive analytics aids you in fulfilling this important requirement. It enables you to predict customer needs and problems and allows you to attend to them before these problems escalate into issues that hamper your reputation and eventually, lead to losses.

Olivia is an outgoing person who enjoys writing, is an SEO enthusiast, and often interacts with others in intellectual conversations. She enjoys listening to music in her free time. Connect with her on Linkedin
https://www.acefone.com/blog/wp-content/uploads/2021/05/5-ways-predictive-analytics-is-improving-customer-experiences.jpg
376
737
Olivia Trott
https://www.acefone.com/blog/images_acefone/logo.png
Olivia Trott
2021-05-12 05:22:29
2023-03-21 08:23:38
Future CX: The Rise of Predictive Analytics