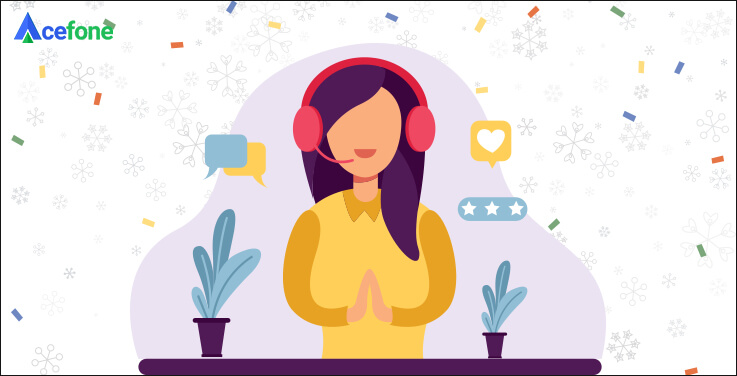 Christmas and New Year are right around the corner. While the pandemic has added a level of uncertainty to this holiday season, contact centres will still have to be prepared to handle a surge in calls. 
This time of the year is certainly like a double-edged sword for the call centres. Not only does the demand for products and services increase, but there's also an uptick in the inbound call volume. This scenario can be overwhelming for business stakeholders.
Peak seasonal times in contact centres are all about long call queues, increased amount of data from social media channels, like comments and reviews, and elevated sales through telephone calls and websites. 
Undoubtedly, contact centres, especially those that are associated with e-commerce and retail, find themselves grappling with peak incoming traffic. What matters most, though, is turning these callers into loyal customers.
So, how do you begin channelising the inflow of prospects to your call centre? Let us understand.
Begin with analysing the most recent trends and needs of your target audience. Learn more about customer personas based on demography, income, gender, and age. Categorise their expectations about the following aspects:
Average call waiting time

Most preferred communication channels

Expected response times

Level of adaptability to use of self-service tools
This information will give you a sneak peek into your customer expectations and any changes that you may have to make in your call centre.
Having said that, here are a few things you should be doing to get your call centre fully equipped to face the seasonal demand.
1. Analyse and forecast the demand
According to this survey by Statista,  consumers in the UK begin festive shopping in the second half of November and the first half of December. In 2019, 21% of shoppers began their purchasing spree between December 1-15.  
Forecasting the estimated amount of calls can help your contact centre be prepared to face the peak times. Forecasting should be based on data from previous years. 
This data should not only include the number of calls received by your call centre but also traffic received through social media channels. Insights that you obtain through this data and industry projections will help you plan staffing to handle calls and social media channels accordingly.
Try launching an online survey to ask your customers about their experiences with your brand during the previous holiday season. Also, ensure that you conduct a one-on-one feedback session with your call centre agents to obtain their views. Your agents work in the frontline and are the first to be informed about any glitches in the process workflows. 
Accumulate and categorise all these inputs and then deliver personalised experiences for your customers this festive season.
2. Expand your staffing
Analysing data from different sources helps you understand your staffing needs better. Do not wait till the last minute to expand your support team. Keep in mind that new hires will need training and time to adapt to the ways of your contact centre. Give them that time and be fully equipped to meanwhile handle calls in peak times.
Another effective way to make the most of new hires is tagging experienced agents with these teams. This way they will learn effective and efficient methods of handling calls. 
Furthermore, customers expect around-the-clock availability across time zones. You should make sure that your agent pool is available across demographics and time zones.
3. Offer omnichannel support
Providing omnichannel support to your customers comes with its advantages. With your contact centre queues brimming with customers, redirecting a few to other channels like email, social media, or messaging is not a bad idea. 
What you should be taking care of is that you offer: an omnichannel and consistent experience across these channels. 
It is important that these channels be synchronised so that returning customers can start from where they began rather than beginning all over again. Remember, it is holiday time and your customers are likely to become annoyed even faster!
Have a competent Interactive Voice Response (IVR) system in place. This system should be updated and in alignment with your seasonal service offerings. An IVR system can help offer self-service options to your customers and this can take care of a major part of the long call queue. 
Though channelising the number of calls received in call centres is a good way to handle peak times, you must deliver the same quality of services across all the channels you use. 
4. Make use of technology
Yet another important aspect to cracking this peak time is being equipped with the right technology and tools. Check if you have sufficient systems, hardware, and software. Request additional infrastructure if there is a need.
Again, ensure that your agents have access to tools that makes their work-life easier. For example, an integration with a CRM system or any other customer database can help them fetch customer information in a snap. Furthermore, call transferring options allow them to get help from their superiors in case of urgency.
You may also try incorporating call back options. The call back tool enables agents to handle large call volumes by scheduling a call to your customers at a convenient time. It helps decrease the average call abandonment and controls the waiting time. 
Furthermore, though customers are not provided with a resolution for their query, they disconnect with the assurance that their concern has been noticed. This results in a pleasant customer experience. 
5. Pay attention to promotions
This time of the year is ideal to offer discounts and special coupons. However, you must plan these promotions well in advance and begin spreading the word about them. This will help attract the right type of customers around the festive time. You should also be prepared to face this increase in the demand for products tagged in these promotions.
Along with that, your agents should be provided with details about upselling and cross-selling these promotions. Sufficient training about these offerings like pricing information, size, colour, shipping, and availability along with appropriate scripts they will need to use is required to hit the nail during this season and boost revenue.
6. Dive into quality monitoring
You may be monitoring and tracking your calls regularly but you must pay extra attention during peak times. On-going measurement of call centre analytics will help you determine if your plans for the festive season are going right or not. It will also help you identify bottlenecks at the appropriate time and fix them. 
In addition to calculating the average call waiting time and call handling time, advanced techniques help judge the many moods of customers during voice interactions. 
For example, speech analytic tools search for specific keywords to understand customer behaviour. If the customer uses words like "cancel" or "drop", the system may prompt the agent to offer a special discount or gift to reduce the possibility of losing the customer. This approach helps handle frustrated customers during heavy call inflow.
7. Effectively manage your inventory
When you are expecting demand for your products, it is a given that you will stock up enough inventory to be able to serve your customers. Ensure that you deliver your products on time. If not, make sure that you handle delayed items and backorders with utmost care.
This will determine whether your customers will remain with you even after the festive season is over or not. Make sure that supervisors have a hold on the status of the inventory. Also, agents handling calls should be updated with the inventory status so that they can inform the customers about the availability of products.
Parting words
Planning and handling the festive season can be a herculean task for a contact centre. There are several nuances that, if ignored, may harm the reputation of your brand. 
Keep in mind to always be proactive and not reactive––stock up before you run out of inventory, reach out to customers for feedback before they call with a complaint, and so forth.
Hopefully, these points will provide a glimpse into a few aspects that should be taken care of while planning for the holiday season.

Olivia is an outgoing person who enjoys writing, is an SEO enthusiast, and often interacts with others in intellectual conversations. She enjoys listening to music in her free time. Connect with her on Linkedin
https://www.acefone.com/blog/wp-content/uploads/2020/12/preparing-your-call-centre-this-holiday-season.jpg
376
737
Olivia Trott
https://www.acefone.com/blog/images_acefone/logo.png
Olivia Trott
2020-12-22 10:30:36
2023-03-24 11:08:51
Preparing Your Contact Centre For The Holiday Season