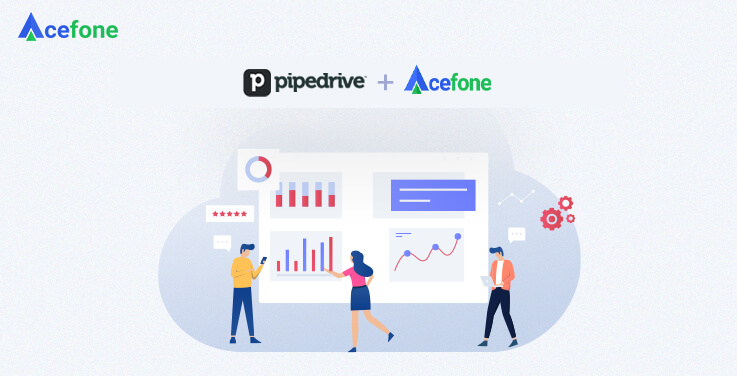 Laser-focused. The kind of approach that customer interactions require in a highly competitive landscape.
Today, every organisation ensures a sophisticated experience for all its customers. They also find new ways to streamline their work processes for the same. Thus, every now and then you'll hear about new tools and technologies being introduced in the market to polish customer service and experience. 
In this race to succeed, businesses not only need to provide their customers with an excellent experience every time but also have to equip agents with all the necessary tools. 
This is where integrations, like the Acefone and Pipedrive one, comes into play. But before we talk about its combined power, let's see what both of them offer individually.
Acefone
Acefone, a leading cloud communication provider, delivers consistent, uninterrupted and seamless communication with customers. Its cloud phone system comes loaded with essential features like IVR, analytical reports, multiple call routing strategies, multi-device access, data security, 99.99% uptime, and more to elevate your business communications. 
With its budget-friendly plans, Acefone caters to every business—regardless of their industry or size—that requires solutions like hosted phone systems, free phone numbers, or contact centre solutions.
Pipedrive
Pipedrive is one of the few customer relationship management or CRM software designed for the growth of salespeople along with the organisation. With its intuitive and intelligent portal, it automatically tracks and organises calls and emails, and even syncs them with your calendar across multiple devices. 
It is a great tool to visualise your entire sales process, analyse each customer interaction, and get a lot more done with your sales team. It not only makes sales more efficient for the agents but also provides deep data insights to measure your company's performance against set goals.
So, what happens when you bring these two giants together? You get an integration like never before!
You will be able to harness the power of the cloud in each of your sales interactions. You wouldn't only be making better business decisions but will elevate your productivity to new heights. 
Let's take a closer look at the benefits that this integration will bring you.
1. Just one click to call your customers
Click-to-call, as it is commonly referred to, is a convenient feature that you can provide your sales team with. While you look at the customer's details on your Pipedrive CRM, you don't have to pick the phone and dial the number manually. Instead, just press the click-to-call button and connect to them with the reliability of Acefone's communication.

2. A schedule for your follow-ups
Most times, one call is not enough to satisfy your customer. A follow-up can ensure the best solution to their problems. While Pipedrive's easy-to-use portal helps you to schedule a call based on your customers' preference, Acefone's intelligent solution will save all the details for the follow-up. Your agents will never miss out on any details, even if the follow-up is taken by someone else.

3. Lightning-fast setup
Setting up your phone system can be tiring. Installing the software and making sure everything is in sync is even more hectic. Well, fret no more. Acefone is completely cloud-based. This means that there is no need to set up any physical hardware at your premises, and you can use any device of your choice. To add to it, Pipedrive integration with Acefone also takes just a few simple clicks. You will be ready to serve your customers within minutes.

4. As smooth as butter
Gone are the days when managing your leads and contacts was a dedicated task. Your agents will thank you when they will be able to add or update contacts, switch screens and save follow-up details after every call with just a few simple clicks. Help them save time and improve your organisation's productivity significantly.

5. Eagle's eye on activities
Worried that you will not be able to keep track of everything when there is so much going on? Well, just don't. With the Acefone + Pipedrive integration, both managers and agents can easily keep track of all call activities. You can even retrieve critical records from your detailed CRM call logs to evaluate campaigns and make better decisions.

6. Pop-up to success
To add a cherry on top, you also get CTI pop-ups with your Acefone and Pipedrive integration. So, if your agents are busy working and don't hear the phone ringing, they will be notified on their screens as well. In addition, these little pop-ups will also provide your agent with all the information they need before picking up the call. This includes, but is not limited to, customer name and phone number, history of previous interactions, call notes if any, who attended the last call, etc

A powerful duo
Both Acefone and Pipedrive are excellent additions to your arsenal of business tools. So why settle for one when you can have both? 
A cloud communication system and a CRM are both necessities of any business with the aim of providing unforgettable customer service. Your interactions need to stand out if you want to stay in the competition to be the best. To do that, you must ensure that your agents are equipped with the right tools.
Unlock the full potential of your sales team and provide your customers with an experience that they remember. This is the reason why the Acefone + Pipedrive integration exists. It is a deal that you should not miss out on. 
We've already told you about the benefits of the Acefone and Pipedrive integration. Now you have to make a choice. Or someone else will.
To get in touch with Acefone's experts, and find out the perfect cloud solution for your business, get in touch with us at 0800-084-3663 or just drop us an email at [email protected].

Ratnam is an SEO enthusiast and content writer working as a Digital Marketer with Acefone. He is fond of traveling and new experiences. He is a huge Marvel fan and is always open to learning.
https://www.acefone.com/blog/wp-content/uploads/2021/08/Acefone-pipedrive-integration.jpg
376
737
Ratnam Sinha
https://www.acefone.com/blog/images_acefone/logo.png
Ratnam Sinha
2021-08-23 11:48:29
2023-02-22 10:23:16
Acefone + Pipedrive Integration: What it Brings to the Table