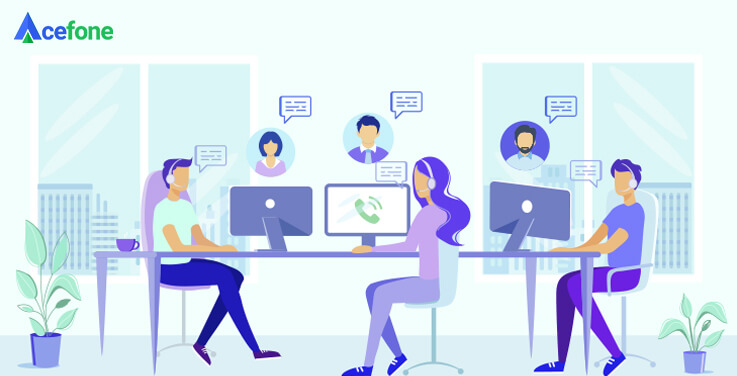 They say: "Don't fix it if it ain't broke."
Taking a reactive approach, when it comes to customer service, is one of the biggest mistakes that companies make. Companies have, for long, lived with the notion that customer service is essentially the process of responding or reacting to a customer's requests. However, this couldn't be farther from the truth. 
Customer demands need to be discovered by the brand itself. Not being proactive results in missed opportunities, consequently leading to economic losses, as well. 
Companies, however, are slowly coming to realise the importance of farsightedness in managing customer demands. And modern outbound contact centre solutions are helping them make this switch in their approach.
VoIP and business communication-oriented contact centre solutions, in fact, can play a major role in driving customer acquisition as well and not just servicing requests instead.
But what exactly are outbound contact centre solutions and what role do they play in effective customer service and business communication? 
These are, basically, organisational operations which involve making outgoing calls to customers, both existing and prospective ones. These are unlike inbound business communication, wherein consumers call up a business to place a service request.
Including outgoing calls in their business communications toolkit on an ongoing basis helps organisations tremendously. It helps them scout for additional talent, conduct periodic surveys and research, proactively notify consumers about new launches, and much more.
"The days of waiting for a customer to put in the efforts and express their desires and needs are passé. Being proactive is near indispensable in this regard for an organisation, no matter the brand or the sector it operates in."
Following are five important themes and ideas for organisations seeking implementation of their outbound call centre to be cognisant of. These ideas help with business communication and ensure viable customer service more broadly –
1. Seek the unknown yet important:
Hands down, one of the biggest advantages of a well-implemented outbound contact centre solution is that it allows businesses and brands to actively seek feedback and input from their customers. 
It helps organisations stay in touch with the real concerns of their consumers and starts showing up in their decision making as well, with lowered losses. Proactively reaching out to consumers helps businesses avoid this fate and at the same time, it helps them gain rather valuable insights as well.
2. Accounting for overreach:
There are two important things an organisation needs to keep in mind before it embraces such a business communication solution. Firstly, there are increasingly strict telecom rules about a Do Not Disturb (DND) registry in most countries. Businesses must make sure to not breach those laws as they may be.

Secondly, it's equally vital that you are respectful of the fact that such customer service methods don't breach the lines of spamming a customer. Always remember the difference between being there for someone and piling onto them.
3. Advanced tools at your disposal:
These days most organisations are increasingly turning to advanced cloud-based technologies like VoIP and modern outbound contact centre solutions.
Not only do they make it cost-efficient to run such an operation but they allow for the executives to be more productive as well by empowering them with call analysis, call routing, call scheduling, automated responses, and other attractive features.
4. Supercharge your business:
Outbound contact centre solutions not only help an organisation manage and gather consumer data better, but they also make other verticals of a business vastly efficient. They use AI and real-time analysis to predict the most efficient means of matching an agent with the customer once they've responded.
For example, one such software known as diallers can help eliminate costs and enhance productivity by automating a large segment of the work. The possibilities here are essentially limitless.
5. Be data smart:
An important aspect which organisations tend to underplay is that outbound communication, especially when done at a scale, can generate heaps of data. If this data is captured, stored, and processed well, it can become an excellent source of valuable insights into consumer behaviour and customer needs.
Add to it the fact that such communication is proactive, this set of data and insights is likely to be far more valuable and actionable than ordinary, generic data gathering exercises. 
There's an aspect to outbound business communication that organisations need to carefully account for before they adopt it at scale.
Firstly, methods like robocalls, spam calls, etc. have given this practice a rather bad reputation. There are some customers who completely refuse to engage with such outbound solutions and this can create some roadblocks. This makes it all the more important to avoid spamming consumers, respect their time, use advanced tools to appropriately schedule and structure such calls.
A final aspect of such a solution is that it can be integrated with the organisation's existing customer service tools. As mentioned earlier, the data generated can be integrated with the company's existing Customer Relation Management (CRM) solution.
Similarly, smart analysis tools, such as outbound contact centre solutions, allow for pre-scheduled call logs, predictive calling, and so much more. All of this can come together to elevate the organisation's customer service and business communication standards quite significantly, at a relatively insignificant cost. 
Think your business could do with such a proactive customer service solution? Be ready to move on from archaic, legacy setups and embrace advanced VoIP, cloud-based outbound contact centre solutions. It is the only smart and sustainable thing to do!
You can learn a lot more about contact centre solutions and the benefits it can add to your business simply by having a conversation with an expert at 0800-084-3663. So what are you waiting for? Enhance your business communication today.

Olivia is an outgoing person who enjoys writing, is an SEO enthusiast, and often interacts with others in intellectual conversations. She enjoys listening to music in her free time. Connect with her on Linkedin
https://www.acefone.com/blog/wp-content/uploads/2020/11/why-outbound-contact-centre-solutions-exactly-what-business-needs.jpg
376
737
Olivia Trott
https://www.acefone.com/blog/images_acefone/logo.png
Olivia Trott
2020-11-13 05:21:01
2023-03-24 11:52:49
Here's Why Outbound Contact Centre Solutions Are Exactly What Your Business Needs