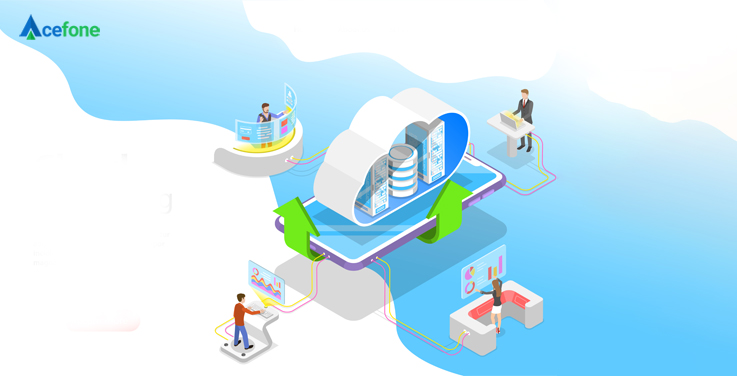 Cloud technology has undergone continuous advancements over the years, which explains why organisations have recently been switching to cloud-based communication systems. The hosted phone system encompasses all the innovations and benefits of cloud technology.
Hosted phone offers a lot of benefits to businesses of any size. It is cost-efficient, highly scalable, reliable, and also flexible. It is not only limited to these benefits only, but it also comes with excellent voice quality and includes additional features like call transfer, call recording, voicemail to email, and auto attendant.
However, the security of your cloud PBX depends on your service provider. Hence, it is essential to select the right service provider. The maintenance and technology upgrades are also taken care of by the provider. Service providers have a significant role to play, and if their service is not satisfactory, then it will affect your business as well.
Before you choose a hosted phone system provider for your business, make sure that you have checked this blog.
1. Research Well
Choosing a service provider is entirely in your hands. Make a list of all your business needs and do your research accordingly. Compare the service providers in terms of their respective offerings, and choose the one who meets most of your business requirements.
Go for a service provider that you feel is trustworthy. A service provider with a stable clientele and a good number of years of experience earns a higher credential. Read their terms and conditions before taking the contract.
Read about their cancellation policy; it is better to know it before if you do not wish to face any consequences later.
2. Quality of Service
It is quite obvious that high-quality calls are required for seamless business communication. Nothing is worse than poor call quality while your agent is speaking to the customer.
Due to the poor call quality, you lose probable customers. Cloud-based communication ensures HD voice quality. However, it all depends on the codec that the service providers use that gives a better voice quality even if the users are on a lower bandwidth.
Question your service provider about the same while consulting with them about your business requirements.
3. Customer Review
Observe customer review carefully because reviews are powerful influencers in decision making. According to a research, nearly 95% of shoppers read reviews before purchase.
However, the authenticity of an online review depends on several factors like the number of reviews, source of the reviews to get genuine feedback, and the nature of the review content.
4. Pricing
Cost is a major differentiator for many businesses as companies set a budget for different expenditure plans. However, you just cannot compromise with quality for cost.
Compare all the providers and go for one that allows you to have flexible plans and then pay accordingly. Service providers who work on the pay-as-you-go model make sure that the user just need to pay for what features and services they choose. 
5. Integrations
Service providers that have integrated your hosted phone with the right third-party applications make customer's life easier. The integration of your hosted phone with the right business application multiplies the utility of your phone.
Providers who give integrations with applications like CRM (Customer Relationship Management) and ERP (Enterprise Resource Planning) software is beneficial for businesses to connect better with the customers. 
Consider the providers that offer this function as it will help you save time in transferring your business data. The hosted phone service provider that you choose must be flexible in the kind of services they provide to address your business requirements.
6. Disaster Recovery
Ask the provider if they have a disaster recovery plan? And how do they back up all the data? Choose a provider that has a business continuity plan.
A plan like this will ensure that your business communication does not get affected during a natural disaster. In any adverse situation, the service provider has ways to speedy recovery of the data.
7. Advanced features
Identify the features that your business requires. Every business is different from the other; thus, the features should be customisable.
After you list down your must-have features, make sure that the provider is capable of offering the features you need. In this way, you can customise all the features that you need. It is usual that the needs of businesses change from time to time because of the changes in customer's behaviour, interests, and inclinations.
8. Customer Service
Customer support is necessary to consider than you think it is. You can face technical difficulties anytime. At that time, the instant solution to the problem will be help from customer service.
Thus, it is essential to ensure that your service provider offers steady customer support. Customer support that runs 24/7 can help you overcome minor technical faults that you can resolve under their assistance.
9. Latest Technology
Does the provider offer the latest technology upgrades? Because using new technologies has an impact on your business. You must use the latest technology and should always be willing to keep yourself updated with technology.
It will help you stand out from your competitors. Pick a service provider that has all the latest technologies to support the users with the most advanced hosted phone service.
10. Easy to Use
The phone system should be easy to use, and the dashboard should be user-friendly. Having said that it should ensure that the user doesn't need any training to use and customize the portal anytime.
Additionally, it should also be checked with the service provider if the users can remotely access the portal from anywhere. Remote access addresses various business needs.
Summary
To sum it up, ask yourself the questions below:
Have you done your research well?
Does the provider offer excellent voice quality service?
What do their customer think about them?
Are you aware of all the charges included in maintenance and adding advanced features?
Do they offer integrations with applications of your interest?
What is the solution offered during a disaster? Do they have a business continuity plan?
Does the service provider offer the features that you require?
Is there 24/7 customer service available?
Are they keeping pace with technology?
Do they offer remote access?
The above tips will help you to select the right hosted PBX phone service provider for your business. Make sure that the provider you choose meets your requirements. You would not want to question your choice in between the contract.
Even if you're going to discontinue the plan, the service provider should have a cancellation policy in your interest.
You will not have to face the consequences if you make the right decision. Do your research well, list your must-have requirements, compare the providers, and read customer reviews. Know your service provider well before choosing one.

Swastika Dhakal is working with the Digital Marketing team at Acefone. She is interested in technology and likes to write on it. She loves to explore historical places, as well.
https://www.acefone.com/blog/wp-content/uploads/2020/01/choose-hosted-phone-system-provider-for-business.jpg
376
737
Swastika Dhakal
https://www.acefone.com/blog/images_acefone/logo.png
Swastika Dhakal
2019-11-06 11:52:35
2023-03-16 11:33:40
10 Ways To Choose A Hosted Phone System Provider For Your Business