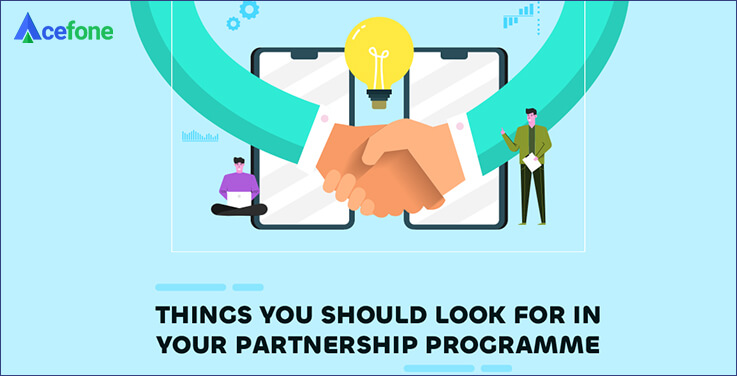 A good partnership programme is a win-win for both parties. While one party gains in popularity, customer base, and validation, the other reaps the rewards for their efforts in the form of profits. 
Before getting into such an alliance with another entity, the parties must carefully consider the fine prints. A successful symbiotic relationship is built not only on the basis of what both parties obtain out of it but also on how they contribute to each other's growth. 
Thus, if you're considering getting into a partnership with a cloud provider, you'll have to go beyond the profit margins you'll incur and look at how they enable you to perform better and earn a name for yourself.
Here are some factors you need to keep in mind before partnering with a cloud provider: 

Simplicity and efficiency
One of the first things you should look for is the simplicity of the product. Since you will partner to sell that product, it should be easy for you and your team to understand and explain its usage and advantages. If it is an Internet-based product, you should be able to fully access and use the features, even if you aren't tech-savvy.
The product must also be easy-to-use and efficient for other users, only then will you find credible buyers for it. So, if the product is good, simple to understand and boosts user performance, you will have a beneficial partnership. 
Steady and persistent
To make sure you can maximise your profits with the partnership programme, you must ensure it offers a steady revenue model. If the company ensures a stable and consistent profit stream, then the partnership is a good idea. 
Always remember that partnerships are most beneficial if they are made for the long term. This ensures a constant revenue stream for your business and it also helps you grow in the process.
Broad target audience
You might want to make sure that the programme you are entering isn't for a very niche market. The wider the target audience, the easier it becomes to sell.
If the product offers something for businesses of all sizes––small, medium and large—you will not struggle to find buyers for the product. Moreover, since the audience is broad, marketing strategies can be planned more efficiently. 
High-profit margins
This one doesn't require much explaining. You must always look for a partnership where you can get the highest profit. The bigger the profit margin, the better it is for you. It is as simple as that!
Easy to onboard
Neither you nor your customers would want a lengthy and drawn-out onboarding process. A tedious set-up might end up in you losing customers and receiving bad reviews, rather than making a profit. 
Thus, you must get an understanding of the service and onboarding process beforehand. It should be quick and easy so you can induct new customers swiftly without having to invest a lot of your precious time.
Effortless
Look for a partnership programme where you have to put in the minimal effort for maximum returns. Believe us, these do exist! With the right businesses, you will be able to cut deals that offer high margins along with quality support and ask for the least time investment.
Engage and learn
It is okay to not know everything about the product from the beginning. What is not okay is for your partner to not lend you the support for learning. 
Thus, it is important to partner with someone who is willing to give you training sessions and a wide range of marketing collateral. They should never hesitate to engage in a productive conversation that helps you understand the nuances of the product better.
Dedicated support
No one will expect you to be a master of the product just as you start. A good partner will know that you will be needing assistance from time to time, and thus, shall offer you consistent and quick support. 
Ensuring that your partnership programme has dedicated 24x7x365 support is crucial for your success. Not only will this help you perform better, but it will also facilitate a smoother relationship between you and your partner. 
Conclusion
Think of it this way––like you prioritise your customers, your partner should make you their top priority. After all, you're not just making a profit for yourself, you're also giving your partner a boost in popularity and business.
This is why you should always be treated equally and given complete assistance. A great partnership programme is one where both parties benefit each other, without any complaints.

Ratnam is an SEO enthusiast and content writer working as a Digital Marketer with Acefone. He is fond of traveling and new experiences. He is a huge Marvel fan and is always open to learning.
https://www.acefone.com/blog/wp-content/uploads/2021/07/partnership-programme-infographic.jpg
376
737
Ratnam Sinha
https://www.acefone.com/blog/images_acefone/logo.png
Ratnam Sinha
2021-07-15 06:19:42
2023-03-21 07:59:35
Things You Should Look for in a Partnership Programme [Infographic]