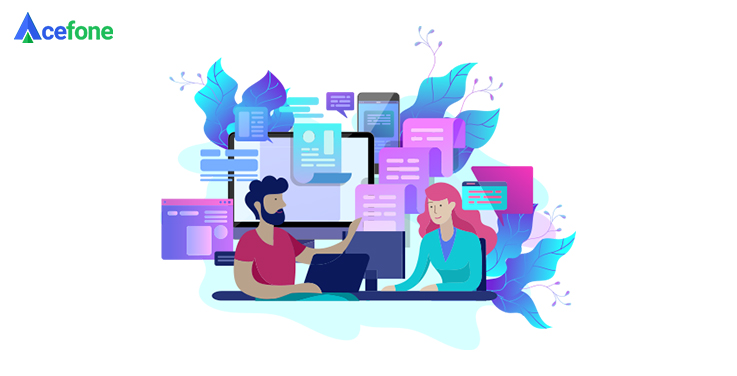 When it comes to customer service, complaints come with the territory. It is how you handle complaints that sets you apart from the competition.
A customer complaint is not necessarily the end of the relationship with that customer.
When handled correctly, it could actually strengthen the relationship and encourage them to recommend your brand to other people after you have shown that you truly care about their experience. 
At Acefone, we specialise in communications to help you resolve any customer issues as quickly and effectively as possible.
Here is a list of the five most common customer service complaints and how to handle them. This will help you to strengthen your customer relationships rather than breaking them.
Lack Of Communication
Sometimes, a lack of communication can lead to a customer complaint. For example, if a customer was expecting a follow-up call but did not receive one, then they would be understandably frustrated.
No matter what the follow-up call was about, the way you handle this situation is crucial in determining whether the customer will continue to do business with you.
All customers like to feel that they are valued and important. Thus, your first reaction must be to apologise for the oversight.
Yes, sometimes communication can be hampered, but most customers will not understand or tolerate it if it happens frequently. Or, even worse, if they do not receive a follow-up call the second time around!
A hosted phone system can make all this simple. Agents can assign the call to a colleague who's available to ensure quick redressal.
If the caller is willing to wait, customer service representatives can even use the notes section to explain the mistake and schedule a callback.
When the next agent becomes aware that there has been a problem, they may strive to deliver better service to keep the customers happy and ensure that they continue to buy from your brand.
Products Not Arriving Or Faulty Products
Sometimes products are lost in the mail, or they arrive damaged or faulty. The key to handling this is to act quickly. 
The customer has already been inconvenienced. So, it is important to solve the issue swiftly and send the customer a replacement as soon as you can.
Despite their frustration, most reasonable buyers will understand that this is out of the seller's control and will be happy to receive a replacement.
However, the replacement should never be at the customer's cost. As a goodwill gesture, you could also follow up with them and ensure that the new product is to their satisfaction.
This will impress the customer and prove that you are dedicated to providing great customer service to all.
A Disagreement Between Agent And Customer
No seller wants to fight with their clients. Sometimes, customers can be rude and, therefore, it is important to gain clarity on what has happened and what has been said.
Inevitably, personality clashes can occur between agents and customers. Difficult customers may become a bit rude, and, therefore, it is good to have clarity on exactly what has happened and what has been said.
Acefone's hosted phone systems come with a voice recording feature. You can record each call and store them safely on your phone system.
If you need to access a call, all it takes a simple search through the history for the right agent and timestamp. Now, you can listen to a full recording and ensure you have all the facts and information before returning to the customer with a resolution.
These voice recordings also serve to protect your staff during conflicts, since you can access exactly what has been said in the event of a misunderstanding.
Either way, this type of complaint needs to be dealt with sensitively. If the agent is at fault, you can apologise to the customer and assure that you will provide further training to your staff in order to prevent the recurrence of such a situation.
In case the customer is at fault, you can calmly explain your policies and give them access to the recording so they can review the conversation themselves.
Long Wait On Hold
During busy hours, customers may have to be on hold for a long time, which they may not appreciate. If the long wait complaint is a one-off occurrence, it makes sense to simply apologise and give the customer a list of your less busy hours.
This can be done using the analytics tools from Acefone's online portal. This way, you can tell them a more convenient time to call back or direct them to online resources for answers to basic queries.
However, if this is a recurring problem for multiple customers, then it may be time to hire remote staff to help you through busy periods.
Acefone's cloud phone system allows you to hire staff from anywhere in the world who can connect to your phone system as long as they have an internet connection.
Extra lines for these agents can be scaled with just a few clicks as per your requirement. Once you have extra staffing in place, you can let customers know that you have considered their feedback and put extra measures in place to ensure they do not have to suffer through long wait times again.
Customers will be pleased to hear that they are valued enough to have their feedback acted upon and will continue to associate with you in the future.
Repeating Their Issue Each Time They Call
If a customer has to repeat their issue multiple times when they call, it may become a complaint in itself. The more a customer is transferred, the more frustrated they will become. It is important to solve customer queries on the first call.
Acefone's hosted phone systems have the option to add an IVR to your phone, which means customers can select from a list of personalised options, like for instance, which department they would like to be put through to.
This means less wasted time for your staff—having to transfer calls to find the best-qualified person to help—and less time on the phone for customers, leading to less frustration for all.
IVR systems are highly professional and give a great impression of your business. Hence, they are a worthwhile investment for any company wanting to deliver excellent customer service.
If you would like to find out more about how Acefone can help you handle customer complaints efficiently through your hosted phone system, call us on 0800-084-3663 today.

Olivia is an outgoing person who enjoys writing, is an SEO enthusiast, and often interacts with others in intellectual conversations. She enjoys listening to music in her free time. Connect with her on Linkedin
https://www.acefone.com/blog/wp-content/uploads/2020/07/tips-to-handle-customer-service-complains.jpg
376
737
Olivia Trott
https://www.acefone.com/blog/images_acefone/logo.png
Olivia Trott
2020-07-30 17:07:17
2021-08-03 15:58:21
5 Common Customer Service Complaints and Tips To Handle Them