CRM or Customer Relationship Management tools are software applications designed to help businesses manage their interactions with their customers and leads. They organize customer data, allowing your business to easily track and analyze customer interactions across multiple channels.
Why are CRM tools important for business success?
CRMs are crucial for business success because they allocate customer data in a centralized manner. This structuring enables you to better understand your customers, engage with them, and tailor your products and services to their needs. 
CRMs enhance managing customer relationships by streamlining sales processes, optimizing marketing efforts, and providing efficient customer support. The byproduct of this improvement yields higher customer satisfaction and retention. 
With data-driven insights and improved collaboration among teams, businesses can make informed decisions, increase productivity, and drive revenue growth. Also, reports suggest that the global CRM market is expected to grow at a CAGR of 13.9% from 2023 to 2030. Several companies have begun to adopt them into their business operations and are gaining benefits too. 
Top 5 things to consider before getting a CRM tool for your business
Choosing the right CRM tool to integrate with your business solution is the most vital step in ensuring your business's success: 
Business Objectives and Requirements: Identify the specific issues you want the CRM to address and the goals you aim to achieve. From improving sales and customer support, to streamlining marketing. Understanding your priorities will help you focus on the right features and functionalities. 
Scalability and Integration Capabilities: Consider your business's current size and growth potential. Select CRM tools with quick scalability, ensuring that they remain effective and efficient even with your business's evolving needs. Also, assess their integration capabilities with other essential tools and systems your business uses.  
User-Friendliness and Training Support: The success of a CRM tool largely depends on user experience. Look for a CRM platform that is intuitive and user-friendly. A complex and difficult-to-navigate interface may reduce your team's productivity and hinder the tool's effectiveness. 
Cost and Budget: Considering the cost and budget of the CRM tool is essential. Evaluate the total cost of ownership, including licensing fees, implementation costs, training expenses, and any additional integrations. Choose a CRM tool that offers the right balance of features and cost effectiveness without compromising on quality and scalability.  
GDPR Compliance: The last and most important factor that you must consider before choosing a CRM tool is its GDPR compliance. In a world with stricter data security, your CRM tool must meet with the latest contact information compliance. 
Top 10 CRMs for your business's success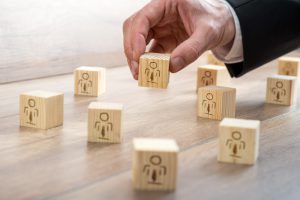 Salesforce

 
Salesforce has consistently topped the CRM charts and continues to lead the way in 2023. Its comprehensive suite of tools covers sales, marketing, customer service, and analytics. Salesforce's cloud-based architecture ensures seamless scalability, helping businesses of all sizes. With its vast app marketplace, the platform offers endless possibilities for customization and increased functionality. 
HubSpot CRM

 
HubSpot CRM shines as a user-friendly option with powerful features. Ideal for businesses seeking simplified processes, it provides tools for managing contacts, deals, marketing campaigns, and customer service interactions. Its scalable design ensures that growing businesses can continue to leverage its benefits without disruption.  
Microsoft Dynamics 365

 
Microsoft Dynamics 365 stands out as a versatile CRM and ERP solution. It combines sales, marketing, customer service, and business operations under one roof. Built on the reliable Microsoft Azure cloud, it promises seamless scaling, empowering businesses to adapt and expand effortlessly. Integration with Office 365 adds to its functionality and productivity.  
Zoho CRM 

 
The Zoho CRM stands out with its feature-rich offerings and cost-effectiveness. Equipped with modules for automation, customer support, and analytics, it serves as a scalable solution for businesses on a growth trajectory. Its modular structure allows businesses to tailor the CRM to their exact needs.  
Pipedrive 

 
Pipedrive stands out for its focus on sales pipeline management and lead tracking. Its simple and intuitive interface is ideal for businesses seeking ease of use. With automation features and flexible workflows, Pipedrive ensures increased functionality as businesses grow and evolve. 
Freshsales

 
Freshsales, formerly, Freshworks, caters specifically to sales teams with its lead management, deal tracking, and email tracking capabilities. Its flexible pricing plans make it accessible to businesses of all sizes. Freshsales ensures businesses stay organized and efficient in their sales efforts.  
Zendesk

 
Zendesk, previously Base CRM is famous for being easy to use and improving productivity. Focused on sales automation, this CRM supports sales teams with lead management, forecasting, and reporting tools. Its scalable options suit businesses at different stages of growth.  
SugarCRM
SugarCRM stands as a customizable and flexible CRM solution. Its open-source nature allows businesses to adjust the platform to their unique needs and processes. SugarCRM helps businesses aiming to streamline their customer interactions for success with its sales, marketing, and customer support modules. 
Bitrix24
Bitrix24 is a comprehensive CRM that offers a suite of tools to streamline business operations and enhance teamwork. Businesses can easily manage leads, track deals, automate sales, and do much more, with Bitrix24. social intranet facilitates seamless team communication, enabling employees to collaborate on projects, share files, and exchange ideas in real-time. 
Microsoft Teams

 
Microsoft Teams CRM is a powerful collaboration and communication tool that connects with Microsoft's popular applications, including Microsoft Dynamics 365 CRM. It provides dedicated channels for projects, discussions, and customer-related activities. It further makes it easy for sales, marketing, and support teams to collaborate on customer interactions. 
Choosing the Right CRM for Business Success

 
The top 10 CRMs listed above bring a diverse range of features and functionalities to the table. They ensure streamlined sales processes, effective customer engagement, proactive collaboration and scalable growth. 
Salesforce leads the pack with its unparalleled versatility, while HubSpot CRM stands out for its user-friendly design. Microsoft Dynamics 365 combines CRM and ERP capabilities for comprehensive management. Among this list, Zoho CRM impresses with its feature-rich yet cost-effective offerings. 
Evaluate your business needs and objectives and choose the CRM that aligns perfectly with your vision for 2023 and beyond. By choosing the right CRM for your business, you'll be able to conquer new heights of business success. 
Ritwik is a fitness enthusiast with a bachelor's degree in computer applications. He discovered his passion for storytelling while writing articles for his fitness blog. After which, he decided to switch to full-time writing, exploring his capabilities as a professional writer. He is now practicing his skills as a senior content writer at Acefone Software pvt ltd. to bring words to life.
https://www.acefone.com/blog/wp-content/uploads/2023/08/MicrosoftTeams-image-89.jpg
720
1920
Ritwik Raj
https://www.acefone.com/blog/images_acefone/logo.png
Ritwik Raj
2023-08-02 04:41:08
2023-08-02 04:41:08
Top 10 CRMs for More Business Success in 2023