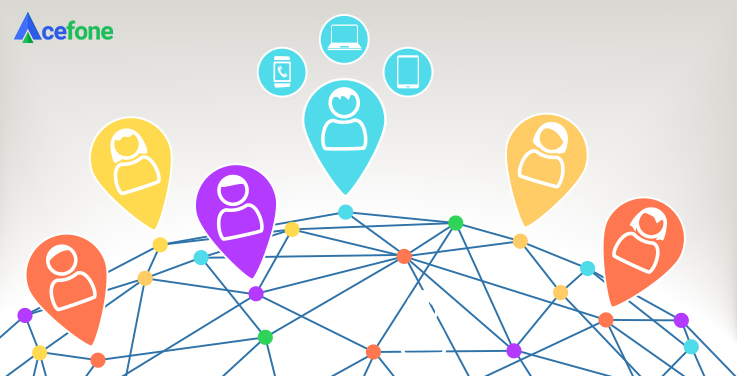 Unified Communications as a Service (UCaaS) solutions make remote working much easier for anyone finding themselves in a situation where this may be a necessity.
UCaaS solutions give workers the chance to revolutionise the way they communicate with each other and with customers, no matter where they are based, so there are plenty of ways these solutions help promote remote working. 
UCaaS Solutions Are Completely Portable
The biggest way UCaaS solutions promote remote working is their portability.
Employees can connect from anywhere they want to as long as they have an internet connection and can communicate seamlessly with your existing team.
Remote workers can bring new perspective and expertise and make a great addition to any workforce, and so you can realistically open up your recruitment to anywhere in the world and make your business global with a remote global workforce.
Remote workers can choose their preferred device and even flip calls seamlessly from one device to another, so they're never chained to their desk. They can go where they are needed and fulfil their potential as full-time employees.
UCaaS Solutions Make A More Productive Workforce
A big benefit from UCaaS solutions is that it can help your workforce become more productive by eliminating the need for multiple pieces of software or multiple communication platforms – everything can be kept in one place, and staff can do everything they need to do via their phone system. 
Your cloud phone system can act as one central hub for all the communications your staff might need; from chat, calls, conferencing, file sharing and screen sharing, your staff can work collaboratively and can save your business time and money.
A mobile workforce is often a more productive workforce, and modern workplaces are shifting towards giving staff more flexibility to work from outside of the office and outside of the traditional nine to five workday. 
By attracting remote workers, your business can remain competitive in the market and having the infrastructure ready to offer remote working can also help you retain your existing staff.
You can choose to hire the best workers, no matter where they are based in the world.
Some business may be concerned about the productivity of remote workers, but by giving them all the tools they need to communicate effectively with your staff remote workers can easily become productive members of any team in a business.
Concerned business owners can also monitor their staff's productivity via an easy to use online portal, where they can access information on everything from call time, waiting time and more. 
Collaborate With Employees All Over The World
Now your business has attracted the best talent, you can focus on using their knowledge and skills to improve your business. UCaaS solutions are built to enhance collaboration between your employees and ensure remote workers are included in these collaborations. 
Through call conferencing, you can hold virtual meetings with as many employees as needed so you can draw on each person's expertise to solve complex issues in your business.
And remote workers can be important to solving key issues as they may have more varied experience from working remotely for different companies.
Your team can work together in either these virtual meetings or through instant messaging or just simply calling through internally.
If a customer has an issue one agent is unable to deal with, then they can quickly transfer the customer through to a colleague who can help, meaning collaboration can help not only your team cohesion but your business' customer service too. 
Staff can also leave messages on customer's accounts which are accessible for staff based anywhere in the world so they can work together to ensure the customer gets the best possible service.
Keep Business And Customer Data Secure
A concern from some businesses about remote workers is that they could potentially breach GDPR regulations if they do not have the correct equipment or data is compromised by their workspace not being secure. 
This concern is solved by UCaaS solutions, as all data is hosted securely online and is backed up at a different location.
So should anything happen to your customer data you can rest assured that everything your business needs is securely stored in the cloud and backed up in a secure location away from your premises.
Data from your phone system is also encrypted so should attackers attempt to steal your data you and your customers are protected.
Security should not be a reason for businesses to be concerned about hiring a remote worker, so UCaaS solutions help alleviate this concern and put business owner's minds at ease with their top-level protection included as standard.
Ensure Reliability Wherever Your Workers Are Based
One thing customers will expect from your business is reliability; when they need to contact you, they will expect to reach you easily and will quite often move to a competitor if they cannot get in touch. 
UCaaS telephone solutions have much greater reliability than a traditional phone system and if something should happen to your phone system, a hosted phone system can be transferred onto another device so you can continue making and receiving calls as usual, with no downtime for your business.
These robust telephone systems give you peace of mind that a remote worker will always be able to connect to your phone system using whichever device they see fit, so communications and collaboration between employees can continue without an issue.
If you would like to find out more about how UCaaS solutions can open up your business to even more talented workers, call an UCaaS expert on 0800-084-3663.

Acefone provides a broad range of cloud communication services to businesses of all sizes, which includes Hosted Phone Systems, Free Phone Numbers, and Cloud Contact Center Solutions. Being the UK's leading provider of VoIP service provider, we always strive to provide excellent customer service and high-quality custom solutions to our customers.
https://www.acefone.com/blog/wp-content/uploads/2020/03/ucaas-solution-promote-remote-working.jpg
376
737
Acefone Editor
https://www.acefone.com/blog/images_acefone/logo.png
Acefone Editor
2020-03-25 10:22:07
2023-01-23 06:42:14
5 Ways UCaaS Solutions Promote Remote Working