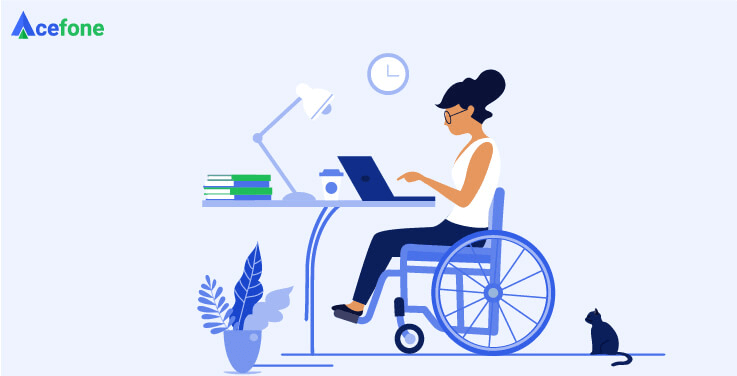 People with disabilities often work with different organisations that support their talent and needs, matching their skills with suitable roles. Look around and you will find a colleague who may have physical restrictions. 
However, finding the right job for them is rare.
The proliferation of remote work in the post-pandemic world has suddenly opened up a plethora of opportunities in roles that were earlier seen as unsuitable for people with disabilities. 
In this article, we will look at the opening up of a wider range of opportunities in general and a career opportunity, particularly in the new age contact centres. 
But first, let us address a few questions.
The top three frequently asked questions
On a basic level, the following are questions that worry anyone who has grown with some form of disability:
I am a person with a physical disability. Do I have stable career options?
The short and straight answer is yes. Today, there are many options that exist for persons with limited disabilities. 
The fact is that companies are focused on hiring and developing the right talent, irrespective of disabilities. The inhibitions and restrictions of the past do not exist anymore.

With enabling tools and resources made available by companies, the options are no longer restricted to a narrow band. 
Where and how do I begin my search for a suitable opportunity?
In the post-pandemic world, remote working has expanded aggressively. Therefore, a larger number of jobs that are eminently suitable for persons who may have physical limitations have become available.
The easiest starting point is to look for roles that allow work from home. Here, it is important to identify opportunities that are suitable for the type and extent of disability that one may have. 
One can always rest assured that companies now have tools and resources that make remote working simple for all employees, allowing them to achieve optimum performance levels.
What type of jobs can be done from home by people with disabilities?
The straight answer here is again 'many'. The roles are diverse and across the spectrum. So are the growth opportunities today.
Let us look at the variety of employment opportunities that are evolving and can be aimed for.
Variety of job options for people with disabilities
The good news is that a large variety of employers, from the government and private organisations to not-for-profit institutions, have stated policies and objectives to hire talent without any biases. 
The trend is real and companies are continuously evolving the enabling mechanisms. As a result, there is a growing variety of employment and career opportunities that exist today for people with disabilities. 
Many of them have few physical requirements. And some are good-paying options as well. It is important to know one's options and work towards moving in the right direction.
Here is an indicative list of career options that can be explored by people with disabilities: 
This career primarily revolves around developing and executing strategies for the favourable positioning of products and services of a company. 
Information systems security
This is a great option for the technically qualified and is also suitable for people with some physical disabilities.
For people with relevant qualifications, this is another great career option. The suitable roles here could range from administrative, staffing, training and development to general human resource management.
From teaching to designing curriculums, the options are plenty in the space of education.
For the creatively inclined, there are a variety of opportunities like graphic and digital design, fashion design, multimedia, animation, etc. They may also be supported by funds and grants for artists and designers with disabilities as well. 
Apart from the above, there is a new door that has opened in customer service—operating a virtual call centre (read working from home). 
Let us dive deeper into this evolving space of virtual call centres and explore the career opportunities here.
What is a virtual contact centre?
It is common knowledge that a contact centre engages with customers to address their queries and resolve their grievances. Such contact centres have agents who lead customer engagements through phones, emails, chats or even video. 
These agents typically operate from a big office facility that has all the required tools and resources.
With the advent and wide adoption of cloud computing and the hosting of infrastructure in the cloud, agents are no longer needed to operate from a physical office. 
They work from a remote facility, or even from home. Such new-age centres are called virtual contact centres.
These centres open up great opportunities for people with disabilities who may find it hard to travel to the office or work continuously for a full shift. 
Let us look at how the work environment at such centres enables more inclusive career opportunities.
Virtual call centres: A great career opportunity
Virtual call centres provide an excellent chance to work from home by creating an environment that blends the benefits of working from an office and from home. 
Traditionally, employees were required to commute to work for specific hours. This was often an impediment for people with disabilities seeking employment opportunities. 
These new-age contact centres remove this need to commute to the office every day. 
They provide a lucrative opportunity to people who would rather work from home at hours that are suitable to them. 
To put this opportunity in perspective for potential candidates, here is a brief outline of the role of an agent in a virtual call centre and the skills needed for it.
About the role and required skills
Just like agents in a traditional contact centre, agents in a virtual contact centre handle inbound and outbound customer contact through phone, email or chat. 
So, people with specific disabilities, for instance, speech, may opt to work only in engagements like chat or email support. This gives great flexibility to match skills and capabilities with job functions. 
Typically, an agent performs the following tasks:
Respond to inbound phone calls from customers

Respond to inbound emails from customers

Chat online with customers to address their queries or to resolve their grievances

Operate from an equipped home office
All tools, equipment, training and resources are provided by the company to facilitate better performance. At the same time, for an employee to perform well and grow, a few skills are needed. 
The good news is that none of these skills come in the way of disabilities and can be honed further through training.
Whether engaging with customers over the phone, chat or email, communication skills play a big role. The first step to great customer service lies in the ability to respond appropriately.
When it comes to grievances, customer engagements are often unpredictable. An ability to think, analyse and articulate an appropriate way forward for the customer is an important skill.
Customers at times can be irate and difficult. Empathy and virtue as a skill come in handy while working through resolutions for customers.
So, for people who have the above skills, irrespective of the restrictions of a physical disability, this career opportunity is worth exploring and opting for. 
Apart from being lucrative, there are other benefits to this opportunity that are of value to people with disabilities.
Benefits of working in a virtual contact centre
As captured earlier, this is a lucrative opportunity in the space of customer service with opportunities to develop skills and grow further. Here are some other key benefits: 
Travelling to the office is often arduous, even with private vehicles. Public transport is even more stressful. Hence, most people with disabilities prefer telecommuting over working from physical offices. 
Working from home is less stressful for people with disabilities. Lower stress is often directly linked to better productivity in employees. 
Time saved on travel, coupled with flexible hours, allows employees with disabilities to receive better care from their families. This is simply the most important perk of working at a virtual contact centre. 
In addition, the flexibility in work hours lets them schedule their medical appointments and other treatments with ease.
In conclusion
The surge in remote working in the post-pandemic world has opened up newer opportunities that were previously not pursued by people with disabilities. 
Technological advancements have made such opportunities more accessible. Some of these, like working at a virtual contact centre, are not just employment opportunities but are good and lucrative career options.

Olivia is an outgoing person who enjoys writing, is an SEO enthusiast, and often interacts with others in intellectual conversations. She enjoys listening to music in her free time. Connect with her on Linkedin
https://www.acefone.com/blog/wp-content/uploads/2022/01/virtual-contact-centre-jobs-provide-opportunities-for-candidates-with-disabilities.png
376
737
Olivia Trott
https://www.acefone.com/blog/images_acefone/logo.png
Olivia Trott
2022-01-06 07:42:24
2023-02-17 11:36:28
How Different Virtual Contact Centre Jobs Provide Opportunities for Candidates with Disabilities