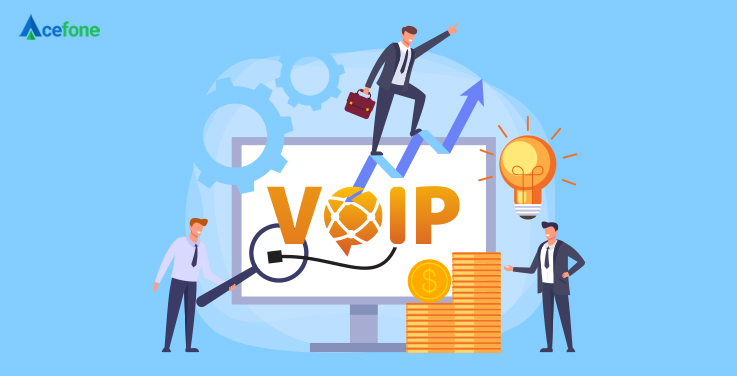 Are you considering a VoIP solution for your business but need to present your idea to senior management? If so, you need to know all the benefits and features which a hosted VoIP system can bring to your business and Acefone are here to help. Here is everything your senior management team should know about VoIP systems.
VoIP Is Reliable And Secure
With 99.9% uptime and adhering to security regulations (Acefone stores customer data in the cloud adhering to PIC, FCC, GDPR and CPNI) your CxO's can be sure that their business' data is securely hosted in the cloud. If they are unfamiliar with the latest digital technology they may be reluctant to put their customer data into a new system; however, they should know that if anything did happen to their office premises, a traditional phone system would be lost along with all the data which goes with it but a hosted phone system allows you to pick up right where you left off with any device – so the business can continue as normal and your data is safely secured in an off-site location.
VoIP Can Improve Customer Service
With a VoIP phone system, staff can easily see all customer data through our easy to use online portal. This means that staff can see notes on previous customer calls, and all the products/services that customer uses – giving them more time to focus on the issue at hand rather than gathering background information every time a customer calls in. Some issues may take more than one call to resolve, so from a customer experience point of view, the less repetition involved the more satisfied that customer will be as they will have been dealt with in a prompt and efficient manner.
VoIP phone systems can also interact with your CRM system, so any new information or new customers calling in will have the ability to be added to your system with ease – so no lost leads and much more information for your sales team to call with.
Save Money With Professional Features
A VoIP system is not just a phone system, there are plenty of extra features which can be added to your hosted phone system to give a more professional feel to your business. All of these features are managed right within your phone system, so no need to go to multiple suppliers. You can add a virtual assistant to take calls when staff are not available, you can have voicemails forwarded to email for easy access when you open again the next day; the possibilities with a VoIP phone system are vast.
If you would like a local number for the different areas your business operates in you can have this simple and quickly with a hosted phone system. You can enhance your marketing with a memorable or campaign-specific number – with a hosted phone system your choices really are endless and you can really make your phone system work for you.
VoIP Phone Systems Grow With Your Business
A VoIP system does not hold your business back. If your CxO's are planning to grow the business and have concerns about investing in a phone system which could become costly when adding new lines – they should know that with a hosted VoIP system you can add as many lines as you want to your phone system at no extra cost. You can also remove lines too, a VoIP phone system is completely flexible, and lines are quick and easy to add or remove. This is particularly useful for businesses which experience seasonal changes, so they may need more staff at certain periods – you can easily add temporary staff to your phone system and remove their lines when their contract ends all from your easy to use online portal. With a VoIP system, you have control over your phone system and will have access to expert support from your provider along the way.
Low Costs, Wherever You Are Calling
A VoIP system will save your business money no matter where you operate. Whether your calls are national or international, as your VoIP system is hosted online the need for paying high call connection costs are over. Call costs are extremely reasonable and will no longer eat into your profits, plus they can be monitored easily using the online portal; which gives you accurate information about the calls made and costs incurred. You can always amend your hosted VoIP plan with Acefone too if you find you need to make more calls or less we can provide a bespoke plan to suit you.
Detailed Analytics Available At Your Fingertips
With your current phone system, you will not be getting all the analytics and information a hosted VoIP system can give you. If your senior management team would like more control and information about call time, agent performance and more with the ability to easily pull up call recordings and much more – they can have this as standard with a hosted VoIP system. With the information available to them they can help agents perform better by listening to calls and seeing where they might need extra support, they can also use call recordings to train new agents and give them a feel for what types of calls you receive from customers.
The analytics available on our online portal also helps senior management manage those workers who might be offsite, as hosted VoIP can be used from any device the option to hire remote workers is much more viable so a challenge may arise in how to manage them. This problem is solved by hosted VoIP as you can communicate freely over the phone or via messaging with remote workers and can see detailed analytics on their performance, call times etc; allowing managers to manage remote workers with ease.
If you would like more information on hosted VoIP and the benefits it can provide to your business, contact our customer service team on 0800-084-3663.

Acefone provides a broad range of cloud communication services to businesses of all sizes, which includes Hosted Phone Systems, Free Phone Numbers, and Cloud Contact Center Solutions. Being the UK's leading provider of VoIP service provider, we always strive to provide excellent customer service and high-quality custom solutions to our customers.
https://www.acefone.com/blog/wp-content/uploads/2020/02/must-know-voip-facts-for-cxo.jpg
376
737
Acefone Editor
https://www.acefone.com/blog/images_acefone/logo.png
Acefone Editor
2020-02-06 14:58:40
2021-08-02 15:18:06
What CxO's Should Know About VoIP