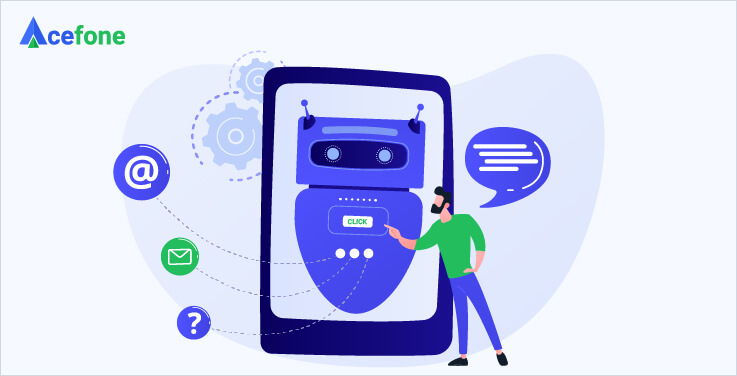 Modern customers are increasingly pressed for time and expect swift query resolution. While customers would earlier pick up the phone to connect with a brand, the growth of social media and digital channels has meant that customers engage with brands even beyond the traditional nine-to-five workday.
Given the need for instant gratification, customers prefer to use self-service channels to seek answers to their questions. Self-service is a quick and easy way to get information any time of the day without having to wait for an answer––they can find whatever they need simply with a dial-pad or voice input. 
If your business offers self-service, using your cloud-based tools, you can benefit in a number of ways. We will help you understand why customers prefer self-service and the numerous ways it can help your business.
Why do customers prefer self-service?
According to Super Office, 75% of customers cited that a fast response time is the most important attribute of customer experience. And what can be a better way to offer swift resolution than by allowing customers to access all the information they need on their own?
Most enquiries have the potential to be solved by some kind of self-help tool, saving the business considerable time and money. And while customers have numerous channels to communicate with businesses, many still choose to use self-service options. Some common platforms include FAQs, online forums, IVR systems and automated chatbots. 
Let's look at how self-service can help businesses enhance their customer experience strategy. 
Sell more in lesser time
Businesses can sell more products in lesser time if they offer self-service. Callers appreciate quick responses when making an inquiry or completing a purchase. The self-help option allows them to instantly seek a resolution without having to wait to speak to an agent. 
The tool also saves agents' time. When agents are tied up with queries that could have been solved by self-service, they have lesser time to acquire new customers or engage with existing ones to upsell products. Self-service frees up time for your agents to work on more complex issues that require their attention. This enhances their productivity and can ultimately make your business more profitable.
You can use your hosted phone system to implement self-service. One feature that will help you do so is the IVR system. An IVR allows callers to select the store, department or agent they wish to speak to with the help of keypad or voice inputs. 
IVR-powered routing eliminates manual routing errors and directly connects customers with appropriate destinations in one go––ultimately making for a better customer experience. 
Allow your team to focus on important tasks
Answering the same query over and over will become monotonous for your agents. Not to forget, it will hamper their productivity. By implementing self-service into your business you can ensure that agents only deal with more complex queries, and lines aren't blocked by simpler questions.
Giving your team the time they need to focus on complex issues means a higher chance of successfully closing deals and increasing customer retention, and lower chances of employee burnout. 
You can also use a virtual assistant to direct people to an FAQ page on your website or broadcast messages to customers waiting in the queue to answer common questions or inform them of any known issues. 
Deliver 24×7 customer service without any extra cost
The beauty of self-service is that customers can access it at any time from anywhere. They can do so to seek answers post-sales or to gain deeper product understanding before closing a purchase. And they don't even need to speak to an agent. 
With a good self-service system in place, your business can make money any time without having to pay for premises or extra staff working during the night shift. Having staff available 24×7 could be a huge expense for your business, but self-service removes the need for this and allows you to save money even while you sleep.
Save your business money
Answering a phone query cost a business £4.53 on average. On the other hand, a well-implemented self-service system comes at a low or no cost. Thus, it isn't tough to guess how much money you can save by ensuring that your self-service system is well-designed, comprehensive and effective. 
Additionally, by automating mundane and routine tasks, you give your team members more time to focus on varied tasks, thereby increasing their happiness and job satisfaction. With happier and more relaxed staff you are less likely to have high attrition rates and will save on recruitment and training expenses incurred when hiring new staff. 
Let's say, if you have an FAQ page, you can even increase your Google rankings by providing informative answers to customer questions. By investing time on the FAQ page content, and mobile optimisation, you are sure to increase your Google rankings. With increased organic rankings, you needn't spend much on advertising and can invest more into your customer service delivery. 
Another way to save money is to implement your self-service solution through the messaging service. You send out important information to customers or provide follow-up information on their queries via SMSes. Text messages cut through the clutter of marketing calls and can be stored for perusal at a later date. 
This is also a great way to show your clients that you haven't forgotten their concerns and keep them in the loop.
Use cloud phone systems to implement self-service
Your business can enjoy many benefits of cloud-based self-service by using the amazing features your hosted phone system has to offer. By investing some time in getting these systems up and running, you can save your support team plenty of time and improve your customer experience as a whole. 
An FAQ page and an IVR system are bound to help your customers find all the information they need, irrespective of their location or the time of the day. This will also enable them to make informed purchases at any time—with little effort and no cost to your business! A satisfied customer is an organic marketer; you're sure to enjoy the benefits of word of mouth marketing when they recommend your business to their peers and colleagues.
If you've been unsure about implementing self-service, let us tell you that its business advantages are endless. So, if you'd like support to run a self-service system for your customers, get in touch with our team on 0800-084-3663 or send an email to [email protected] too.

Olivia is an outgoing person who enjoys writing, is an SEO enthusiast, and often interacts with others in intellectual conversations. She enjoys listening to music in her free time. Connect with her on Linkedin
https://www.acefone.com/blog/wp-content/uploads/2021/08/why-customers-prefer-self-service.jpg
376
737
Olivia Trott
https://www.acefone.com/blog/images_acefone/logo.png
Olivia Trott
2021-08-11 10:56:08
2023-02-27 10:17:12
Why Customers Prefer Self-Service, and How your Business can Benefit from Encouraging it