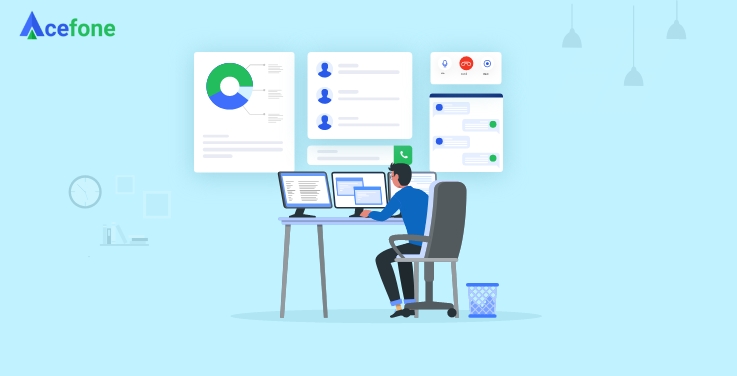 Self-service technologies or SSTs are service interfaces that a customer can use without the help of an operator. 
An ATM (Automated Teller Machine) was the first self-service technology introduced to us. It replaced the people who usually dispense money at banks or help us check our account balance. 
In fact, the self-service technology market was USD 16.06 billion in 2015 and is expected to exceed USD 42 billion by 2023. This is a CAGR of 13.2% from 2016 to 2023.
Sounds whopping, right?
Well, this prediction shows that there are several advantages to using self-service technologies, as has been seen subsequently. Some of them include:
Saving resources:

By implementing SSTs, you can save on precious resources needed to service the customer.

Adaptability:

Self-service technologies are usually adaptable to changes in the working atmosphere. In most cases, it is just an up-gradation of the services on offer.

Connectivity:

Most SSTs use networked systems, allowing operators to reach out to remote places without additional staffing.

Reach more customers:

A single integration can handle customer traffic while saving on costs involved in servicing customers.

Better profits:

Although there is a cost involved in rolling out SST points across a network, in the long run, they do lead to better margins for the operators.

Fast service:

Companies that use SSTs deliver faster and better customer service than those using the human interface.

Better customer satisfaction:

Organisations implementing SSTs tend to report a more satisfied customer base than those who do not use the technology.
Thus, the adoption of self-service technologies brings better productivity and operating environments for businesses of all sizes and scales. 
Furthermore, since most SST points do produce repetitive actions, it helps automate the process in the first place compared to a manual set of operations.  
Best practices of self-service technologies
Long gone are the days when customers would wait to seek solutions to their questions. Now, they demand instant answers. Consequently, contact centres need to stay available 24×7 to solve their queries.
Self-service allows customers to find information, request services and resolve issues on their own. Here are the top five best practices of self-service technology:
If a customer cannot locate the self-service options quickly, they would resort to other communication means like the telephone, email, etc., to resolve their issue. This would defeat the purpose of SSTs, which is to reduce the dependency on human resources to a significant extent. 
Therefore, you should:
Integrate self-service:

into the operation of company websites. Just placing a link prominently that specifies where to locate a self-service point would help a great deal.

Design the self-service point:

so that it is a continuum of the services provided by your organisation.

Implement search engine optimisation techniques:

to target people who are more likely to use the service portal most of the time.

Support pages must be ranked:

and indexed on the website of the company. This makes it relatively simpler and easier for customers to find the portal when the need arises. 
2. Empower customers, make SSTs easy to use

 
Businesses that have been successful in implementing SSTs tend to be the ones that have focused on designing user-friendly service portals. 
In simpler terms, make your users feel confident and safe in transacting through self-service points. Displaying a large amount of information on the self-service portal would only lead to indecisions and a lack of trust in such systems. 
Here are a few recommendations you can practice to promote the use of self-service in your organisation:
Focussing on design simplicity:

This empowers the customer to choose self-service over any other medium, thus reducing the need for human agents.

Infrequent use of the service point: would make the little time spent with them telling on customer experience. This would mean using a system that does not need a learning time and can be used immediately at the site. 
Always follow the 80/20 rule:

It implies that 80% of the customers are consuming only 20% of your content. Thus, focus on creating this 20% of the content more user-friendly and accessible. This could also lead to misplaced priorities, but it helps in addressing the pain points the most. 

Design for probabilities:

In simpler terms, offer the options and choices that are more likely to help your consumers. 

Use images and icons:

to create a better recall and identification of services. 

Device compatibility:

goes a long way in using self-service portals, for they can be used on various platforms. Therefore, ensure your user experiences a seamless journey on different devices.
3. Understand the issues faced by the users
This might seem an easy-to-follow step, but service providers often overlook the issues everyday users face in a hurry to implement the system. 
The most common goal of self-service technology is to ensure users' convenience. Therefore you must design your self-service portals in a way that benefits your customer. 
Here are some of the common touch points when it comes to using an SST portal. 
Create an incident: The customer would like to report an issue or raise a case on behalf of another customer.
Raise a request:

The customer might require a new product or service. 

Employee request:

This typically includes the employees of an organisation raising issues with the HR department most of the time. 

Get help:

When a customer cannot resolve issues with the help of the self-service portal, there must be a provision to have an operator intervene. 
4. Readability issues with content on SSTs
Ensure that the content on your self-service portals is easy-to-read and understand. Not to forget—keep the use of technical jargon to a bare minimum.
Additionally, enrich your content with graphics, visuals, and relatable videos to better interact with the audience. In fact, according to the Wyzowl survey, 69% of users prefer video over text. 
Overall, your portal must be interactive and easy to navigate. Craft it in a way that the user can get the desired results in minimum visits and clicks.
5. Analysing and receiving feedback
You must analyse every transaction done on self-service technologies and take steps to improve the interaction on future visits to the kiosk. In addition, the customer experience must be evaluated either through direct interaction with them or measured using metrics kept as part of the transactions. 
The real question: is human to human interactions redundant now?
It would be wrong to say that self-service technologies have made human-to-human interactions redundant. It's critical to understand that self-service is an extension of the human interface and not a competitor to customer services. 
Essentially, we need to create a culture that seeks to enhance user experience significantly and at all times. And self-service is the right step in this direction.
It allows you to offer your customers the valuable information they are looking for. And in return, it awards you with higher conversion rates and more satisfied customers.
For more information, contact us at 0800-084-3663 or drop a mail at [email protected]

Acefone provides a broad range of cloud communication services to businesses of all sizes, which includes Hosted Phone Systems, Free Phone Numbers, and Cloud Contact Center Solutions. Being the UK's leading provider of VoIP service provider, we always strive to provide excellent customer service and high-quality custom solutions to our customers.
https://www.acefone.com/blog/wp-content/uploads/2021/12/top-5-practices-to-offer-better-self-service.jpg
376
737
Acefone Editor
https://www.acefone.com/blog/images_acefone/logo.png
Acefone Editor
2021-12-09 11:28:07
2023-02-17 11:50:03
Top 5 Practices to Offer Better Self-Service