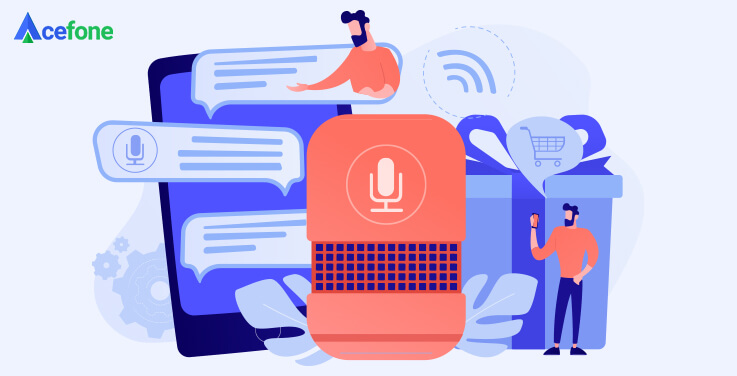 If your business journey is a train ride, then the customers are the engineers of the control room. They can keep you on track or derail your way off-course. And all of this depends on the quality of your support service. A seamless experience leads to happy consumers, sure. But more importantly, it leads to loyal clients who act as your strongest marketers.
Therefore, businesses leave no stone unturned to carve the best impression among their target audience. They're adopting the best possible technology to ensure uninterrupted and interactive conversations with their clientele. One such technology that has proven to be impactful in the customer service ecosystem is Artificial Intelligence (AI).
According to a Gartner study, in 2018, 25% of all consumer interactions were automated through AI. With around 90% of companies planning to deploy AI within the next three years, this number is expected to grow to 40% by 2023.
How does AI help in offering the best customer experiences?
A report by Juniper Research says that conversations initiated by AI-powered chatbots will be responsible for cost savings of over $8 billion per year by 2022. 
So, what's the reason for the immense popularity of AI for enhancing CX? 
AI is undeniably intelligent, convenient, and can help conduct informed conversations at any point in the buyer's journey.
Furthermore, it can analyse huge amounts of data from multiple sources to get an understanding of human behaviours and emotions. All these help in creating meaningful experiences.
Let's explore the capabilities of AI that will make it the face of future customer experiences.
Chatbots and virtual assistants for enhanced customer experience
A huge advantage of AI-empowered interactions is that they are automated and easy-to-manage. Consider the use of chatbots in various customer communication scenarios. They're able to simulate human conversations and provide quick and personal responses. 
Equipped by the competencies of machine language, they tend to learn from their experiences, which means they require minimal training. If your chatbot is not able to resolve a client's issue, it automatically escalates the conversation to a live agent. 
But the bot doesn't simply transfer the responsibility, it also registers the agent's response to add to its own knowledge repository. When a new customer contacts your centre for a similar concern in the future, the bot is equipped to best help the client on its own. 
Moreover, incorporating a chatbot in your kiosk will eliminate errors and minimise the time and money spent in training service representatives. You also save agents' time by delegating automation to do menial and routine tasks.
If that wasn't enough, this technology also helps in data segmentation which helps in lead generation. The appropriate distribution of content across different platforms helps target potential customers better with the right marketing initiative. 
Predictive personalisation
Building a buyer persona is super important for enhancing your consumer experience strategy. Predictive personalisation particularly helps by developing personas based on clients' previous activities. 
This concept is all the more effective in the online shopping space. Data about customer preferences and interests are collected based on their shopping history, pages they have visited, and the products they've searched for.
The system processes this information and offers recommendations based on personal preferences, thereby helping improve the quality of the experience.
Comprehensive analytics for intuitive insights
One can only plan for the future when they're aware of their present standing. That's exactly what comprehensive analytics help businesses with. AI-empowered analytics are interactive and help you easily understand different aspects of your performance. You can identify bottlenecks as well as possible recommendations for improvements. 
You can do so much with the right customer information at hand—enhance the quality of data in your CRM, improve marketing initiatives for better customer engagement, and make informed business decisions.
Furthermore, features like facial recognition, text analytics, and machine learning can help gain a deeper understanding of user needs, pick appropriate messaging channels, and deliver solutions in the most appealing manner. 
Visual, voice, and text engagements
User engagement has to spread across different mediums—visual, voice as well as text. Sentiment analysis helps businesses understand clients' emotions and moods over the course of their conversations. Similarly, facial recognition technology can help gauge expressions in face-to-face video conversations.
Voice biometrics is a great way to identify voice chords and modulations in phone calls and thereby judge the temper of the client on the other end.
All these technologies are backed by AI algorithms that help determine the best way to route consumer interactions and achieve maximum satisfaction. Implementing them creates positive experiences which nurture consumer relationships, earn a loyal user-base, and raise profits.
Critical business decisions cannot be backed by intuition. They need to be supported by reliable data, which is effectively derived by AI quickly and accurately.  
To conclude
Undoubtedly, Artificial Intelligence is a technology that is here to stay and create meaningful customer experiences. Hopefully, the above-mentioned capabilities of AI will give you a sneak peek into how it has made a positive impact on the CX arena. 
Artificial intelligence is certainly the future of different industries, but specifically for the customer service field, it's a sure-shot route to success. 
Get more information about how to implement AI effectively in your own organisation by getting in touch with our representatives. Call 0800-084-3663 now or send an email to [email protected].

Acefone provides a broad range of cloud communication services to businesses of all sizes, which includes Hosted Phone Systems, Free Phone Numbers, and Cloud Contact Center Solutions. Being the UK's leading provider of VoIP service provider, we always strive to provide excellent customer service and high-quality custom solutions to our customers.
https://www.acefone.com/blog/wp-content/uploads/2020/10/ai-is-the-face-of-customer-experience.jpg
376
737
Acefone Editor
https://www.acefone.com/blog/images_acefone/logo.png
Acefone Editor
2020-10-27 09:04:21
2023-01-20 09:18:26
Will AI Be The Face Of Future Customer Experience?