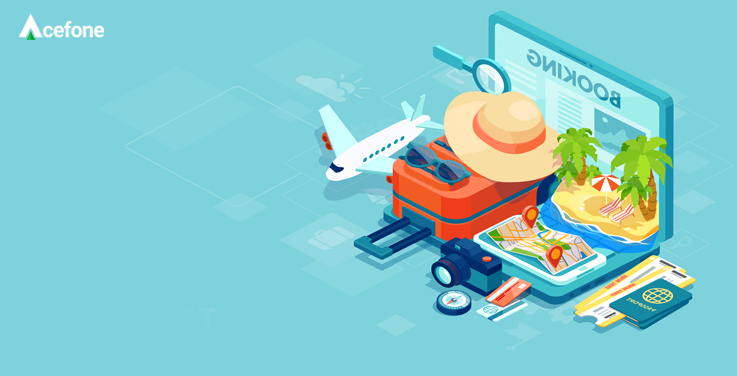 Travelling has been on the rise for the past few decades. It has become more of a hobby for many people nowadays. While on the one hand, a greater number of people are willing to travel, on the other hand, the travel and hospitality industry is experiencing a boom!
According to Adobe Digital Insights, the travel industry is expected to hit $98.02 billion this year. Thus, the industry is growing at a rapid rate, and the need to upgrade your business to stay in the competition is increasing.
Gone are the days when if someone wanted to travel, they would go to an agency and explore their brochure. Now, all that information is available on the web. As the reach of the consumer rises, the competition in the industry also increases. But what exactly do you need to connect better with your business prospects? A simple answer to this is getting a cloud-based call centre for your business. But before we get to the benefits of it, let's first try to understand what the traveller wants and why a cloud call centre is beneficial for the business.
What Today's Traveller Need?
These days, customers don't visit a travel agency and book tickets or do inquires physically, they do it online, or over a phone call.
For many people, travel has become second nature to them. It means that the customers want more in-depth information about the service that they are going to get. Although there are many options available on websites for different travel packages, and the do-it-yourself websites are also available, they are time-consuming. It takes a lot of time to browse through the websites searching for the perfect package for their travel needs.
The customers are looking for a more convenient and faster way to plan their travels. They need to talk to someone who has more expertise in the industry and who can build a good package for them. This is where the role of agents comes in. They provide the best advice and make the research work easier for the traveller.
If you are still in doubt about why the travel and hospitality industry needs a cloud call centre, here are the top five benefits that it offers.
1. Enhanced Communication
It is important for the traveller to get as much information as possible before deciding on a travel package. Although a lot of information is available there on the website that he can browse through, but nothing compares to having a conversation with a real person.
An efficient call centre agent knows how to convince a customer. Before planning a trip, the customer would want to explain all the possible packages he can get. An agent can help him pick the best deal according to his requirements and budget and a customer appreciates that.
2. Better Customer Service
The travel and hospitality industry thrives on good customer service. Successful hotels, airlines, and agencies offer a superior customer experience. Travellers today tend to connect on various communication channels to get the information.
With a cloud-based call centre you can have omnichannel integration to serve your customers better.
Also, customers connect to the support centre for multiple reasons like to get real-time updates on their bookings, get expert advice, get any issue solved, etc. Being always available to cater to the client's need give them an optimum customer experience.
A client always looks for getting real-time updates for his bookings, which you can provide with a cloud call centre.
When the customer gets a great experience with a company, they often come back for future bookings and even recommend it to others which is of great importance for the business as the competition is rising each day and every new customer count.
3. Increased Productivity
With a cloud-hosted call centre, you can keep track of all the calls. This will indeed help you draw out better marketing campaigns for your business.
With more satisfied customers, productivity is bound to increase. A traveller who has had a good experience before will return to the same company when he decides to make new plans. As he has already had all his requirements fulfilled, he will have a higher trust value for your organization.
Moreover, he will recommend it to other people willing to travel. With a hosted call centre, agents can also work remotely. As long as they have access to the internet, they can use all the features of the cloud call centre on various devices. With such flexibility, they spend more time with the customer dealing with their problems.
4. Saving Customer's Time
Always keep in mind is that a customer is calling because he doesn't want to put in hours into browsing the website for the ideal package for him. Thus, valuing the customer's time is very important.
With a cloud call centre, it is possible to provide quick and efficient solutions. If you integrate a CRM software with your hosted phone system, the agents will get all the necessary information about the client he's dealing with.
When the agents have relevant data about the customer, they can add a personal touch to the service which the client appreciates. Additionally, the agent will not be wasting time gathering basic information about the customer because he will always have them on screen. Thus, saving the customer a lot of time.
The booking becomes easier for the customer over the call as they don't have to search through the website looking for the right plan, but the agent will guide them to the ideal package for their travel needs.
5. Improved Features
Getting a cloud-hosted call centre means you can fully utilize all the features of the cloud like IVR, integration with different software, multichannel communication, high scalability and portability, etc.
Furthermore, you can save all your data on the cloud, which means you will never have to worry about losing the data of even a single customer. You can provide omnichannel communication to your clients so they can connect with you through any communication media they prefer, making you always available to connect with them, improving productivity.
Expanding or relocating your travel business will be uncomplicated. As hosted call centres do not require any hardware, you will not only save money but will always be ready to move or grow whenever you want.
Conclusion
The travel and hospitality industry is evolving rapidly. As the world is moving towards digitization, the clients are going to demand even more personalization in the future. To keep up with the pace, the travel industry needs to adapt to new technology to stay in the competition. Providing your customers with multichannel communication and quick service will lead to great customer service. With a cloud call centre, you can drive your business to success!

Ratnam is an SEO enthusiast and content writer working as a Digital Marketer with Acefone. He is fond of traveling and new experiences. He is a huge Marvel fan and is always open to learning.
https://www.acefone.com/blog/wp-content/uploads/2020/01/benefits-of-cloud-contact-centre-travel-industry.jpg
376
737
Ratnam Sinha
https://www.acefone.com/blog/images_acefone/logo.png
Ratnam Sinha
2019-11-19 08:00:08
2023-01-20 09:20:04
5 Benefits of Cloud Call Centre for Travel Industry