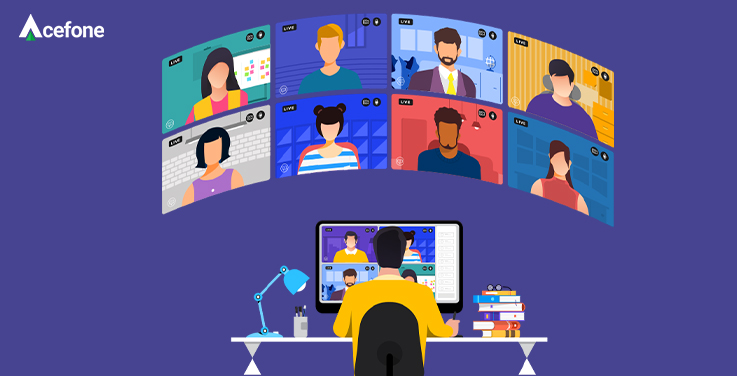 We're all adjusting to working from home, and this means for most of us we will be taking part in many more conference calls than we are used to.
Video call conferencing can still be just as professional as a face to face meeting, you just need to be more mindful of distractions and ensure that everything is running as smoothly as possible. 
Here at Acefone, we understand communication is key between you and your clients, so we've put together our top 3 tips for ensuring that your conference calls run smoothly and are as productive as possible.
Get To Grips With The Technology
Most commonly though COVID-19, businesses are turning to Google Hangouts, Zoom and Skype to keep in touch with their colleagues and clients.
If you have not used this technology before, then it can be a little daunting to go straight into video calling from traditional face to face calls.
Most video calling software will have the same basic features across them; such as the mute button, screen sharing, and a chat function.
It is good practice to get yourself familiar with the software you will be using for your video call beforehand, saving you from any embarrassing mistakes during the call.
Try a call with friends or family to get familiar with all of the new features to make sure you are completely ready to call your clients.
If you have a hosted phone system from Acefone, call conferencing is easy and included as standard.
You can simply use your desk phone, mobile device or laptop to call anyone based anywhere in the world with the same crystal clear communications you are used to.
All you need to do to connect is get your staff to dial in and you can collaborate seamlessly.
Practice Good Etiquette 
While staff are working from home, most employers will accept that they will not be dressed as smartly as if they were working from the office – but most expect a level of professionalism to be maintained, particularly if you are dealing with clients.
For a video call, it is important to still present as professionally as possible, so potential clients can see how your business operates, even when you are not operating in the same way you are used to.
While dressing appropriately is important, you should also take a look at the background of your video for anything distracting to others on your call.
A plain background is the best for a successful video conference call, so others are focused on what you are saying and not any mess behind you.
However, if you are using a telephone conference call your appearance is not as important but your environment still is and good etiquette must still be followed.
You should be mindful of noise in your home, and take the call in a quiet place where you will not be interrupted by any noise or family members passing through.
Employers and colleagues expect a little disruption while you are working from home but it is polite to be mindful of your surroundings and keep any interruptions to a minimum.
During a telephone conference call and a video conference call, you should mute yourself when you are not speaking.
This means that if there is any background noise around you that this is not distracting for anyone else on the call and they can solely focus on the speaker.
This is simple to do on your hosted phone system and will allow you to participate in successful conference calls with ease.
Finally, you must ensure that you are not distracted in any other way – for example, you should not be scrolling through social media or doing anything else during the call.
Even if it is not a video conference call people can tell if you are distracted and this will look unprofessional to your colleagues in the meeting.
Make Sure You Are Fully Prepared
If you are the host of the conference call, whether you are communicating via video or telephone you should ensure that you are fully prepared for the meeting by setting out a list of topics you would like to cover.
You could even circulate this and have your colleagues add anything they would like to be discussed, doing so helps keep the conversation on track and saves wasting time going off on tangents.
When conference calling it is easy to get distracted and forget vital points you need to cover, particularly with staff who have not seen each other for a long time due to the lockdown.
So a list of topics provides some kind of order and ensures you do not miss anything important which needs to be relayed to your staff.
If you are not the host, it is useful to prepare something for when you are called upon, so you remain professional and can get all your points across succinctly.
For some people, conference calling over video or telephone is a nerve-racking experience and so a little preparation beforehand goes a long way to making them much more comfortable speaking.
Whether you are using your hosted phone system to host a conference call or video calling software, you should check that your WiFi connection is strong before starting the call.
So you do not risk losing connection and interrupting the flow of the conversation.
If you will be screen sharing, it is also advisable to check your internet browsing tabs and close anything you might not want your employer or colleagues to see.
If you can, beforehand, ensure that children or pets are being looked after by someone else while you are on the call.
These are simple ways you can get prepared and ensure your conference call goes smoothly even while working from home with the usual distractions.
Most employers and colleagues will completely understand that this takes some getting used to, so interruptions are bound to happen even with lots of preparation!
Communicating with others is more important than ever in the current climate, so here at Acefone, we ensure you have reliable and clear communication systems in place which allow you to work from anywhere in the world with ease.
Plenty of hosted phone system users have been holding conference calls with staff across the globe even before the global pandemic we find ourselves in, and you could join them in enjoying crystal clear communications with your staff and clients.
Simply call on 0800-084-3663 to find out more about how we can help you with conference calling from home.

Acefone provides a broad range of cloud communication services to businesses of all sizes, which includes Hosted Phone Systems, Free Phone Numbers, and Cloud Contact Center Solutions. Being the UK's leading provider of VoIP service provider, we always strive to provide excellent customer service and high-quality custom solutions to our customers.
https://www.acefone.com/blog/wp-content/uploads/2020/08/call-conferencing-tips-while-working-from-home.jpg
376
737
Acefone Editor
https://www.acefone.com/blog/images_acefone/logo.png
Acefone Editor
2020-06-05 07:40:32
2022-04-25 08:01:52
5 Call Conferencing Tips When Working From Home