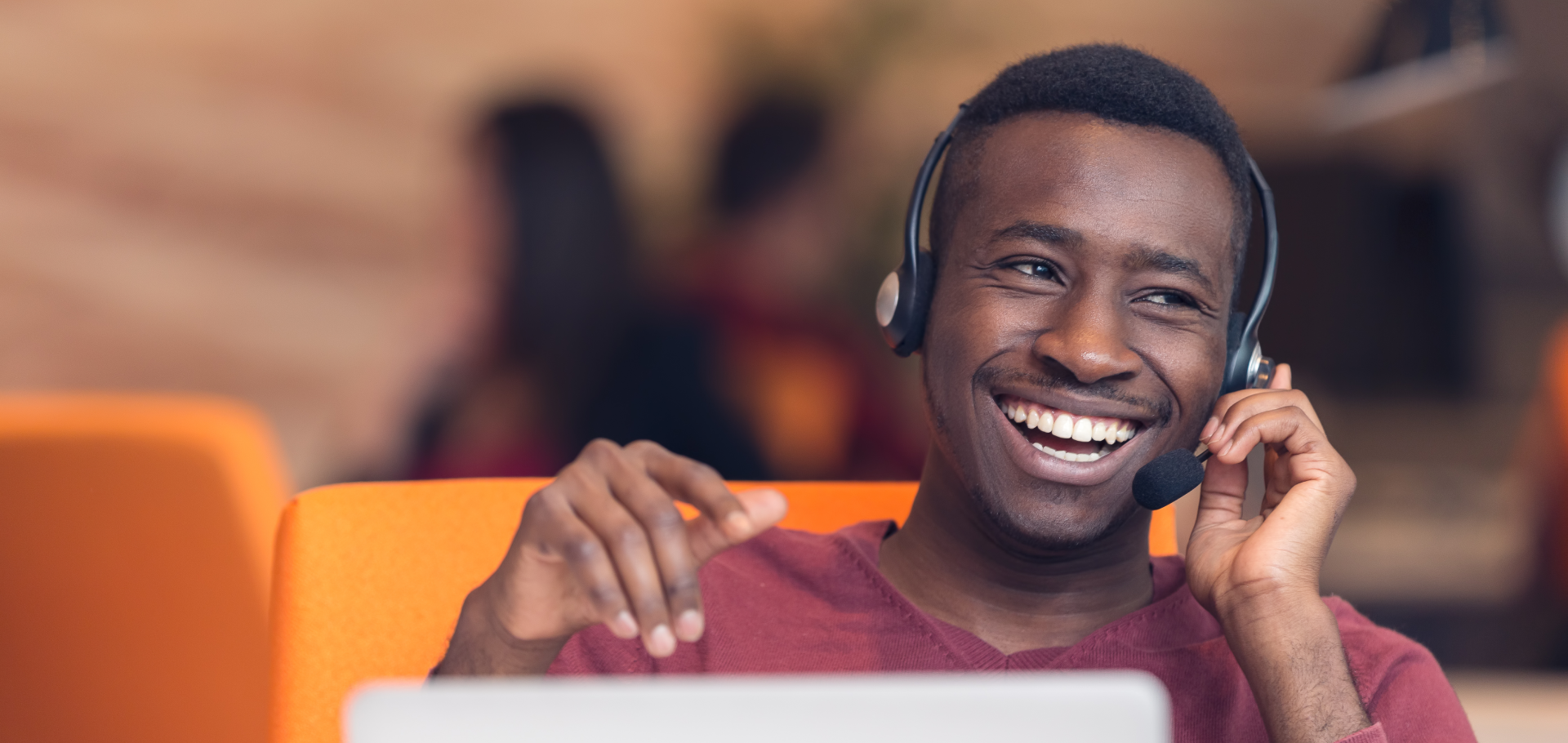 You probably recall hearing the term 'call center' from before you first heard the term 'contact center'. We don't blame you—both are often used interchangeably. However, contact center solutions not only evolve from call centers, but reimagine customer service and outbound sales.  
At their core, call centers deal with customer queries via calls, while contact centers use multiple channels such as voice, text, email, and video to do the same. But there is more to this differentiation than the latter's ability to go beyond voice calling—in today's time, customer success can is highly dependent on having a multi-channel presence; in other words, you must be everywhere your customer is.  
Hence, with this article, we aim to not only highlight the differences between both set-ups but also tell you why contact centers are irreplaceable in today's times, and call centers are—for a lack of a better term—redundant.  
First, let's understand how call centers and contact centers operate.
What is a call center?
Gartner states, "A call center is a group or department where employees receive and make high volumes of telephone calls. They can have internal customers or external customers." In functional terms, these departments present employees with a helpdesk and callers with a helpline.  
Agents addressing customer queries via incoming calls form an inbound call center, and those engaging with sales activities form an outbound call center. Depending on its size, a call center can be strictly inbound, outbound, or hybrid. A hybrid call center sees agents attend incoming as well as outgoing calls daily. 
Apart from their function, there is another factor that helps classify call centers better—their location.
In-house call centers
These are on-premise departments where agents sit together with dedicated hardware and software to handle customer calls.
Virtual call centers
Virtual call centers have agents working from remote locations with the help of an internet-enabled device and calling software.
What is a contact center?
Contact centers, as mentioned above, are evolved versions of call centers that operate over multiple channels. They also offer many more features and assure high customizability. 
They work on the latest VoIP or Voice-over Internet Protocol technology. As the name suggests, VoIP allows you to make calls over the Internet. Learn more about VoIP systems in this guide.
While calling remains a significant communication platform for customers, contact centers also include other mediums such as SMS, chat, video, and emails, often on a unified platform. This aspect makes contact centers more suitable for customer services. However, you can still use them for sales and technical support. According to Time Doctor, an increasing number of people prefer using multiple channels such as social media, email, calls, and chat to communicate with brands. 
Like their predecessors, contact centers can be classified into different groups such as inbound contact center, outbound contact center, hybrid, in-house and virtual. 
Despite these centers being feature-rich and technologically advanced, their digital nature makes them cheaper to build and maintain for providers and cost you much less to deploy. 
If you want to read more about how call centers evolved into modern-day contact centers, you can find it in our Complete Guide to Contact Centers and Running Them Successfully.
Key differences between call centers and contact centers
Now that we've briefly discussed their similarities and history, we can get down to the main agenda of this blog—how contact centers are better than call centers. To identify that, we look at their differences given below:
1. Narrow vs. in-depth customer data
Due to call centers being restricted to a single channel for customer interaction, the data they gather is limited. They may use speech analysis to understand the customer's preferences and emotions, but it won't be enough. Contact centers, however, provide omnichannel support and gather data from multiple platforms for a deeper understanding of the customer's preferences.
2. Traditional vs VoIP calling

 
Traditional calling systems, which most call centers deploy, fall behind in providing top-notch calling experiences as compared to VoIP. The traditional system restricts calling to a single device (for instance, a landline), while VoIP calling lets you make calls from any device. All it takes is an active internet connection and a portal login.
3. Rigidity in features vs. customizability
Contact centers offer much more customizability than traditional call centers. Traditional communication systems are often limited because any modification requires expensive hardware changes. On the contrary, VoIP systems offer many features that you can pick with a single click. For instance, at Acefone you can choose from 65+ customizable features that constantly update and witness additions. 
You can also check out those features on our website by clicking here. 
Why are companies switching to contact center solutions?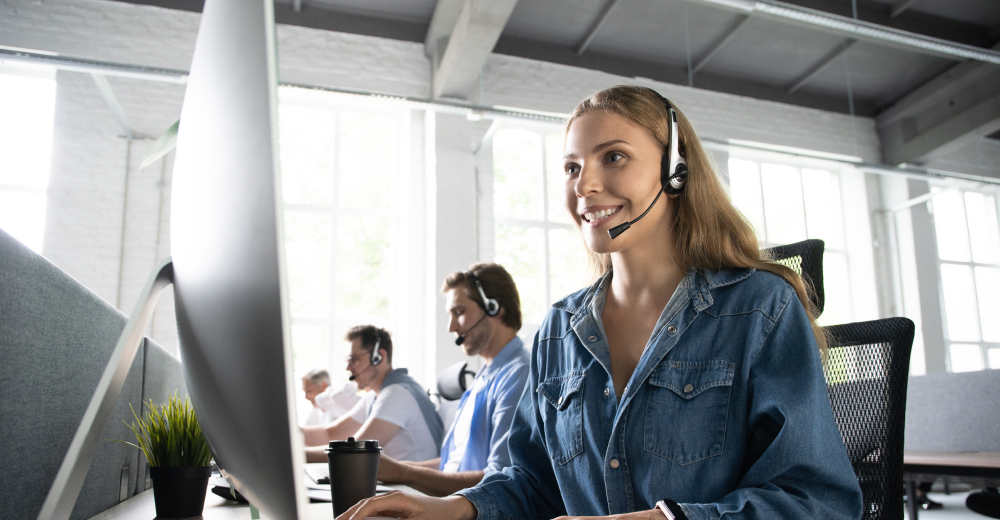 Drew Kraus, the VP Analyst at Gartner Customer Service & Support, says, "Contact center as a service (CCaaS) is a growth market; The technology offers greater software agility with a tower cost of ownership, making it a key area of investment in innovation and customer service applications that surpasses the offers of legacy premises-based or server technology." 
If you're still not convinced whether you should use contact centers, here are a few benefits that will help you decide.
Cost effective
Contact center solutions come at cost-effective rates compared to call center phone systems. To set up a contact center system, the only investment you need is a device and a VoIP-enabled calling solution. You save money on hardware installation, excessive hiring, and infrastructure maintenance.
Scalability
Any changes you wish to make to your calling solution can be made with a few clicks. If you need more extensions or user logins, you can simply ask your provider to include them in your subscription. You can add more agents to the system instantly if you experience a rapid increase in your daily calls.
Unified view
A key benefit of using a contact center solution is that it gives you access to all data on one platform. The calling portal showcases customer information from multiple channels on one dashboard.
Future proof
Google says, "Moving to the cloud is giving organizations of all shapes and sizes the ability to move faster, be more agile, and innovate their businesses." That's true for cloud solutions of all sizes—any technological innovation in the cloud telephony space will be a part of your solution sooner rather than later. This way, always rest assured of better automation, productivity, and reliability.
Agent productivity
Contact center solutions make it easy for agents to deal with higher call volumes without getting overwhelmed and still provide meaningful solutions. With features such as call recording, call barging, call transferring, and live call monitoring, managers can supervise agents more efficiently and help them reach their goals faster.
Top 5 contact center features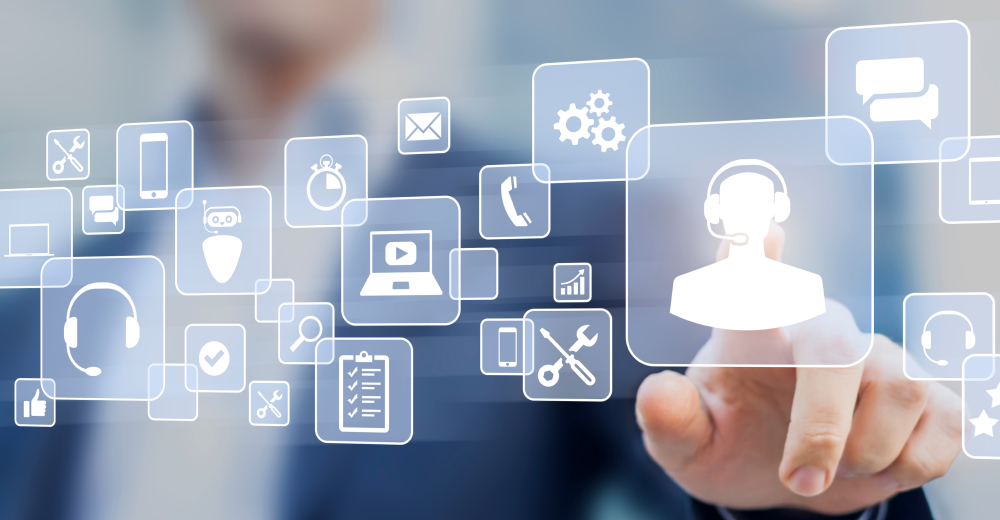 VoIP offers endless features that enrich your contact center solutions. Therefore, we came up with a list of critical ones every contact center must have to function optimally.
IVR
An interactive voice response or IVR system is highly critical for inbound calling. It is a calling menu that lets the caller route themselves to the right agent by navigating through the given options. Any inbound contact center is incomplete without an IVR.
Call monitoring and supervision
Contact center solutions often provide both bird's-eye and detailed live monitoring of calls and other channels. It is possible to view what agents are up to via a live dashboard, while call detail records or CDR help supervisors gauge an agent's performance.
Similarly, features such as automatic call distribution (ACD), access management, ring groups, conference calling, and blind call monitoring help supervisors assist agents.
Integrations
Top contact centers solutions allow telephony integration with CRM and helpdesk tools, which helps teams deliver personalized experiences and manage customer information across platforms. You can integrate Acefone's contact center solution with 20+ popular CRM integrations for better lead management.
Automated dialers
Automated dialers help your agents focus on the most important aspect of any business—customers. They reduce any time wasted on manually dialing numbers and switching between calls.
These dialers are programmed to identify genuine calls. They also monitor operator availability and route calls accordingly to minimize call-drop rates. 
At Acefone, we offer two types of predictive dialers—ratio dialers and preview dialers. You can get in touch with our experts and to know more about them, 

Calling analytics
Calling analytics provide detailed insights about the quality of service, average and max call waiting time, average handling time, and the average number of agents available. This helps stakeholders make informed decisions in alignment with the organization's objectives.
The takeaway
While call centers focus on sales, contact centers are the go-to option for overall customer services as they provide better agent assistance and analyses.
Investing in a cloud contact center, however, is a wiser decision for overall productivity. You get an omnichannel solution for smoother communication with access to 75+ customizable and future-proof features. Scaling a contact center solution is also easier as it doesn't require adding any expensive hardware. You can even add and remove agents from the dashboard with a few clicks. Thus, getting a contact center solution for your business can yield better ROI as compared to a call center solution and later upgrading it.
Visit our homepage to learn more about the contact center Acefone provides. You can also get in touch with an expert at 1888-859-0450 or [email protected].
Ritwik is a fitness enthusiast with a bachelor's degree in computer applications. He discovered his passion for storytelling while writing articles for his fitness blog. After which, he decided to switch to full-time writing, exploring his capabilities as a professional writer. He is now practicing his skills as a senior content writer at Acefone Software pvt ltd. to bring words to life.
https://www.acefone.com/blog/wp-content/uploads/2023/01/MicrosoftTeams-image-39.png
910
1920
Ritwik Raj
https://www.acefone.com/blog/images_acefone/logo.png
Ritwik Raj
2023-01-19 11:27:46
2023-01-30 11:13:28
Contact Centers vs Call Centers — Which Is Better And Why?