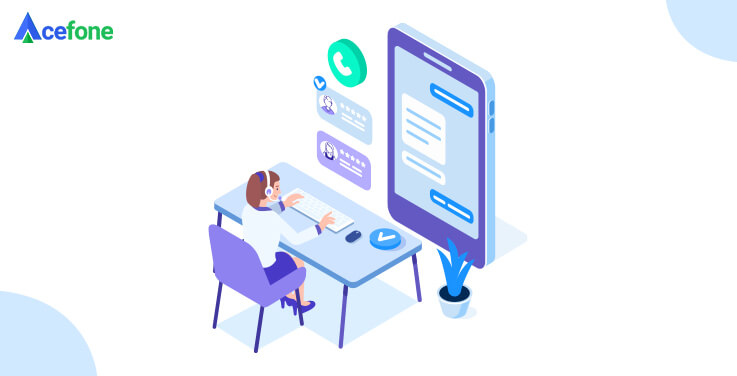 Call centers have emerged as a key touchpoint for businesses. They establish contact with customers, understand their demands, and offer quick and efficient solutions. 
Though a typical call center set-up reminds us of call queues, frustrated customers, and agents on multiple phone lines, the current scenario has become increasingly streamlined.
Backed by cloud-based VoIP systems, businesses offer contextual customer experiences in an organised manner.
The global cloud-based contact centre market is expected to grow to USD 20.93 billion by 2022.
There are several cardinal features in call center phone systems that make them popular among customer-centric businesses. Here, we have consolidated a few of them. Check them out right away!
1. Interactive Voice Response
Interactive Voice Response (IVR) enables customers to help themselves by routing to the concerned customer service agent. This can be done by providing various options in the IVR script for the customer to select via pressing the corresponding button. 
For example, you can create an IVR script that allows your customers to press 1 to get the latest information on your products, press 2 to connect with the billing department, and press 3 to talk to your support agent. 
This can be done by answering simple questions about the issue they are facing. IVRs range from basic ones that help establish the right connection to sophisticated ones that allow customers to even access their accounts. Again, in some other cases, IVRs can help solve simple concerns that involve basic directions. Therefore, these systems also help reduce workload.
2. Automatic Call Distribution
This feature helps in routing calls to the appropriate destination. For example, issues related to billing are routed to the accounts department, or calls on the queue are connected to idle agents. 
The concept of automatic call distribution (ACD) is to intelligently route customers' calls to the right agent and department for faster query resolution.  
This system may work based on an IVR or interactive voice response system or using a caller ID or voice recognition. ACD systems play an important role in reducing wastage of time and resources.
3. Call Monitoring
The call monitoring feature is important for team members at all levels. It helps new recruits acquire knowledge about their nature of work by referring to these calls. This gives them a chance to obtain real-time experience.  Managers and supervisors use it to monitor the department's overall progress, track KPIs, and device strategies to improve customer experience. 
Again, specific calls that involve complicated technical concerns can be used to build a knowledge repository with the help of call recordings. These also help in monitoring the daily activities of agents and simplifying the process of identifying operational or quality issues.
4. Skill-based Routing
Customer service agents work based on their expertise. They are categorised depending on their experience, languages known, and skillset. Skill-based routing enables directing customers to the most appropriate customer service agent. 
Consider an example of a French-speaking customer who has contacted the centre for assistance about network issues. He may become frustrated if he is connected to a non-technical agent who only knows Chinese. Skill-based routing eliminates these scenarios and empowers seamless customer experiences.
5. Predictive Dialer
This feature is useful especially for call centers dealing with outbound calls. Agents can call a predefined phone number list simultaneously. The numbers that answer are connected to the agent.
This way the agent will not need to wait for every call to be answered, saving a lot of time. Also, this feature monitors the availability of operators and can route calls based on that. It ensures that calls are not connected when operators are not available.
6. Live Call Transfer
The live call transfer feature enables customer service agents to transfer calls to another agent or a senior executive without disconnecting the call. 
This can be done by simply re-routing the call through the mobile phone. It saves a lot of time as the customer need not connect over a new call and also ensures that the issue is solved.
7. Voicemail to Email/Text Conversion
Transferring voicemail through email or text helps agents to handle several issues simultaneously. This also contributes towards providing consistent technical support. The representative can listen to the voicemail and reply to the customer with the next appropriate step.
It allows for faster resolution of issues and improved customer service for your business.
8. CRM Integration
Almost all call centers have a CRM integration in place that helps agents deliver personalised experiences.
The technology provides the agents with information like the name of the customer who has contacted, details regarding the nature of previous tickets, and chat transcripts. This information will help agents work in an efficient and organised manner.
9. Real-Time Metrics
Real-time metrics provide detailed insights about service levels, average call waiting time, maximum waiting time, the average time to handle queries, and the average number of agents available. 
This will help stakeholders make informed decisions on par with the organisation's objectives. The information can also be used to make strategic decisions, boost call center efficiency, and customer experiences.
10. Reporting and Analytics 
Comprehensive reporting capabilities will help call centers make data-driven decisions. This will have a measurable impact on the organisation as a whole. Managers and stakeholders will be able to monitor agent performances, evaluate the quality of calls, identify hiccups, and contribute towards the overall improvement of processes.
Furthermore, analysing this data will provide a closer look at the workload and identify a spike or decline at a defined time. This will help make effective staffing decisions in the long run.
Wrap Up
Call center kiosks are not restricted to features like call forwarding and recording. They have grown enormously by adopting state-of-the-art capabilities like analytics, chat, and integration with CRM. 
These advancements have contributed immensely to the smooth functioning of call centers. The above-mentioned points provide a detailed view of the several capabilities of a modern call center and how they help in improving the efficiency of processes.
You can contact Acefone for more information on call centers and its features.

Olivia is an outgoing person who enjoys writing, is an SEO enthusiast, and often interacts with others in intellectual conversations. She enjoys listening to music in her free time. Connect with her on Linkedin
https://www.acefone.com/blog/wp-content/uploads/2020/08/must-have-call-center-features.jpg
376
737
Olivia Trott
https://www.acefone.com/blog/images_acefone/logo.png
Olivia Trott
2020-08-31 11:51:47
2023-04-03 10:32:50
Top 10 Must-Have Features of Call Center Phone Systems