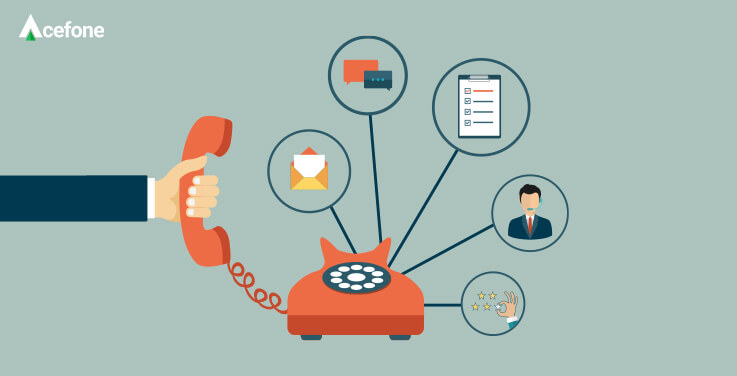 We've come a long way from Alexander Graham Bell's invention of the telephone. Over the years, a multitude of innovations has become critical to a firm's operations. One such product is the softphone. 
This telephony system doesn't even need a wired desk connection or a business phone device. It operates entirely on the cloud which means that any internet-enabled device can become your new desk phone with the touch of a button.
In this article, we will explore why you need a softphone and what it could mean for the future of your business.
1. Flexibility to relocate
A cloud-based phone system enables you to work from any location depending on your requirements, without worrying about missing a call or lead. As long as you are connected to the internet, you can make and receive calls as if through your desk phone. 
In this internet age, you're likely to find a wifi connection in most places, so your functioning need not be interrupted just because of geographic constraints. If you are in the middle of meetings, you don't need to return to the office anymore. You can connect with clients anywhere—a local coffee shop or even a picnic in the park—making that place your office for the day. 
Softphone enables you to answer customer calls with the same clear quality you would expect from a traditional phone line. Moreover, there's no need for multiple devices since the technology can be incorporated into any compatible device. 
2. Hire remote workers anywhere in the world
Softphones can open up your talent pool worldwide, giving you the chance to recruit the best staff regardless of their location. With just a few clicks, you can connect them to your phone system and they will be able to work as if physically present on-premise. Remote workers can also be hired on an ad-hoc basis; you can add and remove phone lines easily through Acefone's online portal. 
When customer calls get connected, remote agents can be sure of reliable quality for efficient communication.  Staff working from home can also use their own devices, as long as they have an internet-enabled laptop, phone, or tablet. 
Employing softphones gives you a great opportunity to introduce new talent to your business. This extra manpower also helps you get through heavier workloads. For example, if your firm is busier in certain seasons or at certain times of the day, you can hire remote agents to work part-time. They share the volume of calls and ensure that customers are not kept waiting unnecessarily.
3. Monitor everything through detailed analytics
As a manager or business owner, you should monitor and keep track of your staff's performance to ensure everything is running as smoothly as possible. A softphone allows you to access detailed analytics on any device, wherever you are. With just a few clicks, you can find out waiting times, call times for individual agents, time in between calls, costs, and so much more. 
These analytics can help schedule work hours and tasks, and also give insights on the cost-effectiveness of your call plan. Additionally, call recordings are stored safely in an online portal, so all interactions are easily accessible—to be used for training or to help resolve complaints.
4. All customer information at your fingertips
With a softphone, you can access call logs, customer contact information and anything else you need while on-call. Agents need not open and operate multiple systems.
This will not only save agents' time but will also provide a great personalised experience for your customers. Clients will be impressed by your employees' knowledge of their issues, and this dedicated service will encourage them to remain loyal.
Storing customer data on a softphone also saves money. Agents can spend their valuable time serving customers and targeting new leads. They can also leave detailed notes on an account detailing client preferences or previous conversations so that other employees can maintain continuity. 
5. Host conference calls anywhere
It no longer matters where your staff is physically located. You can add members to the system with one click, and hold group calls with colleagues and clients directly. 
Conference calls encourage collaboration, which is of the utmost importance when your staff is based all over the world. You can keep everyone connected and encourage them to share their experiences without the need for costly corporate retreats.
Agents can connect through multiple extensions and collaborate to build a strong team. This will certainly have a positive impact on their customer service. When employees feel included and happy, they are more likely to produce quality work. Therefore, it is important to keep everyone connected and motivated—and conference calls are a simple way to do this.
Softphones make operations more flexible and allow you to do what you do best, rather than worrying about missing important calls. With a wealth of features designed to make work easier, virtual phone solutions can be the key to a productive workplace and a profitable venture. 
To find out more about softphones and why your business needs one, call our expert team on 0800-084-3663 or visit Acefone today.

Olivia is an outgoing person who enjoys writing, is an SEO enthusiast, and often interacts with others in intellectual conversations. She enjoys listening to music in her free time. Connect with her on Linkedin
https://www.acefone.com/blog/wp-content/uploads/2020/09/reasons-why-business-need-softphone.jpg
376
737
Olivia Trott
https://www.acefone.com/blog/images_acefone/logo.png
Olivia Trott
2020-09-22 04:43:16
2022-04-25 10:42:16
Reasons Why Businesses Need Softphone