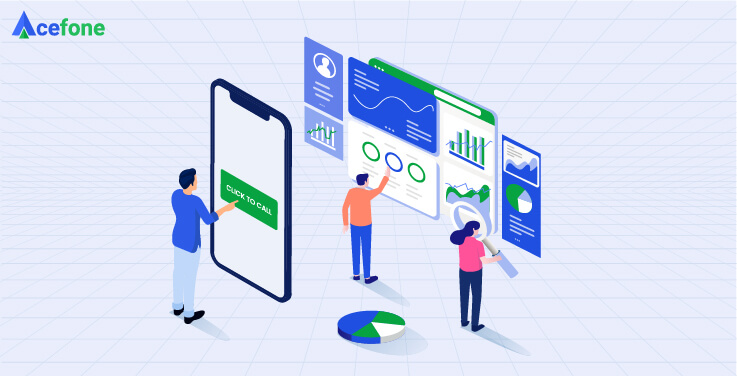 Integration is the heart of every business.
All your systems and technologies must work together like a well-oiled machine in a modern enterprise. 
However, that's not always the case. 
The most common problem that employees face when analysing customer data is that it's scattered and hardly present in a single place. Integrating CRM (customer relationship management) systems with third-party apps allows companies to formulate customer data on a singular dashboard in an organised manner where the whole organisation can access it. 
One of the key aspects behind the growing popularity of CRM software is its accessibility. Today companies want to connect customer data with platforms and technologies to deliver a personalised experience and improve customer service. 
The CRM integration provides customer support teams with a one-stop solution to manage customer interactions efficiently and improve the organisation's operations and productivity. 
What is CRM Integration?
Customer Relationship Management (CRM) is a software platform that allows you to build long-lasting relationships with your customers across customer journey touchpoints. It is the process of managing and recording business-client interactions to drive sales, streamline operations and improve the overall brand experience. 
A CRM solution helps organisations build relationships with individuals that include customers, colleagues, suppliers, or service users throughout the lifecycle. It includes finding new prospects and winning their business by providing support and additional services. 
CRM Integrations synchronises customer data across multiple systems and creates a holistic 360-degree view of customer data. It eliminates the tedious process of going back and forth between multiple systems to access customer data and information.
Integrations are of different types ranging from phone, email, social media, video, team communication, live chats, etc. You can also add different features to your CRM system that can help you boost business communication. One such feature is the click to call. 
Click-To-Call
Click-to-call is also known as click-to-talk or click-to-dial. The click to call button allows customers to connect with support agents of an organisation by just clicking on a button through the company's website. It offers real-time communication between potential or existing clients and customer service agents. 
Sometimes there isn't enough information available on a website, and customers may want to talk to a company representative before purchasing a product. They may have a query regarding the products and services your company offers, and connecting over a phone call seems like the logical option.
This is where the click to call button comes in handy and can help elevate your customer's journey. 
The click to call button offers many benefits ranging from automatically logging calls, dropping pre-recorded voicemails, and power through call lists. It also helps to save time, reduces error, and increases the agent's productivity. Some other reasons why it is a no brainer to integrate the click to call button in your CRM software are:
Improves customer engagement and segmentation
The key to conversion is calling the right customers at the right time. The click to call button captures customers in the research phase and allows you to segment them intelligently. 
For example, if your customer is scrolling on a particular web page, you can direct calls to that specific department to best serve the customer's needs. It will encourage customers to call, which will solve queries quickly and deliver a satisfactory personalised experience. 
Intelligent engagement allows you to optimise proactive contacts. Businesses can set up parameters like the amount of time spent on the website or a product added in the cart to trigger the click to call popup, encouraging customers to connect and reach their desired result. The click to call button is the ideal funnel optimisation tool for businesses. 
Gathers customer journey insights
It is relatively easy to track click to call interactions because it is easy to track the web page the prospect came from. The data gathered can be instrumental in mapping customer journeys and empowering your agents. 
Customer journey mapping lets you understand where your customers call you from and highlights the sticking points on your website. For example, if the data shows that you receive many calls from a particular web page, it suggests that the information is not apt, and you can optimise that web page accordingly.  
The bulk of data you can gather will allow agents to be more effective and productive in their work. With the click to call option, agents can identify from which web page the customer is calling, and it will provide agents with the vital context that will help them solve the customer's problem.
The information can help support staff streamline interactions, improve first call resolution rates and deliver a satisfactory customer experience.
Increases conversions and customer contact
The click to call feature is a great tool to improve customer engagement and encourage your audience to connect with your business. It helps to enhance the call conversion rates and return on investment significantly.
Research shows that 70% of mobile searches have used the click to call button to connect with a business from SERP and 61% of mobile searchers state that click to call is the essential feature while purchasing a product.

The more customers contact your business, the more chances of conversion. Customers like a fast and effective resolution to their queries. If customers receive a friendly web call that helps them resolve their problem, that would be the key to turning a customer who is on the fence into a client. 
Provides omnichannel support by going beyond voice
A traditional phone call is limited to voice calls. On the other hand, an entirely web-based click to call exchange allows customers to connect with businesses via live chat, video calls, and co-browsing. 
The seamless transaction allows agents to serve customers and offer a superior brand experience by connecting via different communication channels. It helps to increase the first call resolution rates, lead conversions, and customer satisfaction. 
These extra contact channels can optimise the customer journey. Firstly customers can quickly contact you through a simple click. Then depending on the request, the interaction can be escalated to a different contact channel again through one simple click. 
Saves money and increases return
The click to call button offers monetary benefits as well other than a customer satisfaction standpoint.

Firstly, pure web calls are cheaper than your traditional phone calls. Secondly, web click to call makes it easier and more affordable for your international customers to contact you. Every customer can get you through the same button without paying any additional international calling charges. 
The bottom line
Connecting with customers and providing excellent customer service is the key to building long-lasting relationships. 
The click to call button allows your audience to contact businesses with a single mouse click and resolve their queries. The feature will help to improve agents' productivity, deliver a personalised experience and improve customer service experience. 
If you want to integrate the click to call button into your CRM software, you can get in touch with one of our experts at 0800-084-3663 or just drop us an email at [email protected].

Saurabh is a content writer at Acefone. He is a fan of standup comedy, football, and Hindu mythology. He is fond of travelling to unexplored places, meeting new people, and having newer experiences that enrich his soul. Connect with him on Linkedin
https://www.acefone.com/blog/wp-content/uploads/2021/12/elevate-your-customer-journey-using-click-to-call-button.jpg
376
737
Saurabh Sharma
https://www.acefone.com/blog/images_acefone/logo.png
Saurabh Sharma
2021-12-16 06:49:38
2023-02-17 11:47:21
How Adding Click-To-Call with a CRM Integration can Elevate your Customer Journey