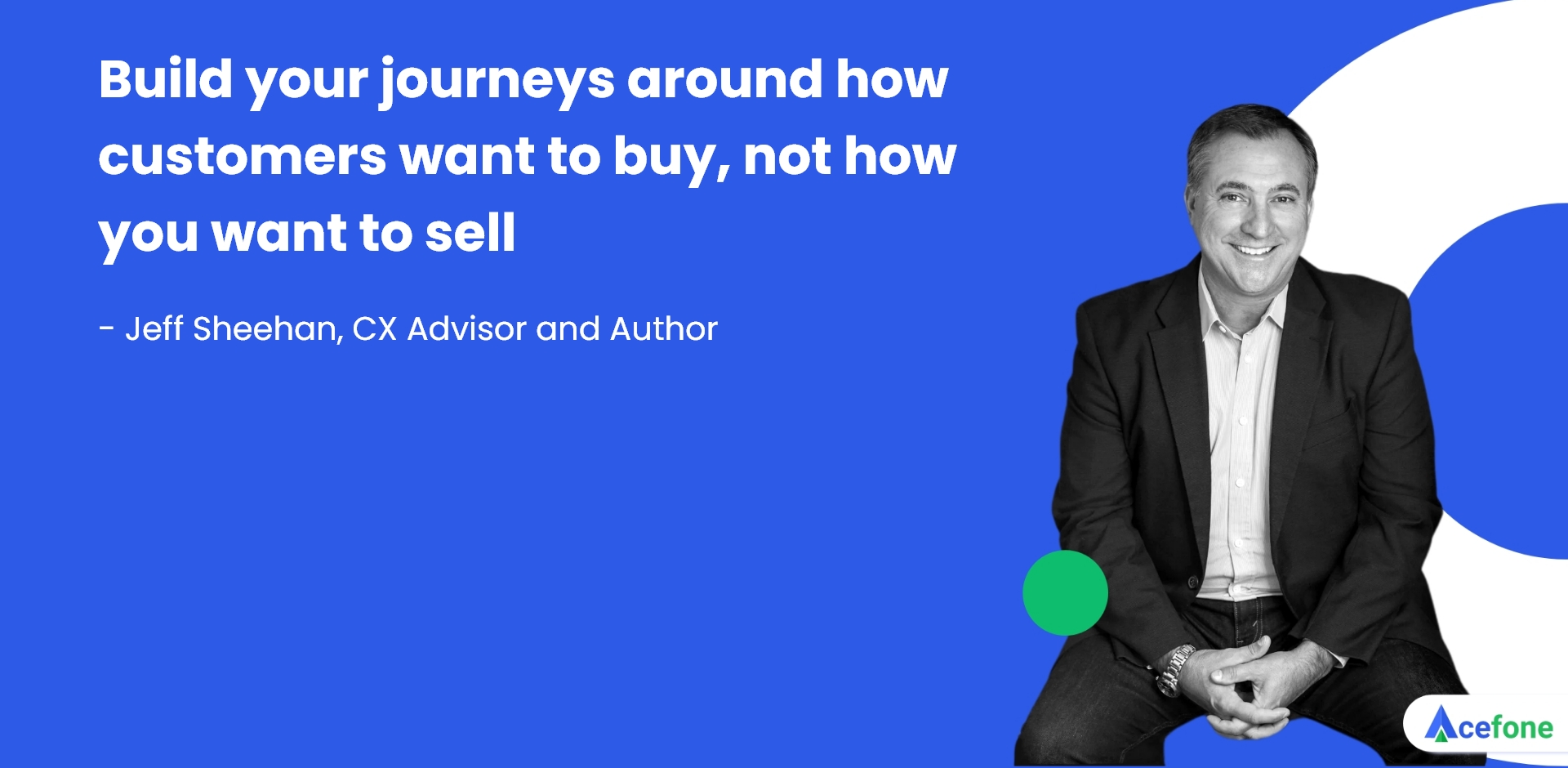 Economics is the story of supply and demand. As a business, learning the key characters of a market is important. You may supply the best product, but to reach the climax of the story, you need to connect with demand as well. 
That's where customer experience comes in. In a saturated market, the connection you build with your clients is what sets you apart. Therefore, providing exemplary service should be one of the top priorities for any successful business. 
Here's someone who can really help: Jeff Sheehan is a highly-skilled CX advisor and author from Dublin. With more than 25 years of experience in the field, he's seen all the ups and downs of industries and tracked customer service trends actively. 
He has worked with major organisations like Apple, Motorola, KBC Bank, and more. Recognised as a Top50 Global Thought Leader in November 2020, he has also authored a book on customer experience management. 
Here are the highlights from our exclusive interview with him as he breaks down customer experience for modern businesses. Read on to get a headstart on your CX efforts and witness high business productivity.
Q1: Let's hear about your journey in the field of customer experience.
I've been working in customer service in the technology industry since 1995. Starting as a field services manager, I led a team of field engineers in data centre computing and networking environments, and performed client service as well. 
It was a comprehensive experience that set me up well. It paved the way to try out service sales, web hosting channel development, service desk operations, business process outsourcing, and consulting. 
I'm fortunate to have a diverse background from working in technologies, commercial business, and customer service domains—all of which set me up perfectly for a role in customer experience management.
Q2: What do you think is the most important aspect of being a customer experience professional?
In terms of one's background, I think having some depth in customer service is extremely important because it allows you to empathise with your consumers. You're able to understand the dynamic tension between how your company operates and how that impacts real people. 
Whereas in terms of making an impact as a CX practitioner, the answer would be leadership—especially the communication and collaboration aspects. The major problem most CX professionals face is the lack of authority to ensure necessary changes are being made. You need to earn your influence by communicating and collaborating with stakeholder colleagues and bringing them along with your ideas for positive changes.
Q3: How have CX trends changed over the years?
Customer service has transformed itself in so many ways, but here are three particularly significant examples. 
Tactically, companies have adapted their operating models so that contact centre issues that cause friction for customers can be identified—in products, services, and processes. Earlier, we'd operate with more people to respond to higher demand, but now we realise that each call indicates something upstream in the business may not be working. Now we make use of data abundantly, and therefore, are able to better address the root causes of client issues.
Operationally, the Internet has changed so much in terms of the way things are marketed, transacted, serviced, and supported. The streams of data coming into businesses now are astounding and a real goldmine for understanding customers in depth. There's no need for trial and error when you can tap into resources to gauge customer preference and behaviour patterns. 
Strategically, a customer's experience with a brand is now seen as a key dimension of differentiation in a world where everything is accessible via the Internet. Whole industries have been transformed by the Internet, and they've all embraced customer experience management as part of their strategy for their way forward.
One of my favourite tips is this: Your processes are not the customer's journey! Talk to your clients. Understand how your products and services are used in their lives and what they expect out of you. Then you can build your journeys around how customers want to buy, not how you want to sell. Believe me, there is a huge difference.
Q5: According to you, what are the missing elements in improving customer experiences that businesses are not aware of?
I would say journey orchestration. It is basically the process of bringing the customer's experience to life and orchestrating journeys across all of the touchpoints—so they're consistent, seamless, and easy to work with. 
This allows you to eliminate confusion and overcome organisational silos. Journey orchestration includes aligning details such as digital copy and design consistency. Or maintaining the same messaging on the website, mobile app, and contact centre. 
Regardless of whether journeys are digital or analogue, journey orchestration ensures they are working from the same "sheet of music", as it were.
Q6: What's the best way to ensure a seamless customer experience?
I have to say that journey orchestration, as I explained earlier, is the most effective technique. However, it's worth noting that while 'seamless' sounds great, people need a little bit of friction to make an experience memorable. 
For example, IKEA makes us walk through the entire store in one direction. Starbucks makes us wait for our name to be called for our coffee pickup. Apple has customers wait in a queue for a personalised sales and support experience, especially when the store is busy. These are small instances of friction that are deliberately put to make the overall experience connect the customer to the brand.
Q7: Irrespective of the type of industry, what advice would you like to give to businesses for improving their customer experiences?
For any new business, you absolutely need to define your mission, vision, values, and brand promises first. These things begin to set expectations with customers and will guide the types of customer experience your business wants to deliver. 
For existing businesses that want to re-examine the experience they are offering, I'd say you should re-examine the values you espouse and the promises made or insinuated by your brand. Check if your customer feedback indicates their alignment. 
It is very fashionable, for example, to say on your website that your company believes in sustainability. But if you mail paper documents to customers or don't use recyclable materials in any way, your credibility is shattered at once. 
Be clear about what your business does—and how—so customers know what to expect from you and you know what you're aiming to deliver. If your business doesn't set the expectations, the customers will, and you may never meet, let alone exceed those expectations.
One point I'd like to make, which I've written about in my forthcoming book, is concerning leadership. I emphasise that the CX leader role, regardless of your actual job title, is indeed a leadership position. The CX leader may have positional authority over some staff and some processes, but it is unlikely that they'll have authority over all of the stakeholders and resources involved with customer service, experience, or centricity. 
This is where it becomes crucial to lead with influence, and advocate for the customer in every effort you are involved with as a CX leader.
Conclusion
Certainly, these tips by Jeff Sheehan stem from years of experience in customer experience management. By taking his advice into account, we hope,  you'll see a noticeable difference in your client relationships and therefore, better business performance. 

разные способы получения и погашения займа
Acefone helps you put together a communication solution that suits you and your clients best. Using top-of-the-line tech, from dialers to downloadable data, you can design a contact center solution that fits your needs perfectly. Empower your contact centre with cloud-powered tools and ensure your agents are equipped to work productively and profitably at all times. This comes with a speedy, handheld onboarding process and 24×7 support should you ever have any questions. Try it yourself with our free trial. You can reach Acefone's expert support agents at 0800-084-3663 or send an email to [email protected].  
About the Expert:

 
Jeff Sheehan is a CX Consultant and Strategic CX Business Advisor whose specializations involve translating strategies to tactics and using them to improve customer experience and interlinking organizations by linking CX strategy and organizational transformation with analysis of the people, process, and technology infrastructure needed to execute the CX transformation. 
He is also the author of a bestseller, Customer Experience Management Field Manual: The Guide for Building Your Top Performing CX Program in 2021 and was internationally recognized as a Business Strategy, CX Thought Leader, and Influencer in 2021 and 2022. You can learn more about Jeff's opinions on his LinkedIn.
 

Diksha is a junior content writer at Acefone. As a tech-lover, she aims to bridge the gap between tech articles and non-savvy readers. She's equally interested in pop culture and worldly affairs. And in her free time, you can find her with her nose buried in a book or discovering new music for her chaotically diverse playlist.
https://www.acefone.com/blog/wp-content/uploads/2021/01/Jeff-Sheehan-1.jpg
940
1920
Diksha Gusain
https://www.acefone.com/blog/images_acefone/logo.png
Diksha Gusain
2021-01-08 05:26:35
2023-03-23 11:30:29
Phone An Expert: Level Up Your Customer Service Game With Jeff Sheehan