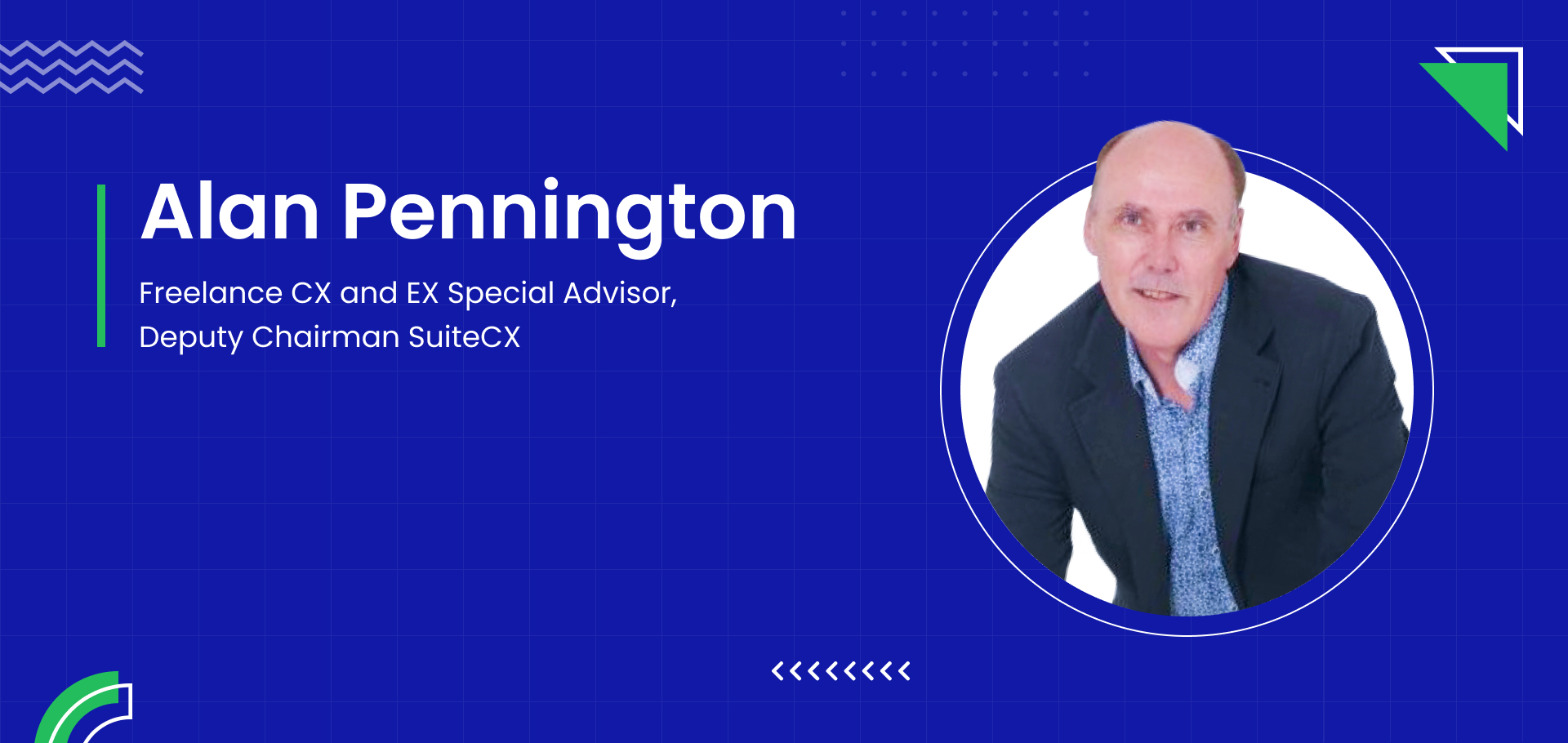 Data can be a very useful tool. But in the field of CX, when used well, data can be a game changer. It can help bridge that very vital gap between a business and their customers. This is something Alan Pennington, deputy chairman of SuiteCX, a US-based CX software company knows very well.  
His specialty lies in advising FTSE 100 & Fortune 250 companies on assessing, measuring and re-designing their customer experience. Pennington was one of the first pioneers of good CX, seeing that there were ways to attract customers but none to keep them happy.
"Back around the turn of the century CX was just in its infancy, it was dominated by research businesses that told you the problems with your customer service," he said. "But not how to fix them. Advertising agencies were creating amazing campaigns to build demand, but creating expectations that could not be delivered by the operation." 
According to him, there was a big gap in the market for a firm to take the research and advertising data and translate that into deliverable experiences. 
"While it is true that just because there is a gap in the market it does not necessarily mean there is market in the gap, fortunately, our hunch turned out to be true," he said.  
He has since gathered two decades of experience in CX, working across the world for top companies. We asked him for some quick advice he could give us from his vast repertoire. 

What strategies do you follow while creating a business plan for the operations group?
I focus on real-time in-year deliverables where we can engage as many individuals a possible across functions and where we can demonstrate line of sight business along with measurable improvements. I make sure to focus on the quarter ahead but with an eye on the longer-term cumulative goal. Ensure that your deliverables are customer-outcome focused.  
So, start with what you want to achieve, by when, then create the plan of actions. 
Based on your experience, what are some common mistakes that businesses make that hinder their customer service?
Many believe that CX is very complicated, that it is an expensive undertaking and that it is a project. In reality it is a never ending journey of changes and adjustments. 
They spend too much time fixing recurring problems rather than redesigning the experience based on the known issues. Data, information and research are too often used as reasons not to act. The phrase, "we need more data" means it is not turned into actionable change; too many times the default is to create a huge program and then to wait for the 2-3 years it might take to deliver on that.  
In the meantime the world has changed, you need to make hundreds of tiny changes that require little or no governance. When it is a collective cross functional approach making lots of tiny changes that will really evolve your CX/EX to the next level, in the words of Nike "Just Do It!" 
How do you implement your strategy at the ground-level, when dealing with a frustrated customer for example?
I take them back to basics. I destroy the often-held myths that hold leaders back from fully embracing the huge commercial wins available from integrating CX/EX as PART and only part of their business strategy and business solution toolkit.   
By doing this I give people the confidence that they can succeed, then I go ahead and prove it to them. Now you have a fully engaged sponsor. 
Remember that CX is not an input, it is the output of activities inside your company.  We are in the memories business in CX, and this is about designing positive ones, attention to detail is critical to success. Remember customer centricity is rarely if ever the answer, it is about dialing up the CX component of your business strategy to the right level for your brand position. 
Acefone's contact center solutions allow for you to collect and access all the data you need. Our manager portal allows for managers to listen in on calls, advise the agent privately and get downloadable data on agent performance. Furthermore, the system can be tailor-made for your needs, your customers and your agents. Call us today to get a free trial and plans starting as low as $19.99. 
About the expert:
Alan Pennington is a CX expert and one of the world's Top 25 Global CX Thought Leaders and Influencers for 2019, 2020 and 2021.  
He began his career at the Royal Mail where he was retail director and eventually became commercial director of its subsidiary call center business. He was then managing director of UK-based management consulting firm, Mulberry, after which he began freelance, working across the world with companies like Emirates, Vodafone, Reed Elsevier, City & Guilds, British Council and Aviva. Currently, he sits on the board of SuiteCX in an advisory role.  
His specialties are customer experience management, CX strategy, CX team development, education and deployment, CX experience design and measurement, CX organizational design, CX coaching and Advisory.
Shrishti Mathew is Acefone's assistant content editor. After three degrees and a year in journalism, she moved into tech marketing. When she isn't writing, you can find her reading, sleeping or trying out a new recipe.
https://www.acefone.com/blog/wp-content/uploads/2022/12/Pennington-Header.jpg
910
1920
Shrishti Mathew
https://www.acefone.com/blog/images_acefone/logo.png
Shrishti Mathew
2022-12-13 12:05:12
2023-01-30 12:38:05
The key to good CX is to use your data well: Alan Pennington