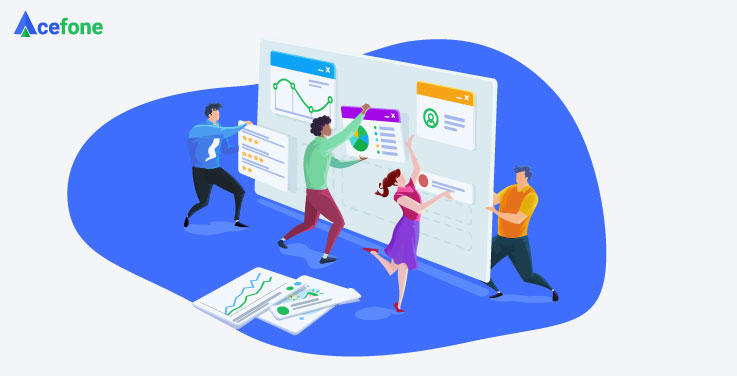 Did you know: 95% of customers today seek proactive communication from the companies they do business with?
Buyers want to interact with you in a convenient, effective and meaningful way.
And to meet these ever-evolving customer expectations, you must have a sound engagement plan in place. In fact, it should be your prime objective, aligned with your business vision. 
Customer engagement is an essential part of a business strategy that ultimately contributes to the overall brand experience. If you successfully engage with your buyers, they are more likely to prefer you over other brands.
So, what is a customer engagement strategy?
A customer engagement strategy, essentially, is a business approach to building long-lasting relationships with your buyers. It involves understanding their journey and experiences with a brand across multiple communication channels, both online and offline.
An excellent engagement strategy enables you to offer seamless experiences to your audiences and ultimately, increase your sales. Doing so is indeed fruitful for both your audience and your business.
It isn't surprising then that 72% of businesses claim that improving customer experience is their top-most priority. It helps them focus on value creation and get ahead of their competitors.
Put simply, it promotes a worthwhile end-to-end customer experience and efficient support.
And why is customer engagement important?
Regardless of the size and industry of your company, customer engagement tools have evolved as a crucial benchmark for all businesses. Now, engagement is about using different communication channels to engage with leads and exceed their expectations.
The importance of enhancing customer engagement can not be overlooked. It allows you to:
Boost customer loyalty:

Brand loyalty can only come if you successfully deliver excellent customer service. Offer hyper-personalised experiences to your buyers and they're likelier to return to your brand for repeat purchases in the future.

Increase revenue:

The businesses that invest in better engagement processes and ideas achieve a higher customer satisfaction rate. This, in turn, results in increased revenue.

Creates a competitive edge:

Focussing on creating a well-planned strategy helps you deliver a consistent customer experience, create business differentiation and attract new leads.
Additionally, the implementation of an efficient customer engagement model is the key to business success. Without it, brands will find it hard to grow and survive in such a competitive market.
7 valuable tips to build a foolproof engagement strategy
Buyers expect brands to understand their needs, desiring to be consistently engaged and assisted every step of the way. If you wish to achieve higher customer satisfaction levels, look towards the latest technology and new-age ideas.
Here is a collection of the most effective ways you can develop a great engagement process and build a loyal client base.  
#1 Use an omnichannel approach
'Tis the digital era; netizens nowadays initiate their interactions with a brand on one channel but continue their conversation across multiple platforms. 
Thus, providing a consistent experience across all touchpoints is critical.
An omnichannel approach consolidates all user interactions across different channels such as websites, social media, phone calls, applications, or retail stores onto a single platform. Doing so helps brands engage with clients in a uniform, brand-compliant fashion.
Moreover, buyers wish for a holistic experience with brands, irrespective of the number of touchpoints involved. Offering an omnichannel experience decides if you have an effective engagement strategy in place or not.
#2 Promote real-time engagement with live chat
Kevin Stirtz, the author of one of the famous books 'More Loyal Customers', once said,
"Every contact we have with a customer influences whether or not they'll come back. We have to be great every time, or we'll lose them."
Live chat is one such channel that allows your agents to interact with buyers by answering their queries in real time seamlessly. It facilitates a strong agent-buyer rapport by enabling instant resolutions. Often, agents are even able to share their screens or send links to guide clients.
Thus, a live chat platform can help you establish stronger relationships.
#3 Utilise chatbots to automate your customer engagements
Using chatbots as part of your customer engagement strategy can have a significant impact on your business. Research by Business Insider revealed that 80% of companies claimed they are either using or planning to use chatbots by 2021.
Chatbots can be used across all communication channels, including social media platforms, mobile apps, e-commerce websites, and instant messaging applications. They are increasingly being used for improved interactions.
#4 Enable co-browsing to provide live engagement
Businesses are increasingly focusing on visual engagement solutions such as co-browsing to cut through the clutter of marketing conversations and connect emotionally. 
In fact, according to Forrester's research, browsing ranks first among other interaction channels, with a 78% customer satisfaction rating.
The revolutionary co-browsing technology enables agents to interact in real-time with a client's browser, acquire a firsthand understanding of the problem and give an appropriate solution. It assists in resolving technical difficulties or complex form-filling to submit an application successfully.
#5 Encourage personalised conversations with video chat
Video chat solutions can be one of the most advanced and powerful tools in a brand's arsenal of engagement tools, helping them deliver exceptional customer service. They've already established their contribution to the delivery of real-time conversations. 
These solutions reduce the number of touchpoints and enable smooth real-time interactions with clients around the world. Additionally, face-to-face personalised discussions allow you to discover problems quickly and provide compelling answers.
They are, put simply, vital for a successful engagement strategy. 
A social media marketing strategy can improve an organisation's interactions with its audience, updating the latter about the latest offers, and driving repeat purchases. 
According to GlobalWebIndex, 54% of social browsers use social media to explore products.
You must use social media platforms to increase online engagement, differentiate your brand, develop stronger relationships with your customers, and ultimately, enhance brand loyalty. Used appropriately, social media platforms can give a massive boost to your business.
#7 Collect feedback to improve your strategy
One of the most critical components of a successful customer engagement plan is to get regular feedback. It is important for a business to know if buyers are happy with their products or not.
Not only does this help you register their satisfaction or dissatisfaction, but it also helps you identify your strengths and weaknesses. You can then alter your offerings, your interactions and even your campaigns accordingly. 
Key user engagement metrics to measure user activities
Measuring user engagement with the correct metrics is essential because it offers meaningful insights into your audiences' perceptions of your brand. 
These insights provide critical information about your products and if your service is resonating with your users. You can even design your future roadmap based on these metrics.
The following are the key user engagement metrics for measuring user activity:
1. Active users
This is a significant metric that measures the percentage of active users who use your product on a daily, weekly, or monthly basis. It assists you in understanding the trends that your users seek in a brand.
2. Customer retention rate
The customer retention rate metric tells you whether your audiences are sticking to your brand. 
A greater retention rate indicates that your users are more likely to use your product in the future. Measuring user retention can help you increase user engagement across all touchpoints in your product.
3. Core user actions
It evaluates if your customers understand the core messaging and can use the functionalities of your product. If they are using the key features, it implies that your service is actively engaging your users.
The bottom line
For a brand, creating a meaningful customer engagement strategy must be the top priority. If you want to survive in an ever-evolving, hyper-competitive market, you have to understand your customer's expectations and establish effective communication with them.
Therefore, implementing a suitable engagement model will help you build stronger agent-client relationships, better conversion rates, and, lastly, enhance your business's bottom line.
If you want to know more about such unique ways to improve your overall brand experience, get in touch with our team today at 0800-084-3663 or email us at [email protected].

Himani is a content writer at Acefone. She is an avid blogger and Youtuber as well. She loves to explore the miraculous world of technology. Connect with her on Linkedin
https://www.acefone.com/blog/wp-content/uploads/2021/10/powerful-customer-engagement-strategy.jpg
376
737
Himani
https://www.acefone.com/blog/images_acefone/logo.png
Himani
2021-10-20 08:55:19
2023-02-20 07:45:01
How to Build a Powerful Customer Engagement Strategy For Improving the Overall Brand Experience?