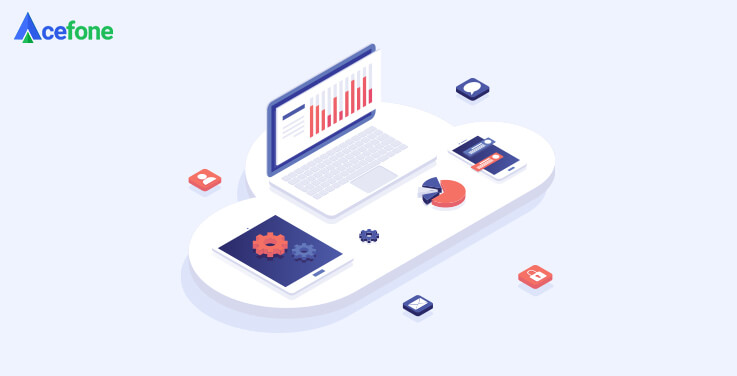 The way we do business is changing. Gone are the days when staff members were expected to remain rooted to their desks in the office, cold calling; now clients and employees often work flexibly, while being on the move.
COVID-19 has played an integral role in the migration to a flexible work environment. To survive in such a difficult time, your business must keep up with client and employee expectations.
This is where Acefone's cloud phone system comes into the picture. With a flexible solution that suits modern business needs and doesn't compromise on call quality, Acefone's solution is sure to help your business grow. Here are six ways how.
1. It saves you money
Keeping your business' finances in check is particularly important during the time of a global crisis. With a VoIP phone system from Acefone, you can save your business money in a number of ways.
Firstly, as cloud phone systems use the Internet to make your calls, such calls are inexpensive to make. It doesn't matter where in the world the person you are calling is located, your calls will be competitively priced compared to a traditional phone system. 
The money you save on international calls can be invested in other areas of the business or used to market your business in new territories. Low-cost international calls mean that your business can become truly global, without using a chunk of your investments.
Traditional telephone systems need maintenance, which can be costly if your IT team is not able to do it in-house. Investing in a hosted phone system eliminates these extra costs, as cloud systems are easy to maintain and can be managed remotely by your provider. (This upkeep is, more often than not, at no extra charge.)
In case your traditional phone system becomes damaged, the infrastructure can be difficult to repair and expensive. With a hosted phone system, in the event of an outage, Acefone can get you up and running again within minutes as we host our services on the cloud.
2. It implies 24/7 customer support
Nothing is too much trouble for our experts. If you need help, our team is on board to guide you. Our customer support service is available 24/7, as we understand businesses don't just run 9-5.
Our agents are experts in their field. They continually hone their skills to ensure their knowledge is up to date and that they can pass on their expertise to the customer. As they understand that most business owners won't be experts in the field of telecommunications, the agents won't baffle you with technical jargon. They will simply support you and solve issues as quickly as possible.
From technical issues to advice on getting the most from your VoIP phone system, Acefone's support team is happy to assist. We pride ourselves on our premier customer query resolution, so we will always work closely with you and will make sure your telephony is helping your business achieve its goals.
3. It is customisable to your needs
An Internet connection is all you need to enjoy your hosted phone system.There's no need for cumbersome equipment, servers, or costly maintenance. Anyone can use a VoIP system—either for personal use or for business purposes.
Hosted telecommunication is flexible as it can be tailored to suit your exact business needs, so you can make your phone system really work for you. You can activate or deactivate services on the basis of your client preferences and expected volume, set parameters, and not worry about scaling up or down.
Installation is quick and simple too. A computer, software, access to a portal—and you're good to go!
4. It lets you monitor calls with detailed analytics
Instead of paying for expensive analytics software, you can use our simple online portal to get all the data you need. With Acefone's dashboard, you can monitor every incoming and outgoing call, which can help you with the staff roster. 
You can discern exactly when you need the most support agents manning the phones and organise the team accordingly.
Business owners can also view employee productivity and ensure that all of your customer service teams are performing to the best of their ability. Along with productivity, you can access call recordings to check the quality of customer interactions. 
These recordings can be used to help train future agents, and to help them improve performance. Everything you need for employee development can be found in a few clicks on your online portal.
The online portal also gives you the unique opportunity to run and manage a hosted call centre from any Internet-enabled device, anywhere in the world. You can use a tablet, mobile phone, computer or laptop to ensure your contact centre is running smoothly. 
The portal gives you access to call waiting times, costs, and lets you add new agents to the phone system so that customers experience short waiting times.
5. It ensures you can control your spending
You've already saved money by investing in a hosted phone system, but the savings don't end there. Whether your phone system is for business or personal use, you can keep an eye on your bill via your online portal.
You can see exactly how much each call costs, and the number of minutes you have used. As a customer, you have total control over your VoIP plan; in fact, your online portal will tell you whether a different plan is more cost-effective for you. 
With our customer service team available 24/7, you can change and customise your plan at any time to ensure you keep control of your spending.
It helps your business grow
With plenty of exciting and innovative features, hosted telephony can help your business grow exponentially. With features that help you professionally direct your calls and flip calls seamlessly between your devices, it is easy to keep up with your fast-moving business.
Each feature is designed to make life easier. With our efficient call features, you'll never miss a lead and your customers will always be dealt with professionally, even when you are not available. 
This professionalism will surely reflect a positive image on your customers, after which referrals and business growth are given.
Acefone's cloud phone systems also have features to help improve your marketing strategies. Your phone number can be customised to suit your business and client needs; you can choose among free phone numbers, local numbers, or vanity numbers. With the ability to track your incoming calls, you can evaluate the marketing campaigns that could work best for your business.
To find out more about cloud phone systems, contact us on 0800-084-3663 for a discussion with our expert team or visit our website- www.acefone.com/uk/

Olivia is an outgoing person who enjoys writing, is an SEO enthusiast, and often interacts with others in intellectual conversations. She enjoys listening to music in her free time. Connect with her on Linkedin
https://www.acefone.com/blog/wp-content/uploads/2020/10/do-more-with-acefones-cloud-phone-system.jpg
376
737
Olivia Trott
https://www.acefone.com/blog/images_acefone/logo.png
Olivia Trott
2020-10-29 10:45:03
2023-01-20 09:02:43
Do More With Acefone's Cloud Phone System: Here's How