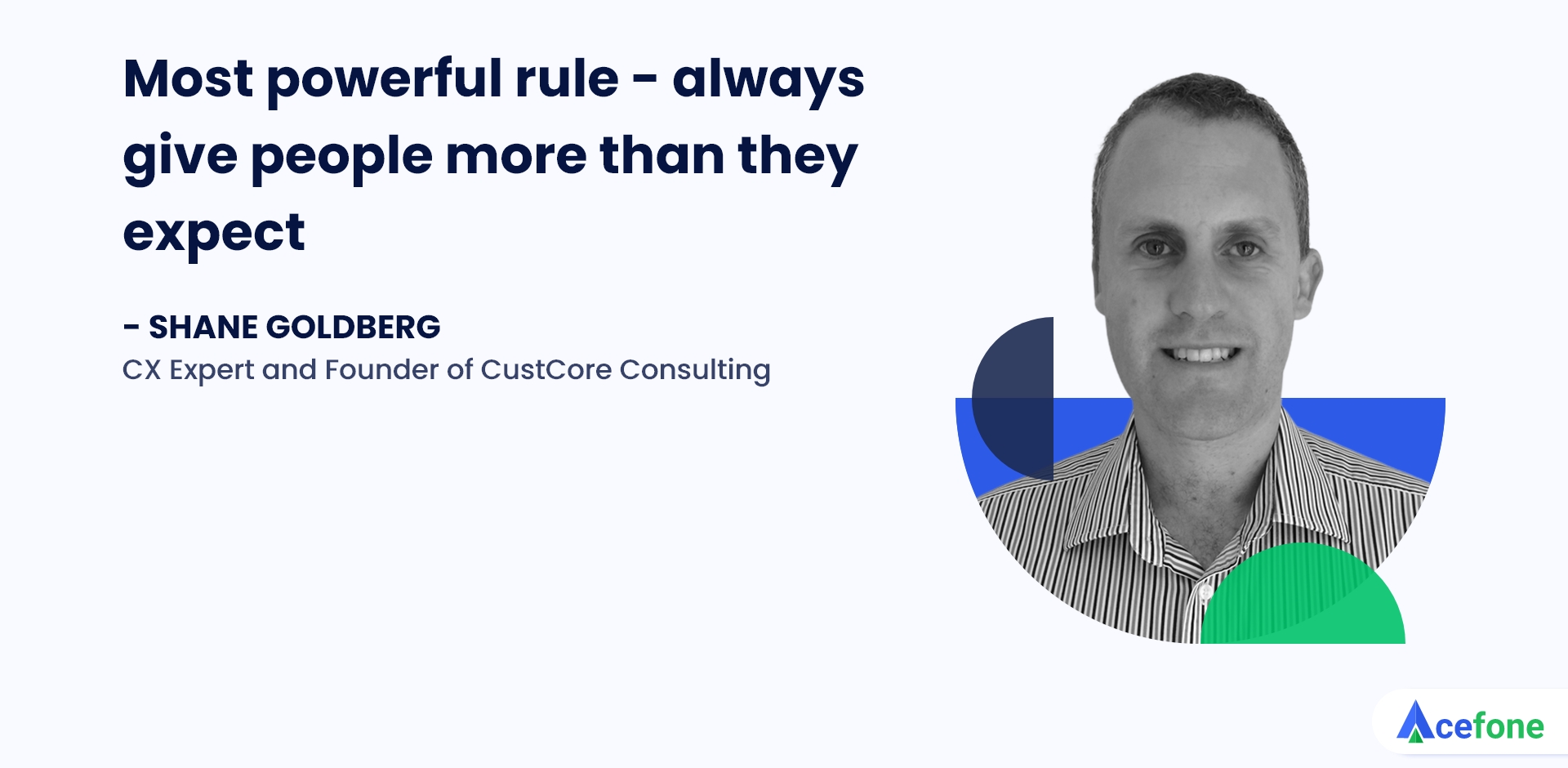 In the long haul, customer retention pays off better than acquisition—this is why companies are focussing more on delivering a competent customer experience (CX) that makes clients stay.
A survey conducted by Bloomberg Businessweek found that delivering a good customer experience is among the top strategic objectives for 80% of businesses. Moreover, a Customer Management IQ survey revealed that 75% of the customer experience executives and professionals rated customer experience a rating of '5' on the scale of 1-5, five being the most important.

Customer experience is a domain that requires consistent effort along with a sharp focus. Delivering a great customer experience creates a positive impact on customer loyalty, higher retention as well as increased lead generation. 
In continuation of our 'Expert Opinion' series, today we have Shane Goldberg, Founder and Principal at CustCore Consulting, a specialist consultancy firm. He will be sharing with us his CX journey and valuable opinions in the customer service domain. Shane is also an experienced advisor at Healthscope.
Here are some great insights from our exclusive interview with Shane, where he shares his best advice to businesses on how to deliver the best customer experience.
1. What sparked your interest in customer experience? How did you enter this field?
I have always been interested in what makes customers use certain products and services over others throughout my career. 
I started out as a product manager, trying to attract customers to my products and get them to keep using those products. I then moved into a program manager role, overseeing large corporate programs, and realised I really did enjoy the programs that focus on customer experience. 
Later, I took a role in CX and eventually left my employer to set up CustCore Consulting––a boutique customer experience consultancy that I have been running for the past six years.
2. What is your approach while interacting with your customers?
My clients are small, medium and large organisations at various stages of their customer experience journey. 
A significant part of what I do with less mature organisations is focussed on education––showing them why customer experience matters to their success and how to focus on it. By using a few easy-to-understand frameworks, I help them to become more aware of their customers and significantly improve their experiences. 
3. Is it tricky to deliver excellent service while interacting with a large number of customers? How do you prioritise your customers' needs?
If organisations have a large number of customers, a customer-centric culture is what is needed to ensure that excellent service is delivered to all. A customer-centric culture means everyone in the organisation understands how they impact CX and knows how to deliver a great experience. More than that, they actually want to deliver a great experience and strive for the same.
4. What are some qualities that a person needs to be able to deliver excellent customer service?
While excellent customer service can be trained into someone, it's much easier for a person to deliver exceptional customer service if they have some innate qualities. These include a healthy dose of empathy, excellent listening skills and the ability to talk to customers in a way that puts them at ease.
5. In your opinion, where are businesses lacking in providing a good customer experience?
Too many businesses focus only on certain parts of the customer experience and miss out on the true end-to-end experience of customers. 
For instance, enterprises focus only on the sales experience and forget the fact that post-sales service and support are critical for customer retention. Many businesses also forget things like returns and billing as essential parts of the experience. 
6. Tell us about a scenario where you had to give advice to a business keeping in mind their sales operations, strategy, process improvement and cultural change, all at once.

 
I had a client where the focus before I came in had been all about revenue and very little about the customer. This organisation was bleeding customers and losing a lot of money (ironic given the focus on revenue). 
The work I did with the organisation focused on all the aspects you refer to in your question. We developed a revamped strategy focusing on customer experience as a key component. Then, we reviewed the customer journey to identify key moments and redesigned processes (including both sales and service). 
Along with that, we created a practical cultural change programme. This included working on both top-down (working with their leadership to focus on customers) and bottom-up (rolling out customer-focused training and changing scorecards) components to drive real change in the business.    
7. As a customer experience specialist, what are some of the challenges that you look for and aim to solve?
I like to work with companies that are fairly early on in their customer experience improvement programmes. That way, I can help shape their strategy, and drive real change in the business. Specifically, if an organisation doesn't really understand its customers or has a culture that is not very customer-focused, those are the challenges I like to solve.  
8. What strategies would you consider while creating a business plan for an operations group?
There are a number of things to consider here, and the context is very important, so the answer will be from a generalised point of view. The key strategies I would consider include: 
Developing ways to gather customer feedback quickly and easily to understand what is working and what is not working

Identifying moments that matter to customers and optimising these as much as possible through the process and system improvements

Deploying a customer-centric service programme ensuring all staff understand the importance of focusing on customer experience in everything they do

Develop real-time scorecards showing how key processes, systems and journeys are performing

Rolling out a continuous improvement programme, gathering input from employees and customers regarding what needs to be improved
9. Are businesses always receptive to your advice? If not, how did you handle it?
Businesses are not always receptive to feedback, especially if it highlights issues in management, as they are the ones who often commission the work. In these cases, I still present my findings and recommendations and leave it up to the business to decide.
10. How important is a technology for customer experience?

 
Technology is extremely important in customer experience. The context once again is essential as technology is more important for some organisations than others. 
In general, though, self-service is becoming more and more important for customers, and the capabilities in this space are driven primarily by technology. Additionally, back-end integration of systems allows B2B customers to do more in an automated fashion. 
Furthermore, back-of-house automation will enable organisations to speed up and improve processes. The other key to consider here is employee experience which is also becoming more and more impacted by technology.  
11. In the last few years, which revolutionary factors have defined the way businesses tackle CX?
A number of factors have come to the fore in impacting customer experience for businesses. These include: 
Automation

– Back-end processes have often proved to be weak links for organisations, with lots of paperwork and manual processes involved. Robotic Process Automation (RPA) is changing all this and allowing organisations to streamline these processes for themselves and their customers. 

Digital

– There has been a strong move to online as a channel of choice for both B2C and B2B customers, and the pandemic has only accelerated this. Customers now definitely have migrated to digital as a preferable way to transact with businesses.
Wrapping up
With this conversation, Shane Goldberg has given out tips that will help you boost customer service and build long-lasting relationships. Backed by 12 years of experience with Telstra across customer experience, sales operations as well as product management spaces, Goldberg has helped many unlock new growth areas.
We hope his tips help you achieve the same for your business. 
Acefone can help you take your CX delivery a notch higher with cloud-backed solutions. Call 0800-084-3663 or email [email protected] to get in touch with our experts today.

Himani is a content writer at Acefone. She is an avid blogger and Youtuber as well. She loves to explore the miraculous world of technology. Connect with her on Linkedin
https://www.acefone.com/blog/wp-content/uploads/2021/06/Shane_Goldberg.jpg
940
1920
Himani
https://www.acefone.com/blog/images_acefone/logo.png
Himani
2021-06-07 12:25:53
2023-03-21 08:12:07
Expert Opinion: Conquer The Battleground Of Customer Service Challenges With Shane Goldberg