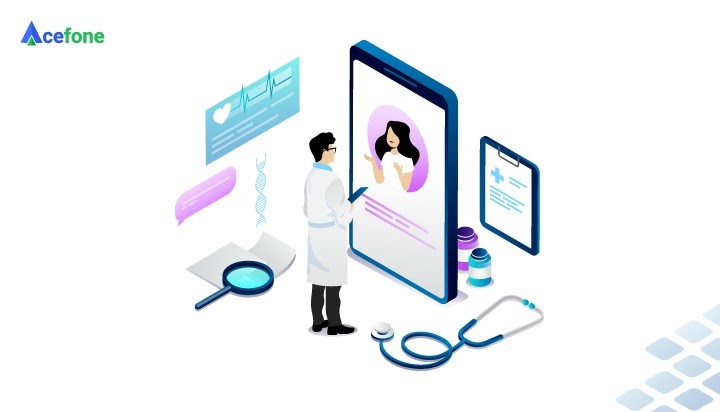 As the world continues to fight COVID-19, doctors and nurses have become the frontline warriors who protect us against a pandemic that has claimed thousands of lives. 
The healthcare industry is currently caught in a whirlwind, trying to provide and maintain the highest level of care. In this time of extreme need, what they require is an innovative approach that's cost-effective and can help as many people as possible. 
Technology is evolving constantly; hospitals can now follow-up with their patients simply through an SMS or a call. A 2016 survey found that 52% of hospitals used at least a few technical services to amplify their operations and happy customers have always supported these competent methods. 
Needless to say, satisfactory customer service equals a strong brand reputation! Indeed, the healthcare industry today faces demands to provide digitised services that would increase overall efficiency. 
Cloud Services is The Answer
Any service that allows communications to take place over the internet is known as cloud communication. It has taken over all industries and is no less than a knight in shining armour. 
Even Steve Jobs, the founding father of Apple, believed that cloud computing (of which cloud communications is a part) has the X factor that can change the world's technological flow. He had said, "I don't need a hard disk in my computer if I can get to the server faster.. .carrying around these non-connected computers is byzantine by comparison."
The healthcare industry, like several others, is facing numerous challenges due to social distancing norms. Lack of proper communication, a limited workforce, and the inability to treat all patients due to lack of space has taken a toll on hospitals and other healthcare companies. 
VOIP adoption for healthcare industries allows them to expand their service sales and boost customer experience (CX) at the same time. And the cost isn't that high either; these advanced digital tools do not necessarily mean a high capital budget.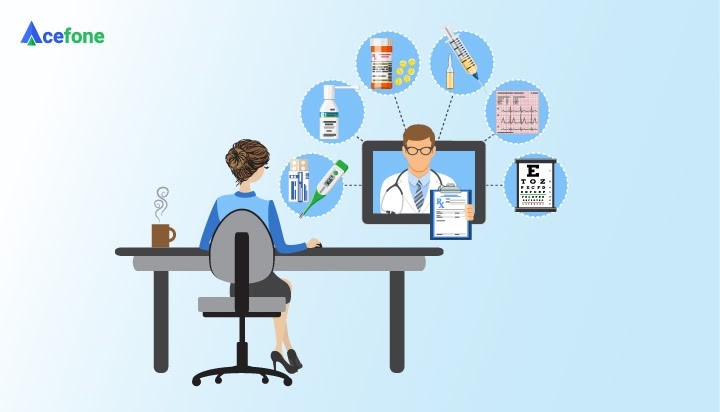 Cloud communications provide exemplary solutions tailored to a hospital or clinic's needs. For instance, patients can connect with doctors virtually to get a proper diagnosis through communication services like video conferencing.
Why Hospitals Should Think No Further Than The Cloud
1. Multiple extensions
Your hospital or medical care centre should have multiple phone extensions for better customer support. When a patient calls on your service number, they are automatically directed to the best-suited representative who can solve their problems accordingly. For example:
Thank you for calling the public hospital. How can we help?  
Please Press 3 to state your requirements.
Press 9 to connect to the orthopaedic department representative
Simple directions like these eliminate the chance of miscommunication. These interactive voice response (IVR)-incorporated extensions intelligently route the patients, saving time and leaving a positive impression on them. 
2. Video call and conferencing 
Video calls are the in thing, especially now, amid a pandemic. This feature allows patients and doctors to connect virtually from any remote location. The only thing they need is a stable internet connection. Currently, when there's a scarcity of hospital beds and people refrain from visiting hospitals, a feature like video calling comes in handy.
Patients can now video call a doctor who's in another city, and get the same diagnosis they get from a neighborhood clinic. 
3. Voicemail to email 
The Cloud phone system's voice to email feature allows patients to drop a message via email when healthcare workers are unavailable. Clients also have the liberty to record a message that translates into an email. The doctor or healthcare executive can check the email and call the patient back with a solution. This allows representatives to keep track of every missed call. For instance:
Please check your inbox. You have one email from Mr. Brown for Tuesday's 3 pm appointment. 
The healthcare executive isn't available right now. You can drop a message. They will contact you shortly. 
4. 24/7 availability 
Your hospital/health centre can implement an IVR to ensure around-the-clock availability. Patients won't have to wait for a particular time slot, which is essential in the case of an emergency. People can even book appointments automatically via the calling menu.
5. Regular maintenance
You won't have to worry about service maintenance—ever. In addition to guaranteed uptime and fail-proof mechanisms in place, cloud system providers take the responsibility to fix and upgrade everything in the system. 
6. Financially sound 
You won't need to burn a hole in your pocket to avail these features for your healthcare business. The cloud is quite reasonable, as all it takes is software and server space. Moreover, a single product has all the necessary features to keep things running smoothly. In other words, it helps you reduce overall business costs and keep your budget in check. 
7. Technologically favourable 
It's almost impossible to face lags or issues in this service. With 99.99% server uptime, your healthcare business can run without any interruptions. Then there's multilayer security, which assures business owners that there is no data theft. A carefully encrypted system and multiple data backups ensure that no information is lost in the event of an unforeseen disaster. 
With no added infrastructure, you can now accommodate other necessities in your healthcare centre. You can also customise services according to your requirements. Need we say more?
How Acefone Helps The Healthcare Industry?
Cipla, one of the leading pharmaceutical companies in India, uses cloud communication solutions to deliver the best client service all around the country. They've done this with the help of Servetel, one of the leading cloud computing providers in India, and a sister concern of Acefone. Servetel has also adapted well to the pharma brand's changing requirements due to COVID.
Vishal Mane, the senior digital marketing executive at Cipla, says, "We have been using Servetel's services for the past two years and it has helped us tremendously to assist our clients and patients. There has been a high level of engagement with doctors all over the country for 3 months. Additionally, the volume of calls and SMS has unexpectedly increased due to mass' inability to visit a clinic these days. Doctors have been able to timely get alerts, SMSes, or emails without any malfunction or lag. With cloud services, it has become relatively easy to meet our expectations of contacting 2-3 lakhs doctors and keep the bulk data safe and secure."
Now you know why cloud services are the way to go?
Cloud communications have helped its users create an efficient and organised workflow in the healthcare industry. With increasing revenue, this market has seen an influx of customers from around the world. A report by Global Market Insights Inc. states that the Global Healthcare Cloud Computing Market is set to transcend USD 55 billion by 2025.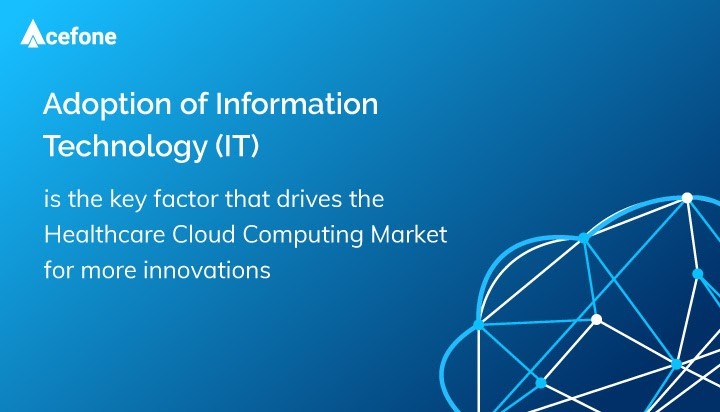 With such a dynamic industry, it becomes important for service providers to be automated and seamless. As the cloud as everything to make that happen, why wait to make the transition?
Acefone's hosted phone system for healthcare industry promise to bring a dynamic flow and yield fruitful results for your healthcare business. Contact the sales team at 0800-084-3663 for further information. 

Debomitra Das is a marketing enthusiast and is currently working in Acefone. She enjoys reading and gathering knowledge about new market trends that give her helpful insights about the current scenario. Sketching, reading novels and writing random pieces inspired by movies are some of her leisure-time hobbies. She believes, the best ideas come when there's a coffee mug beside! Connect with her via Linkedin and Twitter
https://www.acefone.com/blog/wp-content/uploads/2020/09/cloud-communication-assisting-healthcare-service-provider.jpg
412
720
Debomitra Das
https://www.acefone.com/blog/images_acefone/logo.png
Debomitra Das
2020-09-15 07:02:50
2022-04-26 06:55:28
How Cloud Communications Are Assisting Healthcare Service Providers During COVID-19?