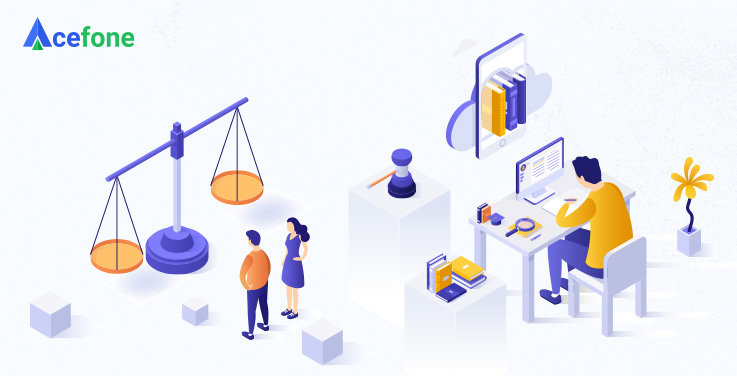 Initially, the success of law firms used to be a direct function of their legal acumen and experience in the specific practice. However, the exponential increase in the number of such firms with time has increased the competition significantly. 
This has brought about a shift in focus onto the softer aspects of this practice, such as professional communication with clients, a diversified service portfolio, and the drive to adapt to clients' changing demands. 
The idea is to maximise the number of clients at the first step of the funnel—the more clients you reach out to, the higher are your chances of conversions. We can argue that conversions can be achieved by looking into the aforementioned soft aspects to cater to the needs of an ever-evolving customer. 
However, most law firms lack the necessary infrastructure that can enable this change.
With the advent of digital solutions, Internet-connected devices have become a common workplace necessity. Fast connections and reliable computers are quite often the first items on the tech checklist for any law firm. But most firms miss out on an equally important piece that completes the puzzle—the telephone system. 
Legacy PBX systems, with their bulky hardware parts, are incapable of providing the required features in a cost-effective and operationally efficient manner.
This is where hosted phone systems come into the picture.
How does a hosted phone system help law firms?
Before the advancements in technology, law firms were unable to provide a diversified set of services at a reasonable price. One of the root causes for the same was high operational costs , leading to limited capital availability for portfolio diversification. 
A huge start-up cost was associated with the purchase and implementation of legacy PBX systems.
However, hosted phone systems enabled these firms to optimise their operational costs by shifting to a fixed monthly fee for off-shore computer servers and phone systems. Further, these systems eliminated maintenance costs and upkeep responsibilities since both these aspects are covered in the monthly fee and looked into by the providers. Hosted phone systems are also scalable, allowing law firms to easily extend their reach in the case of expansion to new cities or countries. 
As a result, business expansion in terms of services or regions is not hindered, rather enabled through hosted phone systems. These systems showcase flexibility to the demands of an ever-evolving customer as well—this applies especially to the current scenario of pandemic-induced remote work.
When purchasing hosted phone systems, law firms should carefully assess their prospective solutions in terms of the benefits they bring to the table. 
The above guide should provide the baseline to the question: what kind of benefits does my hosted phone system solution bring to the fold?
What types of hosted phone solutions are available for purchase?
Owing to the rapid advances in innovation, law firms face a host of choices to be made in terms of the type of hosted phone systems. There are three main types of these solutions available in the market:
Digital phone systems: Digital phone systems comprise a physical telephone system with a digital interface located in small boxes which might be mounted on a wall or placed on a table.All the individual boxes are connected via telephone lines, thus, ensuring a connected ecosystem within the office workspace. Such systems are highly reliable and very effective for law firms limited to a single workspace.
Internet (VoIP) phone systems: Internet (or VoIP-enabled) phone systems are virtual telephonic systems, whose central server is not located on the premises of the workspace.


Rather, these systems are hosted off-site while their functionalities can be accessed through direct interfaces in the workspace (or anywhere with the Internet). These systems are very cost-effective but their functioning relies on a stable Internet connection.

Hybrid phone systems:

These systems are a mix of digital phone systems and VoIP-enabled phone systems. They are located on-premise and offer a choice between wireless interfaces or fixed handsets.




Such systems offer more reliability than individual phone systems owing to the existence of a backup option (they can automatically route the calls through the physical handsets in case of an internet failure, and vice versa). 
Based on the scope of the current operations and the future vision in terms of expansion, law firms can opt for a phone system that meets their requirements without any excessive costs. 
This helps them answer the question: what kind of phone system would serve me the best in the long run?
What are some features essential to the functioning of a law firm?
Hosted phone systems boast a long list of configurable features that can be useful to users in various situations. While specific use cases of these features might vary as per the applicable industry vertical, we explore some of these features and how they can be useful to legal practitioners:
Logging missed calls for future reference:

Every incoming call is a potential client for the firm. You don't want to lose out on these leads owing to high inbound call volume and packed business hours.




Hosted phone systems can be configured to send instant notifications to the concerned person of any missed calls, ensuring a quick callback to the customers at the earliest possible.

Integrated marketing for waiting clients:

Gone are the days when callers had to listen to the traditional, boring 'engaged' tones. Hosted phone systems can be configured to fill the void with either a customised greeting, marketing messages about the firm and its services, or simply popular music tunes to keep them entertained.

Recording important calls and logging time:

The clarity and sanctity of information exchanged with the client are very important in legal matters. Sometimes, it can be a rather difficult task to capture this information on notes whilst on the call with the client. 
Hosted phone systems offer call recordings. These recordings can be securely stored in the database and accessed and re-heard anytime later.

Professional voicemail or live receptionist:

First impressions are incredibly important in law firms. A customer phone call is, quite often, the first point of contact. Therefore, if circumstances prevent you from talking to an incoming call immediately, your phone system can be set up as an automated attendant configured to greet and guide the customer until someone is available to take the conversation forward.

Ability to remotely initiate voice or video calls: Owing to the pandemic, remote work has become a rather commonplace trend irrespective of the sector or location.


In the case of law firms, hosted phone systems solve this issue by enabling attorneys and staff to work from anywhere through Internet-connected devices. Through these interfaces, they can initiate voice or video calls with their clients from anywhere.
The need of the hour
Hosted phone systems are packed with various features that can maximise the productivity and collaboration of law firms. Therefore, firms need to understand their needs, in terms of their daily processes, and choose only the requisite features 
They must ask themselves the question: What are the specific cases wherein I can put my hosted phone systems to use?
The adoption of a hosted phone system has become the minimum requirement for law firms to ensure top-level customer experience while ensuring maximum efficiency within the firm. 
Here, we have discussed some of the questions that will guide these firms in their quest for the hosted phone system which suits their requirements the most. 
To know more about this, get on-call with our cloud experts at 0800-084-3663 or drop an email at [email protected]!

Olivia is an outgoing person who enjoys writing, is an SEO enthusiast, and often interacts with others in intellectual conversations. She enjoys listening to music in her free time. Connect with her on Linkedin
https://www.acefone.com/blog/wp-content/uploads/2021/09/hosted-phone-system-for-law-firm.jpg
376
737
Olivia Trott
https://www.acefone.com/blog/images_acefone/logo.png
Olivia Trott
2021-09-22 10:48:32
2023-02-22 09:51:50
How to Choose a Hosted Phone System for a Law Firm