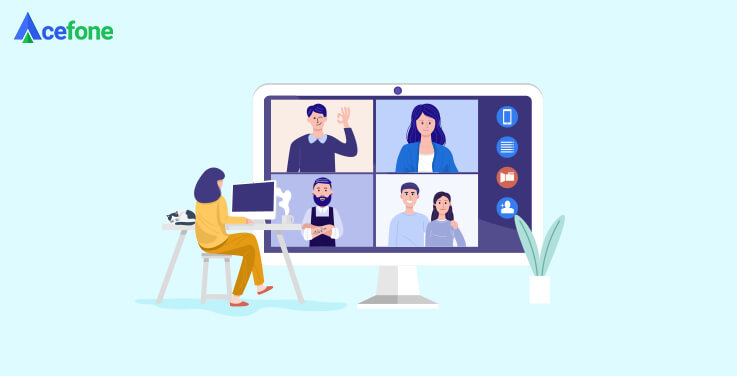 Video conferencing has become the norm during the COVID-19 pandemic. However, many of us have suffered through poor quality video calls, people arriving late due to glitches in accessing the meeting, etc. 
These headaches are all too familiar in the business world and are particularly difficult when you are in a video conference with people outside of your organisation or holding webinars. You want crystal clear communications and a professional system that makes it easy for your participants to join and interact.
Given that video conferencing is here to stay, it's important to know how to make the most of your video conferencing and ensure professional communication.
This article will go through a few integrations you can use to make video conferencing better.
1. CRM Integration
With a hosted phone system, you can host video conferences right from your preferred device. With CRM integration you'll have the ability to send a video conference joining link to the right participants and record attendance all within one interface.
This integration reduces administrative steps. You can log attendance, send reminders, and can follow up with your video conference participants with ease. Without this integration, you may need to manually search your attendees, and won't be able to use your CRM software to schedule a follow-up meeting or a reminder email. In addition, manual scheduling leaves room for error, and important attendees might not get the memo! 
CRM integration makes it easy to host and run a video conference. Everything is done from your hosted phone system and is automatically updated. So no matter where you are or where your team is, they will always have up-to-date information. If you're conducting a video conference with potential clients, the CRM integration can help you easily follow up, schedule callbacks, etc. within your phone system. As a result, any member of staff can simply pick up where you left off. 
Not only do you have the ability to schedule further contact, but you can also make personalised notes on customer accounts. If the customers book on a video conference or webinar about a certain service, then you can send them special offers about the same and easily make a really personalised connection with the customer. 
Salesforce is a popular CRM software—readily integrated with our hosted phone systems.
Take, for example, Zoom for a video conference or webinar. Details of registered participants can automatically be added as potential leads on Salesforce. This means that the information is also available on your hosted phone system and you can access everything you need, wherever you are.
2. Instant Messaging
We all know that sometimes we can completely forget about a meeting. We may simply be extremely busy, lose track of time, and miss a video conference.  With instant messaging integrations, you can directly contact busy coworkers or can invite other members of staff to give their opinion even when you're already in a meeting.
With your hosted phone system, you have access to a built-in instant messaging service. With this service, you can message anyone in the organisation and schedule a meeting without the hassle of going through their calendars (which might not be up to date). Instant messaging is perfect for last-minute meetings, or when you need quick clarifications. Additionally, any conversation over instant messaging service can be readily switched to a video call or conference! 
Instant messaging is a great tool alongside video conferencing too. Participants can ask questions without disrupting the flow of the meeting and can be answered instantly or at a later stage. It is also a great way to share resources and links with team members as and when you are discussing them. This practice ensures you don't forget to share resources after the meeting when you may have other important tasks to attend to.
3. Schedule Directly into Calendars
A great feature of video conferencing is the ease of scheduling meetings directly into people's calendars. This is ideal when you are conducting a video conference with external participants or need formal invitations. 
You can add details about the video conference—agenda, resources, rules, any prior reading (if required) etc., right into their calendars. This ensures participants have the time to plan ahead about the video conference.
Calendar integrations are particularly useful for external meetings. It is a great way to book meetings in advance so that everyone can make it. With your hosted phone system being integrated with your CRM, you can also save information about the participants and schedule any follow-up meetings if needed.
Conclusion
Video conferencing is here to stay! Online meetings shall not only help businesses save time and money, but will also add to the overall convenience. Considering the relevance of video conferencing in today's business ecosystem, it is important to have a reliable and robust solution that can provide clear sound and pictures every time. A hosted phone system can do all this and more, and makes it simple for you to organise and follow up with participants!
To find out more about how a hosted phone system can make your video conferencing experience better, call today on 0800-084-3663 or send an email to [email protected].

Olivia is an outgoing person who enjoys writing, is an SEO enthusiast, and often interacts with others in intellectual conversations. She enjoys listening to music in her free time. Connect with her on Linkedin
https://www.acefone.com/blog/wp-content/uploads/2021/03/integrations-you-can-use-to-make-video-conferencing-better.jpg
376
737
Olivia Trott
https://www.acefone.com/blog/images_acefone/logo.png
Olivia Trott
2021-03-22 08:40:26
2023-03-21 08:42:09
Integrations You Can Use To Make Video Conferencing Better