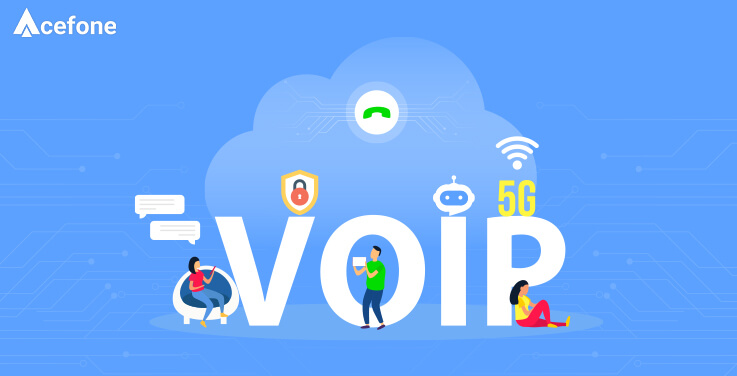 VoIP phone systems are changing the communications market rapidly. Being at the forefront of technology, VoIP solutions are flexible, economical and allow businesses to reinvent their communications framework, thereby allowing them to scale efficiently. 
As the COVID-19 pandemic hit the world, ways to do business changed drastically. Increased remote working, improved online customer service and effective communications are now more important than ever. 
VoIP services check all these boxes and, thus, it's no wonder that the technology is going from strength to strength, allowing businesses to thrive in the new normal. 
This article takes you through some of the latest trends in VoIP phone systems for 2021 and beyond, so you can make sure your business is future-ready.  
5G will be more common worldwide 
With better data transfer speeds, improved connectivity and a reduction in dropped calls, there are several benefits to 5G networks.
Businesses need reliable connections to remain in contact with their employees and customers. Additionally, they need fast speeds to efficiently power their operations. Combine this with the rise in remote working and the use of multiple devices, it's clear to see why more and more businesses are anticipating 5G.
Once the speed and connectivity of 5G pervade the market, customer expectations in regards to speed of service will drastically increase, making it imperative for businesses to up their game. Those who lack these services may be left out in the cold. 
By investing in 5G for VoIP, you will ensure that your response times are much faster, reducing any chance of dropped calls or missed opportunities such as downtimes and poor connections.  With many other characteristics that improve the efficiency of your business, investing in 5G early will pay off in the long run.
A rise in the use of AI
From automated checkouts to virtual chatbots on websites, Artificial Intelligence (AI) has already started becoming a part of our lives. The technology gives customers the chance to find the answers they need quickly and efficiently. It also offers service teams time to deal with more complex enquiries requiring their attention. 
When used correctly, AI is a fantastic way to enhance customer interactions. The modern customer expects quick resolutions and opts for automated services to achieve the same. If you don't implement this technology, you could miss out on valuable, savvy customers.
AI can be used in a number of ways, not just as a customer service tool. You can use it to optimise your operations and gain actionable insights into customer behaviour. This allows you to tweak your campaigns and strategies for the better, earning better results with lesser effort.
UCaaS will continue to grow
Unified Communications as a Service (UCaaS) will continue to grow and develop in 2021 and beyond. With a centralised communication platform such as UCaaS, businesses can better manage their interactions—both internally and externally, whether their teams work remotely or go back to offices. 
The solution gives businesses all the tools they need to maintain a remote workforce, helping them stay competitive in today's job market. And not just that, it helps teams become more efficient and productive. 
Through UCaaS, businesses can have immediate access to all of their centralised data and communication platforms. This data can be accessed and updated easily via any device. Thus, UCaaS is much less likely to become obsolete in the coming decades.
Moreover, UCaaS systems can be backed up on multiple servers easily and securely, a boon considering data security is a mounting concern for customers all over the world. Security measures like end-to-end encryption and two-factor authentication reduce the risk of compromised security or on-premise system attacks. This fosters customer confidence in you and enhances your brand reputation.
However, should anything happen, multiple backups and instant recovery offer business continuity. Your operations are up and running within no time, ensuring minimal downtime and financial losses.
Communication to go more mobile
Mobility has completely changed how we all communicate with each other. Almost every person now has a mobile phone, while many have multiple devices which they switch between daily. These devices facilitate more than traditional communications, such as social media, shopping, instant messaging and so much more.
This change has also impacted how businesses communicate with their customers.  In the era of quick everything, having a more flexible communication system is crucial in realising customer expectations. Losing out in this regard may force customers to look for services elsewhere. 
Increased mobility allows businesses to conduct conferences and make calls without being tied to one location. Even with a global remote workforce, they're able to access information and keep close track of their progress. The versitality of VoIP phone systems truly reflects the necessities of the new normal. 
Traditional phone systems will become obsolete
Businesses have been phasing out traditional and legacy communication systems in order to pave the way for modern approaches. With so many advances in communication and more to come in the next few years, it is not surprising that many businesses have already made the switch to more flexible phone services. 
With their restrictive nature and expensive maintenance, legacy phone systems do not compare to the economical and efficient VoIP systems. Businesses would be wise to upgrade their traditional telephony set-ups before they invest any more money into their upkeep.
The future of communication is VoIP
VoIP has a plethora of features that cater to an advancing modern world. These phone systems are built for modern customers and businesses. With advances in technology and stronger Internet connections worldwide, you can rely on VoIP to provide the reliable communications you need in the business world today.
Technology is ever-changing and advancing, but with VoIP, you can ensure your business is always up-to-date with industry trends.
To find out more about VoIP and the future of business communications, call us on 0800-084-3663 or drop an email at [email protected]!.

Acefone provides a broad range of cloud communication services to businesses of all sizes, which includes Hosted Phone Systems, Free Phone Numbers, and Cloud Contact Center Solutions. Being the UK's leading provider of VoIP service provider, we always strive to provide excellent customer service and high-quality custom solutions to our customers.
https://www.acefone.com/blog/wp-content/uploads/2021/08/latest-trends-for-VoIP-phone-systems.jpg
376
737
Acefone Editor
https://www.acefone.com/blog/images_acefone/logo.png
Acefone Editor
2021-08-17 04:29:29
2023-02-22 10:26:32
Latest Trends for VoIP Phone Systems—2021