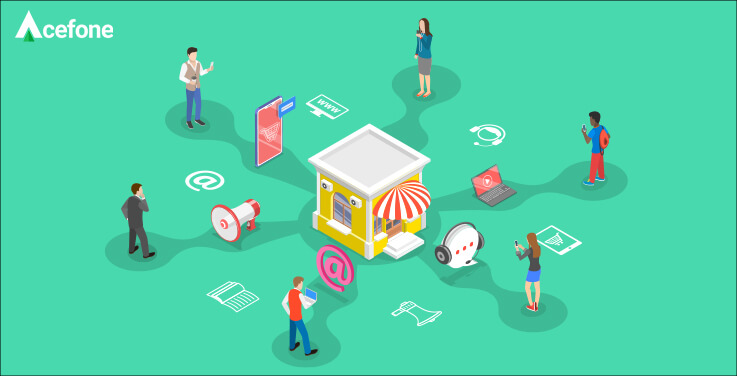 Today, customers expect your business to be easily accessible from wherever they are. They want integrated support across all channels—whether it is email, social media, or phone calls. This means that an omnichannel business model is essential to ensure that you can be found wherever customers are looking.
With increasingly high customer expectations, businesses today have a hard road ahead of them. They need to implement an omnichannel model to facilitate day-to-day communications. Moreover, each channel has to be well-managed and smoothly run to be of good use. 
According to research, as many as 65% of consumers actively take steps to use brands that have consistent online and offline customer service. This shows just how important a consistently good omnichannel strategy is.
This article will explore why an omnichannel business model is essential for modern businesses, and how cloud communication can make this possible.
1. Reach customers at all touchpoints
If your business is available for customers at all the touchpoints (social media, email, telephone, WhatsApp, etc.), you'll have more opportunities to sell your products or services to those users.
Before making a purchase decision, customers prefer to interact with your business on different channels. This is an essential part of their research process and gives your business an opportunity to engage with them at this crucial decision-making stage.
With cloud communications, not only is managing your communications on each of these touchpoints possible, it is much simpler as well. 
Employees can access all kinds of communications and handle tasks on a single integrated platform. With a cloud admin portal, all communications are in one central location, making it easy to engage with customers—wherever they feel most comfortable.
An added bonus is that you can pick up the conversation right where you left off, with the ability to add detailed notes in the online portal. Any agent can then take over the call with minimal disruption and repetition of client details.
2. COVID-19? No problem
Once you've established your presence at all major channels, you can start building meaningful connections with clients all over. COVID-19 has completely changed the face of customer service and has left many businesses going above and beyond to connect with the consumer base.
One such measure is the adoption of omnichannel strategies to maximise customer interactions and therefore, enrich relationships with them. With all your communications in one place, you can easily identify any rising customer issues. For example, if you come across a complaint on social media, you can use your cloud communication system to follow up via a phone call or email.
Or if a customer gives you feedback, you can log into the channel to follow up with them and show that you value their input. You can perhaps present a special offer or intimate them about how you're implementing their suggestions. Cloud phone systems help you create a strong and really personal relationship with your consumers which will keep them engaged, even through difficult times.
By keeping in touch in this way, even if a customer is not keen on a purchase right now, they are much more likely to remember this great service and the way you value them once the pandemic is over. 
3. Reduce customer waiting times
If a customer has a quick question about your services, then putting them on hold for hours may just deter them from purchasing anything at all. If they have already purchased a product from you and want to clear a simple doubt, you can provide them with answers on multiple other channels, reserving your phone lines for new sales and more intricate inquiries.
With an omnichannel communication strategy, your customers can interact with you at multiple touch points which frees up your phone lines for faster query resolutions of complex issues. Customers get prompt and dedicated replies and your agents can save time, only focussing on critical tasks and calls. It's truly a win-win situation. 
Taking this further, you can even use automation to answer frequently asked questions without ever having to involve human agents. Just feed in critical data and the AI-powered system will take care of basic queries on your behalf. You can add AI to your social media messaging or deploy an Interactive Voice Response (IVR) right on your hosted phone system. With this, you can communicate messages and common answers en masse to callers.
Cloud communications make it really easy to deliver excellent customer service in a timely manner, by giving agents access to critical information and equipping them with the proper tools for staying in touch with customers. People expect different waiting times on different touchpoints, so it is important to ensure that staff can deliver great service within an acceptable time frame.
4. Increase agent productivity
With agents' time freed up, they have room to become much more productive. If customer inquiries are spread out over different channels, agents will be able to deal with queries more efficiently and will have more time to spend on perfecting the first call resolution rate. 
With a hosted phone system, it is easy to see messages coming into multiple inboxes across your channels in one place. Besides, managers can ascertain which agents are free and delegate the incoming workload accordingly.
A customer may send their inquiry via email, and then follow up with a phone call. Without an omnichannel communication strategy in place, supported by your cloud communication system, this may trigger two agents working independently to respond to one customer. 
Not only does this waste valuable time and manual effort, but it also causes confusion for all the parties involved. On the other hand, if all your communications are visible in one place, you can simply leave notes, check the progress of fellow agents, and capture each lead with zero hassle. 
Omnichannel communication can save your agents plenty of work and time. Such a model is the way to stand out from the crowd and ensure you stay connected with customers—no matter what difficult times you face.   
To implement a successful omnichannel business model, you must ensure that your service and information on each platform is consistent and that responses are timely. Don't risk losing customers before they've even made a purchase from you!
A cloud-hosted phone system can help you run the most effective communication strategy by giving your staff access to everything they need in one central location—easily accessible from any device they choose.
To find out more about cloud communication tools and how to build a proper omnichannel strategy with said solutions, don't hesitate to contact our experts at 0800-084-3663. Or simply drop us an email at [email protected], and we'll be with you in a jiffy. 

Olivia is an outgoing person who enjoys writing, is an SEO enthusiast, and often interacts with others in intellectual conversations. She enjoys listening to music in her free time. Connect with her on Linkedin
https://www.acefone.com/blog/wp-content/uploads/2020/12/omnichannel-communication-strategies-for-business.jpg
376
737
Olivia Trott
https://www.acefone.com/blog/images_acefone/logo.png
Olivia Trott
2020-12-17 13:02:13
2023-03-24 11:10:23
Why Omnichannel Business Model is No Longer a Choice, But a Necessity?