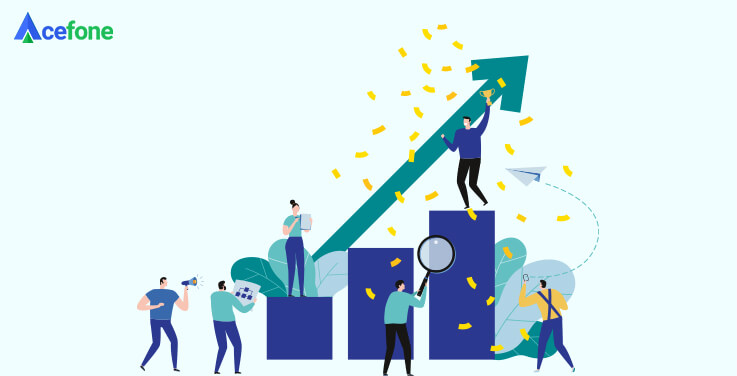 Scaling up a business is challenging—even more than starting up a new one. While exploring new markets and augmenting global presence are a few ways to grow a business, entrepreneurs often hesitate while taking the plunge into scalability.
We get it–scaling a business is not a cakewalk. One has to take several risks and learn through tough lessons.
However, the most effective way to attain scalability is by implementing strategic techniques and expanding entrepreneurial horizons in the existing business landscape.
Having said that, let us first know more about business scalability.
What is business scalability?
The term scalability describes the ability of your business processes to grow, unhampered by its resources, when production increases.
Scaling your business as per needs and requirements helps it perform efficiently even under intense pressure. It provides for sustainable growth based on result-oriented scaling strategies.     
Here, we have consolidated a few effective and simple ways to attain scalability. Read on to know what they are.
1. Build an impressive skill set for your workforce
Indisputably, the most important element to scaling your business is to be equipped with a state-of-the-art skill set. Your team should stay aligned with your business goals and strive to achieve them without compromising on quality.                                                                                                                                                                                                                                                                                                    
This is possible only if your workforce is skilled and up-to-date with technological advancements. You should invest in upskilling them regularly, based on the market's needs and trends. This will help them handle critical and complex issues at ease while saving time and effort.
This process will, also, increase their confidence by leaps and bounds, helping them tackle workload efficiently, thereby helping you to grow your business effortlessly. 
2. Invest in updated technology
What good is an updated workforce without the latest tools? Attain greater results in lesser time and simplify complicated workflows by investing in advanced technology, all while using limited resources. 
Not to forget, integrating moving parts of a business has also become important. Tools like the Customer Relationship Management (CRM) system, Inventory Management Software, and Accounting and Finance software, etc. provide a holistic view of various fragmented business processes.
Investing in these tools streamlines business operations enhances growth and contributes to business scalability.
3. Automate business processes
Employees often lose interest when put to repetitive, redundant tasks. Automating business processes frees them to focus on other core activities, and saves their time and energy. There's also the added benefit of lesser checkpoints and fewer errors.
Moreover, the quality of the end product also improves. Thus, automating processes saves costs and minimises unnecessary work which helps in scaling up your brand.
4. Standardise process workflows
Is scalability possible without standardised process workflows in place? Define appropriate standards and best practices to streamline operations.
This will help you maintain consistency throughout various functions, eliminate quality concerns and redundancies, save cost, increase customer satisfaction, and ultimately, improve your performance.
With all these important parameters taken care of, accomplishing larger business goals will become simpler, thereby letting you scale at ease. 
5. Focus on Customer Personas
It can't be said enough––customer is king. Focus on your target audience, and make it a point to understand their requirements and preferences. Developing customer personas is a must when it comes to serving them better.
To do so, make a checklist that definitely includes the following questions:
Who is your target audience?

What do they do primarily?

What are their needs?

What are their significant interests?

When do they prefer to buy?

What urges them to make a purchase?

What is their opinion about your brand?

How do they rate you when compared to your competitors?
These points will help you gauge the performance of your business amongst your target audience. It will also let you measure your success from the perspective of your customers. The end goal is to identify bottlenecks in your processes and rectify them. 
6. Identify and develop your competitive edge
Identifying and developing your competitive edge can help your business scale and thrive. Find your strengths and work to reinforce them instead of focusing on areas you are weak at.
Consider that you run a computer store. At one point, you understand that your staff is better at computer sales than setting up hardware or software. Henceforth, you should try migrating your core business function to computer sales rather than working on enhancing your workforce skill set to handle technical issues.
This approach will help the business grow with the available resources and gradually scale up in the future.
7. Avoid speculation
According to this report, a huge number of organisations agree that strategic business decisions should be based on reliable data. However, only 19% of them claim to be planning their analytics or big data initiatives.
The key to sustainable growth is to depend on intuitive insights derived from data. You can obtain data from various checkpoints like:
How do customers proceed in the sales funnel?

How long does it take for them to convert?

What pushes them to stay/leave?

How best do they engage with your business?
Investing in a data-driven repository can help you obtain interactive analytics, survey responses, and social insights that will reveal several opportunities for your business to grow and scale in the current competitive scenario.
Wrapping up
The scalability of a business begins in its ideation stage. As a business owner, you should be able to develop a roadmap about how to grow your business and identify key aspects that will help in the process.
The aforementioned points elaborate on several tips that can help you scale your business and achieve sustainable growth in the long run. They highlight a few significant factors like identifying the strength of your business, building customer personas, and focusing on data-driven marketing strategies.
Focusing on these points will contribute towards obtaining a sustainable score for your business scalability.
Acefone's cloud communication software helps businesses achieve their goals as they grow. Connect with our sales team at 0800-084-3663 and let us take your business ahead.

Olivia is an outgoing person who enjoys writing, is an SEO enthusiast, and often interacts with others in intellectual conversations. She enjoys listening to music in her free time. Connect with her on Linkedin
https://www.acefone.com/blog/wp-content/uploads/2020/11/ways-to-scale-up-your-business.jpg
376
737
Olivia Trott
https://www.acefone.com/blog/images_acefone/logo.png
Olivia Trott
2020-11-09 05:16:17
2020-11-25 04:12:42
7 Smart Ways To Scale Up Your Business Effectively