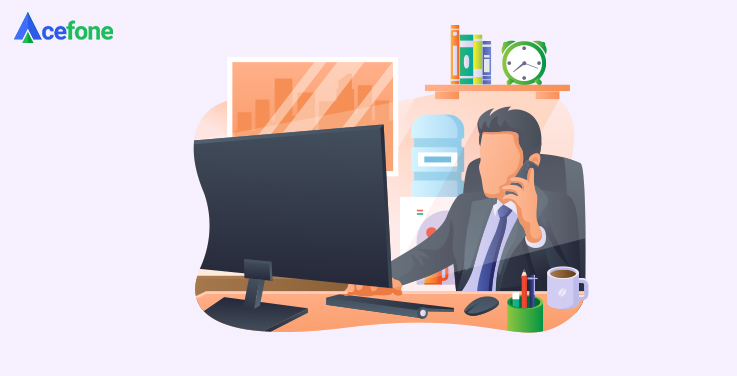 With a hosted phone system, managing a call centre from home is easier than ever before.
Working remotely may be completely new for some call centre managers and may take some time to transition and ensure staff are working as efficiently as possible.
But we have some tips and tricks to help ease that transition by utilising everything your hosted phone system has to offer.
Read on to find out more about how we can help you manage an effective workforce from the safety and comfort of your own home…
Monitor And Manage Through Acefone's Online Portal
As a manager, it can be daunting to adjust your team to home working.
You may be worried that staff will not be able to take as many calls as they could in the office, or that they might struggle to adapt to working from home with extra distractions.
This is not a worry for call centre managers using a hosted phone system, as they are able to access everything they need from Acefone's online portal.
The online portal gives you the opportunity to view call time, agent waiting time, access call recordings and much more all in just a few clicks.
Using this information you can identify agents who are working well and find those who might need a bit of extra assistance and work with them to get them up to speed with their home working.
The portal allows you to add and remove lines as you need them with a few clicks too, so you can still hire temporary agents if you need to or can remove lines you are not using if you have had to furlough any staff members.
Hire The Best Staff, Not Just The Closest
Hosted phone systems give call centre managers a unique opportunity to hire staff anywhere in the world to help them while staff are working from home.
Customers will expect to wait a little longer to get in contact with you, but if this starts to affect your customer experience and lose your business it might be time to hire extra staff.
While it can be more difficult to train these staff (although not impossible with access to call recordings and conference calling between staff), you can choose to hire experienced temporary staff to help your employees pick up the slack and ensure customer calls are being answered in an acceptable time.
As you can manage staff from your home, you will be able to coach them and ensure they are doing everything you need them to use the online portal.
The staff member only needs an internet connection and compatible device (laptop, computer, mobile phone or tablet) to connect and they can answer calls with the same quality as if they were sitting in the room with you.
Although having to work from home may seem hard if you are not used to doing this, this difficult time can offer a great opportunity to add talented temporary staff to your business.
These new employees can help with the development of your existing staff too.
Use IVR Systems To Direct Customers And Decrease Waiting Times
You can easily add an IVR system to your hosted phone system, which allows you to communicate en masse to any customers getting in touch with your business.
You can have an automated message advising your customers of any waiting times and managing their expectations early on in the contact; you can use this to direct customers to online resources and only have calls which are urgent coming through.
The IVR system also lets customers self-select which department they want to speak to, so with more customers going directly to the right person in your company.
This surely will decrease waiting times as customers will not need to be passed from employee to employee in search of a resolution.
The customers will be able to get their enquiry solved at the first point of contact saving your business time and money and ensuring you can speak to as many customers as possible.
The IVR system, used correctly, can be a fantastic tool for call centre managers working from home as this can easily be edited with just a few clicks.
This gives you a unique opportunity to communicate with all of your customers and ensure that customer satisfaction remains high.
Keep Team Morale Up With Conference Calls
If your team is used to working closely with each other, working from home may cause them to feel isolated or disconnected from your business.
This can have a negative effect on their mental and physical health and may cause them to need to take time off or look for a new role.
As a manager, it is your duty to ensure the wellbeing of your staff and your hosted phone system allows you to hold conference calls with all of your staff to stay in touch.
Conference calling is included as standard on your hosted phone system and is a great way to keep staff engaged with team meetings.
Staff anywhere in the world can dial in and keep up to date with everything going on.
This connection increases the cohesion in your team and also ensures that important information is shared across your business – so nothing is missed and your staff can serve your customers to the best of their ability.
Working from home does not have to be a difficult task for call centre managers and agents if you make the most of your hosted phone system and all the handy features you have access to and use the information you have on hand from the online portal.
You can ensure you are running an effective contact centre and continuing to deliver excellent customer service in the face of adversity.
To find out more about hosted contact centre solutions, call our expert team on 0800-084-3663.

Acefone provides a broad range of cloud communication services to businesses of all sizes, which includes Hosted Phone Systems, Free Phone Numbers, and Cloud Contact Center Solutions. Being the UK's leading provider of VoIP service provider, we always strive to provide excellent customer service and high-quality custom solutions to our customers.
https://www.acefone.com/blog/wp-content/uploads/2020/04/tips-for-call-centre-managers-working-remotely.jpg
376
737
Acefone Editor
https://www.acefone.com/blog/images_acefone/logo.png
Acefone Editor
2020-04-28 15:07:51
2022-04-26 06:47:37
4 Tips For Call Centre Managers During Work From Home