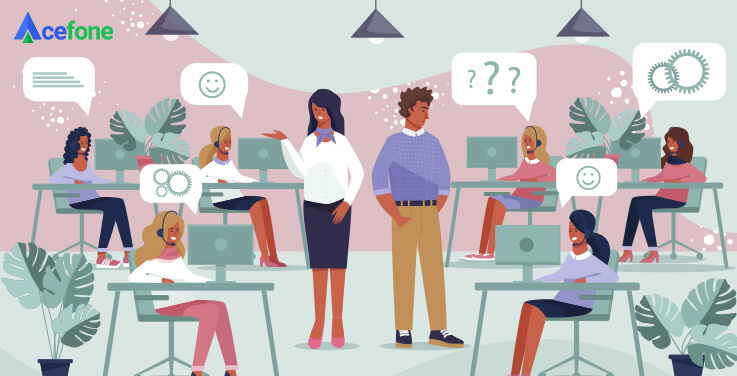 Call centre managers have varied and fast-paced jobs. They need to be able to think on their feet and be adaptable at all times. Successful call centre managers should take time each day to prepare and keep a close look on their agents. This way, they can ensure the best possible customer service is delivered on each and every call.
No matter where your customer service agents are based, as a call centre manager you can ensure that you keep on top of the day-to-day running of your hosted contact centre. 
Let's go through five basic strategies that call centre managers must follow to optimise their contact centre operations.
1. Monitor Analytics and Real-time Statistics
Call centre managers should take some time each day to check the dashboard in the online portal and use analytics to see whether call waiting times are at an acceptable level. You can use these analytics to make important decisions or change employee roles if you need more support to handle high volumes of calls.
By monitoring, you can see exactly when your busiest periods are and can use this information to determine staff hours for the weeks ahead. 
Ensuring you have enough coverage on your phone lines means a less stressful working day for you as a call centre manager. These analytics can also show which employee may need more training or support to deal with complex customer inquiries.
2. Collaborate with your Team
With a hosted phone system, you can collaborate freely with your team no matter where they are in the world. With conference calling, you can connect with your staff with just a few clicks and can run meetings to update them on any important information or changes they should know about. 
Keeping up lines of communication is a great way to motivate your team and ensure they have everything they need to deliver excellent customer service. Particularly with a remote team, creating a sense of teamwork and inclusion is important for both the performance and mental health of workers, so this is an essential element to factor into your day.
If you have a sales team, team meetings can serve to encourage salespeople to perform even better. It gives them a chance to share information and motivate them to do better everyday.
3. Look for Opportunities to Educate and Train Staff
Well-trained staff perform better, are happier in their roles, and deliver better results for your business. So, it is important for call centre managers to regularly look for ways to educate and train their teams. 
By using Acefone's online portal, you can see detailed analytics and check the call waiting time, call duration, and listen to call recordings. This helps you see whether some agents are taking longer to deal with the customers than others and can discuss with them if they need additional training to help solve customer issues.
Call centre managers can also monitor call recordings, to see how agents interact with customers. Using these real-time insights, managers can train new staff on what to expect and share good examples of a call with the team to help them learn from the successes of their colleagues. 
Call recordings are an excellent way for managers to see exactly how agents are interacting with customers and use the insights to train their staff.
Contact centre managers should be available to share their expertise and guide their agents through complex issues. If you are managing a contact centre, then you will have picked up expertise in dealing with customers, which you can use to help your agents learn new and effective skills.
With a cloud-hosted phone system, remote workers can connect with you easily via conference calling or by dialing your extension number. The ease of connection and communication means that you can share ideas and answer any questions your agents might come across. 
Building relationships with your agents wherever they are and strengthening your team's knowledge at the same time make your team highly efficient.
5. Search and Recruit Top Talent all over the World
Successful call centre managers should always be checking recruitment sites for the more valuable additions to their teams. By searching through a worldwide talent pool, the managers can ensure that they hire the best agents no matter where they are based. 
As hosted phone systems can enable remote working with an internet connection, workers anywhere in the world can join your team and start delivering excellent results for your business.
By recruiting the best agents, your team will become more successful and, in turn, you will be a more effective manager. Talented people all over the world can even help you develop your skills, and can show you different ways of working that may enhance the performance of your whole team.
To find out more about how a hosted phone system can help call centre managers run a more successful team, call our advisers today on 0800-084-3663.

Olivia is an outgoing person who enjoys writing, is an SEO enthusiast, and often interacts with others in intellectual conversations. She enjoys listening to music in her free time. Connect with her on Linkedin
https://www.acefone.com/blog/wp-content/uploads/2020/09/things-successful-call-center-managers.jpg
376
737
Olivia Trott
https://www.acefone.com/blog/images_acefone/logo.png
Olivia Trott
2020-09-09 05:42:18
2020-09-15 03:12:04
5 Simple Things Successful Call Centre Managers Do Every Day