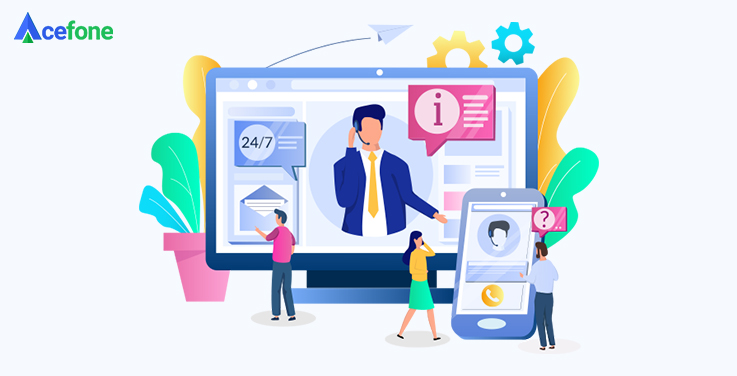 For business owners, it is not enough to simply monitor the number of calls coming into your business.
The number of calls is only one part of what your hosted phone system can tell you – it can also tell you much more about how your customers interact with your business. 
As a business owner, you can use these unique insights to find out exactly how your customers operate and how they interact with your business, to use for marketing purposes and to improve your customer experience even further.
What is more, these insights are easily accessible via Acefone's simple to use online portal.
So, we've put together our top call monitoring features on our hosted phone systems and how you can use the insights to benefit your business.
Call Recording
Call recordings are one of the best ways to see exactly how customers interact with your business, by hearing it first hand!
Call recordings also let you see how your staff are dealing with customers and is a useful tool for giving them constructive feedback on how to improve their service and give customers a better experience. 
All call recordings are securely stored within your online portal, so you can get insights into how customers are interacting with your business in just a few clicks.
You could access recordings from different times of day to see how different shifts of staff are working, and whether your service is consistent whenever a customer calls.
You could also check whether weekend staff are providing the same great service as weekday staff or vice versa. The opportunities for gaining insightful information to help grow your business are unlimited with a hosted phone system.
Call recordings can also help you spot new business opportunities. If you are reviewing call recordings and find multiple customers asking for a service you do not currently provide, then you could use this information to provide what customers are asking for.
This can help ensure you remain competitive and can potentially point out any gaps in the market which your business could fill – helping you become more profitable as a result and showing that you care deeply about customer feedback.
Call Waiting/Handling Times
If customers are kept waiting for long periods of time, then eventually they will get tired of waiting and may move to a competitor who can be reached much more effectively.
A few long periods of waiting time is understandable but when it begins to be a pattern then this may be a problem for your customers and therefore your business.
If you did not monitor this metric, you might not be able to pinpoint where things are going wrong – but with a hosted phone system you have this insight at your fingertips.
Keeping an eye on call waiting times can ensure that if there is a problem, you can step in and provide a solution.
If you look at your call waiting times on your online portal and see a pattern, for example waiting times jump at 5 pm on a weekday, you can make allowances for this by changing staff shift patterns or hiring extra staff to cover busy periods.
Rather than using guesswork, you can make business-savvy decisions that will both increase your customer experience and help keep customers loyal to your company.
Having these insights on hand is the key to ensuring that you can react quickly and save any potentially detrimental patterns from occurring. 
Also, you can drill this down to staff member's individual call waiting times, so if there are a few particular members of staff with long call times, then you can give them some extra training to ensure that they can effectively handle queries and that they understand all of your processes.
You can even use call recordings to see exactly how they need to improve. 
Individual Agent Performance
Acefone's online portal will also give you access to individual agent's performances. These insights into their performance will allow you to create bespoke training plans for your agents, helping you to get the best from them and helping them give their best to your customers.
You can draw on the above two features, call recordings and call handling times, to address certain areas in which they might need improvement and then can back this up with data.
The data will give the agent a base to start improving from, then with their training, they can work on their performance and compare their figures once some time has passed.
Getting deep insights into agent performance will allow you to run the best possible contact centre and give the best possible service to your customers at all times.
No matter where your agents are based in the world, you can monitor their performance and help them grow and develop as customer service professionals.
By investing your time into your team, you can create a world-class customer service team who's experience and knowledge can be passed on to your customers in the form of exemplary customer service.
CRM Integrations
Our hosted phone systems integrate seamlessly with many CRM systems. This means that you can track customers right through from initial contact to sales and aftercare – which gives you great insights into the customer journey as a whole. 
With your phone system integrating with your CRM, you do not need to do repetitive data entry and your staff can focus on delivering the best possible service without worrying about inputting data numerous times.
When a customer calls this can automatically update on your CRM system, and staff can save detailed notes on what the customer called about and whether it needs any follow up.
With your hosted phone system and CRM system sharing data in this way, you can gain some fantastic insights which you might not have experienced before.
With data on previous purchases, customer contact preferences, and more, you can create highly targeted marketing campaigns to suit specific customer types – and can learn a lot more about your customer's behaviour.
All with the minimum of effort to you or your staff.
All of these features can be accessed remotely, so wherever you are you can connect to your online portal and get valuable insights into how your communications are working.
These insights can open up new opportunities to advertise and to increase customer experience, so what are you waiting for?
If you'd like to find out more about call monitoring features and gaining brand new insights into your customer base, then call us on 0800-084-3663 for more information.

Acefone provides a broad range of cloud communication services to businesses of all sizes, which includes Hosted Phone Systems, Free Phone Numbers, and Cloud Contact Center Solutions. Being the UK's leading provider of VoIP service provider, we always strive to provide excellent customer service and high-quality custom solutions to our customers.
https://www.acefone.com/blog/wp-content/uploads/2020/07/top-call-monitoring-features-give-deep-insights.jpg
376
737
Acefone Editor
https://www.acefone.com/blog/images_acefone/logo.png
Acefone Editor
2020-07-08 07:17:36
2023-01-20 11:15:12
Top 4 Call Monitoring Features That Will Give You Deep Insights