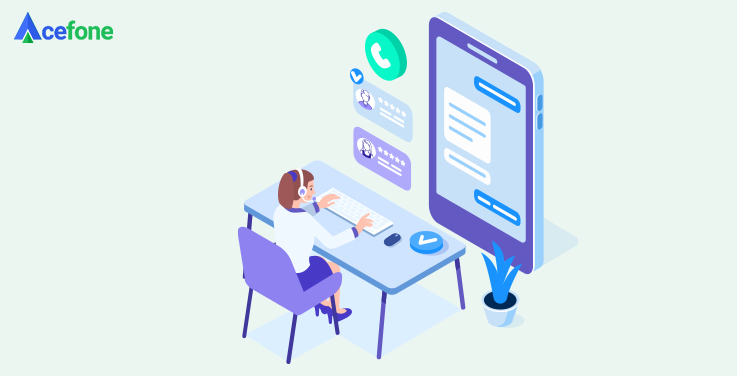 Remote working can be tricky for businesses who are not used to working in this way, with agents not being in the same room as you, how will you ensure they are giving the best service?
How will you ensure they have all the support they need?
With a hosted phone system, remote working does not have to be so tricky – if you follow some of the best practices you will find managing and running a remote contact centre to be easy and will be able to focus on training your staff and ensuring your customer service is of the highest standard. 
We've put together five of the best practices for contact centre agents who are working remotely, put these best practices in place and you should find your contact centre is running smoothly with plenty of happy staff.
Establish And Maintain Clear Communications
If employees are working remotely they will be alone and may start to feel disconnected from your business if they are not given the opportunity to communicate freely with other staff members.
Establishing clear lines of communication is key to ensuring that staff are engaged and can draw on the experience of others with the shared goal of helping customers. 
When establishing clear communication systems, you must take care not to give staff too many options as this could cause confusion and actually cause miscommunication or missed information from staff if they are all communicating via different channels.
A hosted phone system opens up lots of opportunities for your staff to collaborate and share information, for example, you could encourage staff to use the conference calling feature at regular intervals throughout the working week so they can constantly keep up with any changes or important information pertinent to their department. 
Another option for much quicker communication between staff is to use instant messaging so staff can share information widely across the business in real-time.
This could be particularly useful for information which is time-sensitive and cannot wait until the next team meeting over a conference call.
Finally, Acefone's online portal gives staff members access to functionality where they can save detailed notes about customers which are easily accessible by other staff members, so they can have meaningful communications in this way keeping everyone up to date and connected.
Make Use Of The Interactive Voice Response System
The Interactive Voice Response system (IVR) is a great tool for remote contact centres as it gives you the opportunity to communicate en masse with your inbound customers.
This unique opportunity can come as a part of your hosted phone system, so for call centres setting this up correctly and really utilising it would be best practice for ensuring that your remote contact centre runs as smoothly as possible. 
It may be that you are experiencing a high volume of calls and your agents are tied up on customer calls, so waiting times may be longer than usual.
Particularly during COVID-19, when you call any large business you are greeted by a similar IVR message serving to manage customer expectations by informing them of any delays they might encounter.
It is important when running a remote call centre to ensure customers are kept informed in this way as they are more likely to make a complaint if they are unaware of the situations facing your agents – at least if you follow best practice and they are kept informed they can decide themselves if they would like to call back another time.
Hire The Right People For The Job
Some people are better suited to remote work than others, and the beauty of a hosted phone system is that you have no restrictions as to who you can hire; no matter where in the world they are, they can connect to your phone system in just a few clicks.
Ensuring that you are hiring the best people for the job and not just the best people in your locality can really elevate your customer experience and make your life as a remote contact centre manager much easier.
Hiring people who are confident working remotely saves you time and money on providing extra training to get them up to speed.
Particularly during the COVID-19 pandemic time is precious and so are business' funds, so if you can possibly hire talented people who are ready to hit the ground running you should take advantage of this opportunity coming from your hosted phone system.
As long as your new hire has access to the internet and a device they can work on (mobile phone, tablet, laptop etc) they can simply connect and start making and receiving calls instantly.
Monitor And Manage Agent's Performance
Hosted phone systems give you the ability to monitor and manage an agent's performance from wherever you are in the world, with a few clicks on Acefone's easy to use online portal.
You can access and monitor detailed information about incoming and outgoing calls so you can see exactly how many customers call you in a given day, week or month – which gives you the opportunity to make changes accordingly (for example, you could hire extra temporary staff to help you ease the load at busy times). 
Additionally, you can find detailed information about staff call times, waiting times and access call recordings so you can see exactly what each remote worker is doing.
And if you notice they may need some more help or training you can step in and help them so they perform to the best of their abilities.
Using these insights to inform your decision making as a manager should definitely be a part of your best practices, something which every manager in each department should adhere to too, ensuring optimum customer experience.
Ensure Agents Have The Correct Working Environment
Finally, ensuring agents have the correct working environment and equipment is essential to maintaining a healthy and effective workforce.
When hiring new agents, or if remote working has been thrown upon them due to COVID-19, it is best practice to ensure that they have everything they need before they come on board with your company.
With a hosted phone system, their office could be anywhere in their homes (or outside the home when restrictions are lifted) so it is important to ensure that your customer data will be safe and that agents have everything they need to work efficiently.
Hosted phone systems only require agents to have access to a reliable internet connection and a device they can make and receive calls on (this can be a laptop, mobile phone, tablet or other compatible devices).
So if they have these they are ready to connect to your phone system. However, it is useful to also find out more about their working environment and whether they have a desk, adequate lighting and a quiet place to make and receive professional phone calls with customers.
Running a remote contact centre does not have to be difficult, following these best practices and utilising the features of your hosted phone system will give you a head start in smoothly running your hosted contact centre.
To find out more about hosted contact centre solutions, call our expert team on 0800-084-3663 for a consultation.

Acefone provides a broad range of cloud communication services to businesses of all sizes, which includes Hosted Phone Systems, Free Phone Numbers, and Cloud Contact Center Solutions. Being the UK's leading provider of VoIP service provider, we always strive to provide excellent customer service and high-quality custom solutions to our customers.
https://www.acefone.com/blog/wp-content/uploads/2020/04/best-practice-for-contact-centre-agents-working-remotely.jpg
376
737
Acefone Editor
https://www.acefone.com/blog/images_acefone/logo.png
Acefone Editor
2020-04-16 05:43:14
2022-04-26 06:47:58
5 Best Practices For Contact Centre Agents While Working Remotely