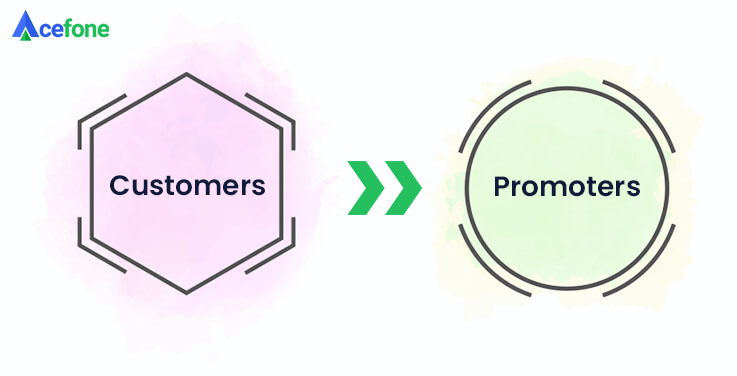 Customers can make or break a business and are the true backbone of its success. Considering that they are the lifeblood of your brand, you do not want to leave any stone unturned in making them happy.

The quality of services and customer care that you offer are vital to your growth. Customers will not blindly believe a brand is worth their loyalty. 
Hence, you should take the necessary steps to attract and retain customers, working on both organic and inorganic mediums to reach your customer base. Make adequate investments and hire a dedicated team to achieve these objectives.  
That said, we all know the best form of marketing is via word of mouth when happy customers share their experiences with friends and family. 
Have you ever wondered if your customers could become your promoters? If yes, then how can you facilitate this transition?
Customers will become your promoters when you strive to go beyond satisfying their demands and exceed their expectations. When this happens, they will connect with other people and spread the word about your brand, thereby becoming your strongest promoters. 
When do customers become your promoters?
In today's competitive world, customers do not purchase your products to merely meet their needs. Considering your competitors offer similar products and services as you, you need to find your edge and give customers some reason(s) to choose you over everyone else. 
It could be anything––hassle-free payment, seamless delivery, post-sale servicing, or unique discounts on purchases. These offerings will differentiate you from your competitors and attract more clients. 
What are the different strategies you can adopt to transform your customers into your promoters? Let us take a look at a few points listed below.
Social media is a powerful platform used across age groups. On this medium, a positive reputation spreads like wildfire. You should begin with interacting with your customers over social media. This doesn't need to be a marketing pitch that talks high about your brand or product. 
Instead, you should focus on interacting with the target audience. Creating general awareness about the various aspects of your products, use-cases, etc. will help kindle their interest. 
For example, if you aim to market a laptop, you may begin telling your target audience about the advantages of a laptop over a desktop, the different types of configurations available or how purchasing one will help your customers, etc. 
Informative content serves as a good conversation starter, garnering views, likes, comments and queries. Leverage these interactions to showcase your brand as a reliable and knowledgeable entity that is focused on more than just sales. 
Furthermore, you can find discussion trails about your product and its types across social media pages. Shortlist a few trending questions that people need answers to. You can even ask an expert from your industry to collaborate and answer these questions on behalf of your brand. 
Overall, showcasing your brand on social media platforms will earn you a positive image among customers, thereby encouraging them to promote your business.   
Ask for feedback from your customers
Asking for personalised feedback and responding to it positively is the best way to make your customers feel valued. Consider a situation—a customer has purchased your product. They are happy and register positive feedback. You must reply to this by thanking them. 
On the contrary, if your customer has negative feedback for your product, you should connect with them at the earliest possible and delve into the reasons for this feedback. You should ensure the customer that the necessary steps will be taken at the earliest. 
To add on, you can also send a personal note to the customer once the problem has been rectified. This shows that the customer's feedback has been acknowledged, addressed, and resolved. 
This kind of feedback mechanism can help you earn and retain customers while giving them compelling reasons to become your brand advocates.
Use testimonials as a marketing material
In several cases, your customers may be extremely satisfied with your services. Try and record this happiness and satisfaction as a testimonial. You can include it in your marketing collateral. Additionally, you can display them on your website and social media pages.
Testimonials are great for attracting customers. They are true experiences of common people and, hence, boost customer engagement and relatability with the brand. In these testimonials, the client may have had similar requirements as those of the prospect. Hence, when a customer is quoted to have a good experience, it motivates the viewer to join the bandwagon without second thoughts.
This connection with your audience through testimonials allows you to market the usage of a brand/product.
Keep in touch with your customers even after a purchase/sale
Customer relationships do not end once a sale is complete. Your after-sales engagement should not take a backseat just because the deal is over. In fact, a lasting relationship with the customer begins only after the sale.
If your product, let's say an electronic appliance, needs servicing, you should send reminders via emails or messages to inform the customer about service dates. Feel free to ask for feedback regarding the product. If there are any defects or flaws reported, ensure that they are addressed at the earliest. 
When you adhere to this proactive approach even after a sale is done, your customers will feel valued and become returning customers, or even promoters. 
Another effective way to promote your brand and spread the positive word is by holding events. These events should be a gathering of like-minded people. Here, you should motivate your existing customers to speak about their experiences. 
Conduct a detailed survey to find your best-suited target audience. This will help your brand reach a relevant audience. You may offer hampers and goodies to people who share their views in the event to encourage enhanced participation.
When a group of like-minded people come together, your customers automatically become your promoters.
Initiate referral and loyalty programs
Referral programs are a great medium to enhance your company's reputation. You can gamify your campaign and present a freebie or discount to your customers on their next purchase. This can substantially increase engagement and motivate them to promote your brand.
On the other hand, loyalty programs involve rewarding returning customers with a gift or a special discount. For example, if you find a customer keeps coming back to you for a range of products, appreciate this loyalty by offering a freebie or special gift. You may also offer a free subscription for the product purchased or offer discounts that will keep your customer happy and encourage them to refer to your brand.
Offer best-in-class services
84% of companies believe that quality customer experiences report an increase in their revenue.
You should understand that negative reviews spread faster than positive ones. Therefore, handle customers with utmost care. Earning negative comments is not a problem. It is the way you address them that matters.
Add a personal touch to how you interact with your clients. Use their name and be empathetic when you interact with them across communication channels. 
Make sure to resolve the issue or at least direct the customer to the right person. This ensures speedy resolution and convinces customers of your conviction to make them happy.
Wrapping up
Customers must be kept satisfied and their requirements should be met. This implies to businesses across industries. When customers become happy, it motivates them to spread the positive word about your brand via, both, social media and word of mouth. 
We hope to have covered the various aspects that may help to transform a customer into a promoter.

Feel free to comment below—share your experiences and connect with us to know more.

For excellent customer service, opt for Acefone communications today. Call at 0800-084-3663 to get a free demo.

Acefone provides a broad range of cloud communication services to businesses of all sizes, which includes Hosted Phone Systems, Free Phone Numbers, and Cloud Contact Center Solutions. Being the UK's leading provider of VoIP service provider, we always strive to provide excellent customer service and high-quality custom solutions to our customers.
https://www.acefone.com/blog/wp-content/uploads/2021/04/how-to-turn-customers-into-promoters.jpg
376
737
Acefone Editor
https://www.acefone.com/blog/images_acefone/logo.png
Acefone Editor
2021-04-14 05:15:55
2023-03-21 08:32:47
How To Turn Customers Into Your Promoters?