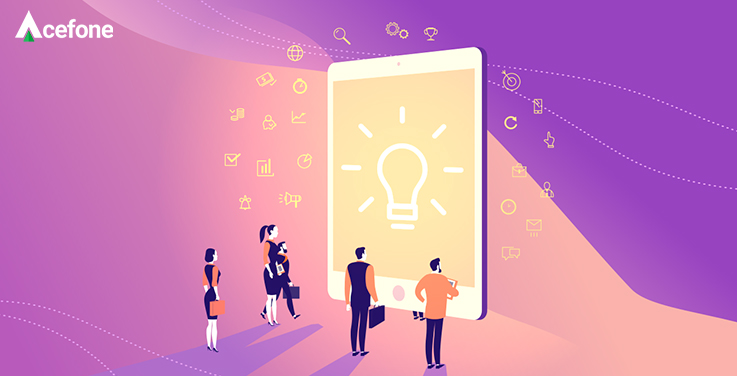 'Customer is king' is undisputed even in this day and age. Needless to say, all the power rests within the hands of the customers. And this is a truth that businesses need to understand well. Customers are pillars of success and can make or break the future of any company. 
Thus, businesses must deliver an experience that is a class apart. It is this experience that becomes the defining element of any business' success.
While one may think it is easy to deliver a great customer experience(CX), many successful companies actually have a hard time dealing with it. As the radar of the customers starts to get bigger, the challenges also increase. Considerable shifts in buyer preferences and choices have led businesses to devise CX strategies that personally cater to their users. 
Moreover, today's customers have become increasingly digital and have clear expectations from the companies they do business with. They expect customised, hassle-free, and exceptional service each and every time. 
So, how can you improve your customer experience strategies?
To devise an effective customer experience strategy, focus on the common problems that your customers face. Take an in-depth look to learn more about their issues and figure out how your product can help. When you start doing this, you begin inching closer to delivering unparalleled CX. 
1) Know your customers in and out
It is imperative that businesses know their customers' behaviours. In an ever-changing landscape, it is crucial to figure out the actual needs and demands of the customers. 
How can we find these needs?
Feedback is always the best and safest way of knowing what's working and what's not working for your customers. Businesses must focus on extending multichannel support to collect customer feedback, that is via emails, social media handles, calls, SMSes, and chats. Other options, such as surveys also help to know what the customers really need.
Customer reviews are an important aspect while collecting feedback as they directly evaluate a company's products and services. These reviews can further be forwarded to the concerned departments and will help in improving the services. Additionally, customer calls can be recorded and used to train new agents and deliver more engaging and satisfying service.
Don't just stop there––put yourself in the customer's shoes and analyse if your services are able to eliminate their pain points and make their lives easier. 
2) Pay attention to negative feedback
Both positive and negative feedback offers an insight into the customers' perspective. While the former motivates the employees, the latter helps the business identify bottlenecks and proactively resolve these issues. It also aids in identifying the strengths and leveraging them in a better fashion.
Your support and marketing team must address these responses effectively and take considerable action wherever required. This will also show the customers that their opinions are taken seriously.
Such an approach benefits the business in two ways––it makes the customer feel valued and improves the quality of customer service. 
3) Improve the support efficiency
To emerge as the best in this competitive world, it is essential to work on how efficiently you service your clients. It is to be noted that several other companies provide services of almost the same standard as yours. Thus, efficiency becomes an essential differentiating factor that cannot be overlooked. 
All this cannot be achieved without a proper CX strategy, a dedicated support team, and actionable goals. Customers should be segmented based on their feedback, analytics, and all other data available to the business. 
Delays in any services should be minimised or avoided altogether. Follow up with calls and emails to gather additional feedback; reward employees that meet their targets on time. Develop a customer-centric culture across the company.
4) Increase the scope for innovation and creativity
As the popular saying goes: 'keep your friends close and your enemies closer'. While racing to become the best, one should always be aware of what their competitors are doing. 
Giants like Apple, Disney, Tesla are now looking for innovative ways to deepen their connections with existing customers rather than making new ones. In this regard, rich technology has been a real help to businesses––it ensures gratifying experiences for, both, customers and the company. 
Keeping pace with the modern, technology-driven world is important if you want to stay ahead in the race. Not using the latest tools can hinder the growth of any business. Use these tools to devise new techniques to stay connected with your customers at all times. Make the most of platforms like WhatsApp to send follow-up messages, updates, and other information.
Omnichannel support will help build a strong relationship with the customers. And you can also use separate channels to manage grievances so that your clients don't have to send out lengthy emails or wait in long queues to get heard. An innovative and creative approach is not only authentic and creative but also cost-effective.
Customers love getting social. Everyone is on social media––if you are not, then you are absolutely missing out on something that can take your company to new heights. Facebook, Twitter, Instagram, and Linkedin, to name a few, have become synonymous to people's voices. 
Customers love taking to social media to write reviews and leave suggestions for businesses. It is these reviews and feedback that, then, influence others. Thus, social media is an effective tool to capture and easily engage with your target audience. 
Another important factor is that the option of raising concerns via social media is always open. Customers can submit their issues over the various channels available to them, and the customer support executives can track them and resolve the error as soon as possible. 
This is a very convenient and easy way to retain your customers. Social media customer support also helps to look at the problems on a bigger scale. Moreover, whenever a query is solved openly and promptly on such networks, people can see how well the business treats their customers and handles their issues.
6) Rewards your loyal  customers
Prospective customers will want to do business with you only when they know that your products and services are of high quality. This is where loyal customers are an invaluable asset to the company––they become brand ambassadors and help with organic word of mouth promotion. 
One way to ensure customer loyalty is by rewarding them for their engagement, bulk orders, hosting giveaways, and offering them discounts. This will be a good way to acknowledge customers that are truly invested in your brand and spread good word about your company.
To Wrap Up
Since the customer is the king and will always be one, it is important to retain and engage with them over and over. When an organisation makes customers their priority, it reflects in their actions and even in their numbers. It also speaks of how much they value their customer relationship, how they treat loyal clients, and how they resolve any and all issues.
More than anything, it is important to make an emotional connection with humans––this is where the winning points lie. Loyal customers play a big role in your success and are a part of your family. Thus, you must take good care of their emotional needs and win their loyalty and trust.
Are you looking forward to providing your customers with an excellent experience? Then connect with one of our experts today at 0800-084-3663 and enhance your business communications.
Kritagya Pandey is a creative and technical content writer, editor, and strategist. She has been writing on customer experience, customer service, artificial intelligence, cloud communication, and more.
She invests her time researching the current business, market trends, and studying about social media strategies.
https://www.acefone.com/blog/wp-content/uploads/2021/01/6-ingredients-for-cx-recipe-customer-will-love.jpg
376
737
Kritagya Pandey
https://www.acefone.com/blog/images_acefone/logo.png
Kritagya Pandey
2021-01-21 06:48:16
2023-03-23 11:25:52
6 Ingredients For A CX Recipe Your Customers Will Love