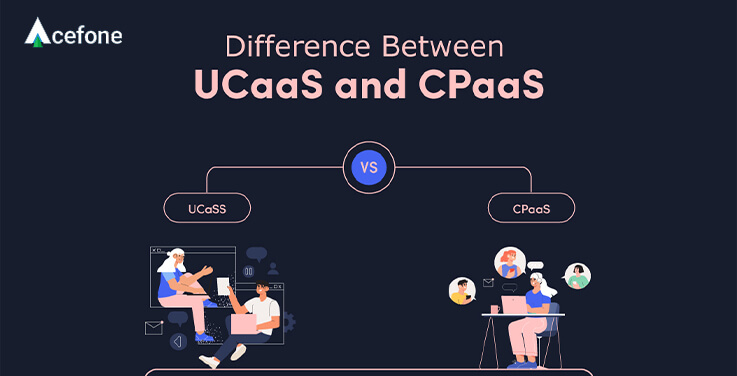 Businesses are moving on from on-premise systems to cloud-based communication platforms. Once they ascertain their communication needs, companies can select a service that they think suits their organisational goals and caters well to their target audience.
Unified Communication as a Service (UCaaS) and Communication Platform as a Service (CPaaS) are cloud communication solutions that offer different benefits and services to enterprises of all kinds and sizes. 
Unified solutions are an ideal option as they integrate various modes of communication into a single platform to improve customer experience. UCaaS combines team messaging, video conferencing, chat, email, and cloud phone into a single application.
A communication platform is a cloud delivery model that integrates real-time communication (voice and video) into business applications by deploying APIs. Organisations can personalise their communication stack based on their business and security needs.
Acronyms related to cloud-based communication technology often feature "aaS" as a suffix. The term "aaS (as a service)" can be SaaS (Software as a Service), VCaaS (Video Conferencing as a Service), CCaaS (Contact Center as a Service). Businesses can opt for these services based on their requirements. 
Let's learn a little more about UCaaS and CPaaS and how they differ from each other.
UCaaS and CPaaS are both flexible cloud communication systems. UCaaS allows unifying communication applications like voice, video, chat, and email into a single dashboard. On the other hand, CPaaS allows developers to make real-time communication applications without creating any back-end interface.
Difference between UCaaS and CPaaS
UCaaS and CPaaS have simplified communication for businesses and offer great solutions—cost-effective and user friendly in comparison to traditional communication systems.
UCaaS allows teams to integrate CRM tools and contact centres into their workflow. Its implementation is straightforward and it is easily accessible.

CPaaS requires technical software developers to integrate features based on your application. You can develop different APIs and build customer-centric applications.
Benefits Of UCaas and CPaaS –
Both CPaaS and UCaaS have revolutionised the way businesses operate over the cloud. Companies can avoid the stress of managing back-end infrastructure, and focus on growth and building customer relations.
CPaaS and UCaaS offer similar benefits to an enterprise. They are as follows:
Easy to use: The implementation is straightforward and users can access these solutions as easily as traditional tools.

Scalable and cheap:

You can access both technologies through the cloud, and scale up and down based on your needs. CPaaS adds new features while UCaas removes additional hardware.

Growth: These solutions include unified communication apps, chatbots and more. These tools are also easy for businesses to leverage.

Opportunity – In UCaaS, companies can work across a range of networks and devices for businesses. 


Saurabh is a content writer at Acefone. He is a fan of standup comedy, football, and Hindu mythology. He is fond of travelling to unexplored places, meeting new people, and having newer experiences that enrich his soul. Connect with him on Linkedin
https://www.acefone.com/blog/wp-content/uploads/2021/05/ucaas-vs-cpaas-infographic.jpg
376
737
Saurabh Sharma
https://www.acefone.com/blog/images_acefone/logo.png
Saurabh Sharma
2021-05-19 05:51:53
2023-03-21 08:22:07
[infographic] Differences between UCaaS and CPaaS