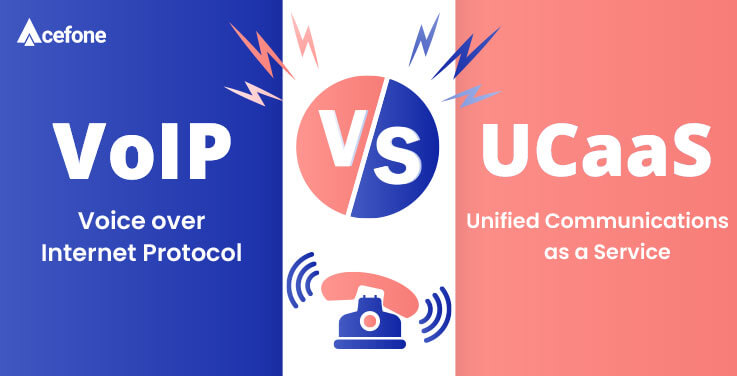 If you're interested in psychology, you may have come across the term 'choice overload' or 'over choice'. It refers to the phenomenon wherein people have a hard time making decisions when faced with multiple—and equally appealing—choices.
This dilemma would likely arise in significant decisions about your business, like choosing the best communication model for your operations. Phone calls and emails have been dominant modes of business communications in the past, but the world is changing by the minute. 
In the current scenario, the key options for modern businesses are two: VoIP and UCaaS. Both are powerful systems of communication with different target audiences. They serve similar yet diverse functions, and therefore, you need to be mindful of the nuances when selecting your service.

Before you fret, let us tell you that we've got you covered. Use this infographic to compare the two cloud-hosted phone services, and determine the best solution for your business needs. 

Let's start with the basics.

What exactly is VoIP?

 
Voice over Internet Protocol (VoIP) is a telephony service that allows you to hold conversations over the internet instead of a cabled network. This isn't your regular telephone that relies on physical exchanges. A VoIP system converts calls into digital signals, in simpler words, your voice is transmitted in the form of data packets through the internet.
This means you can expect high quality calls at all times, even in remote areas without proper telephone towers. If you're worried about a slow connection causing disruptions in your communications, you can rest assured. Bandwidth prioritisation is a key feature of cloud services that allows you to enjoy quality services even on low bandwidth availability. 
Moreover, if your internet connection itself gets disrupted, you have the option of forwarding calls to mobile phones or switching to a backup connection. These instant solutions aim to minimise disruptions, even in strenuous conditions. As a result, your brand reputation takes a boost while you can showcase professionalism with a reliable cloud service in hand. 
Next,

let's discuss UCaaS
Unified Communications as a Service (UCaaS) is a giant in the field of communication software. It combines voice, video, and messaging solutions and gives a holistic service to budding businesses.
With all your communications synced on one platform, there's no room for misunderstandings, and everyone can work together in a more informed manner. While on a call with a colleague, if you suddenly remember you have to send them a file—just share it on the chat without disturbing your call. Your management can also monitor agent progress better and thereby, plan effective strategies. 
Therefore, you cannot go wrong with these solutions. VoIP solutions, combined with video and messaging tools, give you the 'queen bee' product: UCaaS.
Cost comparison
Understandably, a major concern for decision-makers would be the cost. Will opting for this service burn a huge hole in the pocket of business owners? 
Contrary to what you might think, UCaaS and VoIP are both extremely cost-effective options. In fact, if you compare the upfront cost of purchasing and installing the plans, they're both cheaper than traditional phone systems. There's no heavy hardware to add to the expenses, and you don't need to look for spaces to store the excess equipment. 
You don't even need to buy a specialised business phone to avail these services—they're compatible with your preferred device. It doesn't matter if you're an Apple supporter or an Android fan. In fact, why stick to phones? You can even use your laptop or tablet to carry on internet conversations efficiently. 
And if that wasn't enough, there are no costs for regular upkeep since maintenance is automated and handled by providers in a timely fashion. 
Features to die for
A cloud phone service is phenomenally different from a traditional phone. You know that a wired phone system allows you to have conversations, keep people on hold, transfer lines, etc. But what if you could get this—and then a lot more! 
A VoIP phone offers all the basic features combined with cloud benefits. An IVR system provides a pleasant experience to customers, while also streamlining the operations and allowing self-service using navigable keys. 
Cloud phone systems also allow effective management through third-party integrations. You can enjoy features such as call recording and logs to keep track of customer calls and receive timely automated reports and analytics on your email to assess agent performance. 
The voicemail-to-email feature ensures that you don't miss important leads. All voicemails are instantly recorded and sent to your inbox, along with a transcript. 
UCaaS takes it a step further. All the features of VoIP are part of your UCaaS solution—with the addition of video conferencing and messaging services. This means your HD audio can be accompanied with crystal clear video as well. 
You can hold effective meetings with this solution—present your ideas and share your screen to allow better communication. Subtle clues of communication arise from our body language, which makes video meetings the key to meaningful conversations. 
Besides, you can add and remove members from calls instantly, and even allow people to join from their browsers instead of the app. Privacy features and the waiting room make this seem like an actual meeting location! 
In addition, messaging tools act as the glue, cementing the 3 aspects of UCaaS together. Collaborate with your team over chat, call, or video. Couple these with powerful integrations such as CRM for easy access to customer data, calendar apps for easy scheduling, and much more.
By now you must have understood that UCaaS and VoIP aren't very different. UCaaS is basically an upgraded version of VoIP—combining it with other channels. With your changing business needs, you can shift between these services as you scale up or down.
What's the right choice for you? 
Simply put, the answer lies within your business itself. The first step is to evaluate your needs. 
If your business is comparatively small in scale, with a limited number of employees, and if your work is segmented enough to not require extensive collaboration, VoIP would be a smart choice. 
On the other hand, if you need to accommodate a growing business, with multiple teams having to coordinate their efforts, UCaaS is the way to go. It is absolutely essential to maintain continuity among operations, especially when they're expanding. Therefore, an integrated solution is more cost-effective than opting for separate services.  
Cases
Let's consider a few scenarios and evaluate what option would work best there.
What should I do if…
I'm shifting to a remote model? 
You can drastically improve remote operations with UCaaS—hold meetings, share presentations and send files online. All your progress will be visible in real-time on the dashboard. Not only can your team members keep themselves on track, but the superiors can also monitor their employees' workload and performance. 
With an expanding business, there is a greater requirement for collaboration between numerous employees. Older employees and newer recruits, all have to find a balance, and UCaaS can help create a smooth workflow. You can perfect the internal communication system and further increase profits over time. 
I'm changing my business structure to be more decentralised?
VoIP is more common for centralised operations—they're easily manageable on a smaller scale when there aren't that many teams that need to collaborate. However, if you're decentralising your functions, it's advisable to scale up to UCaaS. When you're dividing responsibilities among different departments, there has to be increased connectivity between them. 
I have security concerns?
There's absolutely no need to worry. UCaaS and VoIP both provide enterprise-grade encryption and firewall security in multiple layers. Internet conversations are more secure than wired systems. Your cloud stores data in a reliable manner, so you don't need to lose sleep over this. 
So what now?
Through this conversation, one thing becomes certain: traditional phone systems are even more outdated than Myspace accounts. 
You need to keep adapting to the latest technology. And it's time to migrate to a sophisticated communication system. 
VoIP and UCaaS are both extremely potent options. Honestly, you can't go wrong with either of them. However, choosing the right service for your needs takes your productivity further up a notch. Hopefully, this article has given you more clarity on what would better suit your business needs. 
What's the delay? Go on and transform your operations right now using cloud communication solutions! Talk to our sales team at 0800-084-3663 or drop a mail at [email protected], and we'll get back to you. 

Diksha is a junior content writer at Acefone. As a tech-lover, she aims to bridge the gap between tech articles and non-savvy readers. She's equally interested in pop culture and worldly affairs. And in her free time, you can find her with her nose buried in a book or discovering new music for her chaotically diverse playlist.
https://www.acefone.com/blog/wp-content/uploads/2020/09/voip-vs-ucaas.jpg
376
737
Diksha Gusain
https://www.acefone.com/blog/images_acefone/logo.png
Diksha Gusain
2020-09-21 05:08:34
2022-05-19 09:05:25
Clash of the Titans: VoIP v/s UCaaS [Infographic]