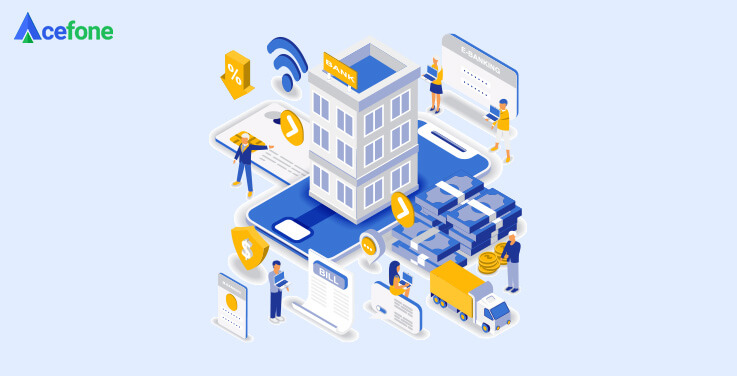 Contact centres are the heart of your business operations—they play a cardinal role in improving customer acquisition and client engagement. You are able to bridge any communication gaps between your business and the customers with these kiosks.
A 24/7 support centre showcases your brand as reliable and responsible, always. Your customers are not just enabled, but also encouraged to reach out to you in case of any queries or complaints.
While contact centres hold great importance across all sectors, their value in the Banking, Finance, Services and Insurance industry (BSFI) is immense. This is because the BFSI sector involves large cash transactions. 
Clients require utmost vigilance and a sense of urgency when it comes to their financial matters. Issue resolution and customer assurance are important tasks for firms in this field, which is only possible with a fully functional contact centre in place.
A survey by Smart Communications showed that almost 63% of the respondents consider switching banking providers if communications don't meet their expectations.
It isn't hard to imagine, then, the value that contact centres hold for the BFSI space. 
How do cloud contact centres differ from traditional set-ups?
The primary advantage of cloud contact centres is that they are dovetailed with an interactive voice response (IVR) system, which enables swift client connection with the right agent. 
In addition, contact centres on the cloud maintain their data repository which supports centralised access. This facilitates remote work and enables access to business-critical information from across the globe securely.
On the other hand, traditional call centres have their infrastructure maintained on-premise. This involves an expert team of IT agents dedicated for constant upgrades and maintenance. These actions are automated in a cloud set-up, which eliminates the need for extra human hiring and effort. 
Here are some other ways in which cloud contact centres help BFSI companies:
1. Offer real-time reporting and training
The involvement of large cash transactions means that customer care representatives need to be well-trained for their job. This training should include basic call etiquettes, ways to handle frustrated clients, and fetching the required information quickly from the database.
Cloud contact centres can even help in training your agents. An interactive training method that provides the agent with the first-hand experience of the job works best. 
All the calls are recorded and stored for performance reviews, monitoring as well as training purposes. New recruits can listen to the recordings to get an idea of the exact nature of their job profile. 
Furthermore, virtual contact centres also help in real-time reporting via their variety of supervisor tools like whisper and barge. Managers can assess employee performance and automated reports can help identify any glitches or pain points to be rectified.
2. Help convince customers effectively
Customers can be ambivalent about their requirements. They sometimes need to be pushed to make a purchase, especially when it comes to financial services.
A cloud kiosk can be integrated with Customer Relationship Management (CRM) software. Hence, your agents are equipped with critical customer information that will help them encourage purchases. This integration can also help derive intuitive insights that will be useful for both, the customers and the agents.
Let's take an example: a customer constantly inquires about a particular product but hesitates to give the final green signal. Your agents will be aware of this through the client's stored call history in the CRM. With this information, the reps can specifically target the customer's concerns and convince them to make the purchase or move one step further in the sales funnel.
3. Provide quick resolutions through IVR system
IVR plays a significant role in helping cloud contact centres stand out from traditional centres.
An IVR system helps businesses offer solutions to customer issues in a jiffy by connecting them to their desired department accurately.
Thus, the customer can get quick resolutions for basic queries and avoid long call queues. Additionally, this feature frees the agents to deal with other critical issues.
The IVR system is not human—it does not tire, it needs no rest. Round-the-clock availability makes your contact centre all the more accessible, from anywhere in the world. 
Furthermore, an IVR can inform the caller of details like the estimated waiting time and information about new initiatives for customer engagement. 
4. Enable better reach to customers
A cloud-based contact centre helps reach out to a larger number of customers. It enables saving the details of every customer and contacting them at an appropriate time with information about financial needs like loans at desired interest rates, well-performing equities, and mutual funds.
What's more—these details can be used to target and engage customers on social media websites as well. This capability, in turn, helps augment your customer base without any additional investments.
Parting Words
The finance industry is critical and needs extra care when dealing with customers. A contact centre on the cloud can help BFSI companies in several ways, from carving a workforce with competent skills, to convincing customers over a call–effectively reaching out to them, and offering quick resolutions.
There's no need to delay it any further! Adopt cloud services now to transform how your business operates. Reach out to us at 0800-084-3663 or send an email to [email protected], and we'll get you started right away.

Acefone provides a broad range of cloud communication services to businesses of all sizes, which includes Hosted Phone Systems, Free Phone Numbers, and Cloud Contact Center Solutions. Being the UK's leading provider of VoIP service provider, we always strive to provide excellent customer service and high-quality custom solutions to our customers.
https://www.acefone.com/blog/wp-content/uploads/2020/10/revolutionise-bfsi-company-with-contact-centre-solutions.jpg
376
737
Acefone Editor
https://www.acefone.com/blog/images_acefone/logo.png
Acefone Editor
2020-10-22 04:02:42
2022-04-26 06:26:53
Revolutionise Your BFSI Company With Cloud Contact Centre Solutions