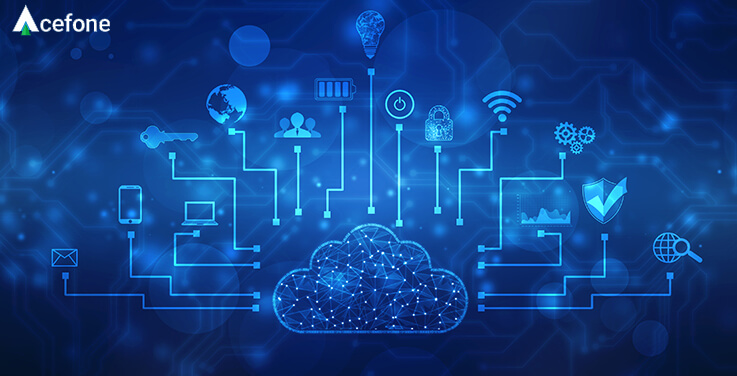 The business landscape is a competitive one. And building a strong positive reputation for your brand is integral to staying ahead in the race. Cloud communication solutions provide businesses with plenty of branding opportunities. You can create a truly strong brand irrespective of the size of your business, simply by installing a cloud phone system.
Cloud solutions give you control over your branding efforts. You can add different elements to your phone system to customise the look and feel of your business, and control how it appears to customers––in everything, from caller ID on your customers' phones to your agents' phone number and much more in between. 
The technology gives you the tools that help you build a professional identity, without having to burn a hole in your pocket. This article will show you all the elements that can help you build and maintain a positive professional brand.
Vanity number
Firstly, a vanity number is a special type of free phone number that uses alphabets instead of digits. These numbers can go a long way in making your brand memorable to customers. How many times have you had a catchy radio jingle stuck in your mind, even weeks after hearing it? 
This power of vanity numbers is similar. They can easily fit into your marketing campaigns and help customers remember your brand and recall your phone number without much trouble.
For example, let's assume you have a business that deals with bird supplies. You can ask your provider for the number 0800-BIRD-SHOP, which essentially on the keypad would translate to 0800-2473-7467. This way, you will be able to represent your brand and contant number in an unforgettable manner. 
Another example of a vanity number boosting your marketing and enhancing your brand is of Hastings Insurance company. They created a phone number, 0800 00 1066, directly relating to their brand so customers would have more chances at remembering the number. The "1066" refers to the year of the battle of Hastings, so this vanity number was a clever way to keep their branding consistent and their number at the forefront of their customers' minds.
Vanity numbers are a fantastic way to enhance branding and give your business that professional look you need to appeal to customers. The beauty of cloud communications is that any business of any size can use this. You could be a one-person business and still have a strong brand and a vanity number to make your business stand out.
Audio and text broadcasts
Sending voice and message broadcasts through your cloud communication system is an easy way to keep in touch with your clientele at once. This can be built into your omnichannel marketing campaign, with your cloud system sending out mass messages through calls, SMSes, and more. 
Your broadcasts could be anything––from emergency notifications to sales promotions, customer surveys or appointment reminders. Broadcasts not only save time for your customer engagement team but also enhance your branding, and ensure you are effectively communicating via all channels.
Omnichannel marketing is important for modern-day consumers, who expect you to be available wherever and whenever they need you. By sending out a broadcast, you are able to communicate with them on multiple platforms. You can even use the data in your cloud solution to personalise this message and cut through the clutter of the many marketing messages people receive on a daily basis. 
Personalised messages show that you have invested in your customer service, and therefore, give you a more professional look which customers are much more likely to respond positively to.
Caller ID
With a cloud system, you get access to a plethora of features that let you control all aspects of your business, including how you appear when you call a customer. By customising your caller ID, you can ensure that your brand is represented appropriately on your customer's devices. 
For example, if you're dealing with customers across the UK, you might not want to appear from just one location––making your brand look more national rather than regional. You can set your caller ID to appear as a private number or a vanity number so your branding is consistent and your customers will know who is calling. 
You can also deploy virtual numbers which will enable you to use local area codes to connect with your regional audience. Another option is to have a different caller ID for different departments; so, have a dedicated sales number, press enquiry number, customer service number, and so forth. 
VoIP caller ID makes sure that your customers will always recognise your brand, so, they are more likely to pick up the call from a known source compared to a random number.
Another benefit of using a caller ID is that you can keep your contact details safe. Maybe, for some reason, you don't want your customers to know the number of a certain department in your business. In such a situation, you can use a caller ID to mask your number during outgoing calls while also making sure that they recognise your brand. 
0800 phone number
A free phone number is an ideal way to create an easily recognisable brand. If you are looking to appeal to customers across the United Kingdom (or even the world), then an 0800 or 0808 number is for you. These numbers give a highly professional look to any brand and can make even the smallest companies appear much larger and more professional.
0800 numbers don't just remove geographical barriers and open you up to opportunities across regions, they also remove barriers to customers calling you. Since calls to these numbers are free, customers will have less to lose by reaching out to you. Thus, you are likely to see an influx of incoming calls and get more opportunities to sell to customers. 
In terms of brand building, an 0800 number is favoured by bigger and more established organisations, so having a free phone number will naturally present your business in a good light. These numbers are economical to run through your cloud communication system, and all calls to them are directed to a device of your choice. 
Ultimately, customers will just enjoy crystal clear communications whenever they contact you, at no cost to them and minimal cost to you. This is great for your company's image. Your customer thinks of your business as a professional one that doesn't shy away from direct customer communication.
When you open up communication lines to deal with customers' issues and create a relationship with them, they are much more likely to trust you as a brand over someone with a premium number who is trying to make money from customer calls. 
Virtual assistant
With a cloud communication system, you can have a virtual assistant to take messages when you aren't available. Virtual assistants help your brand in two ways––first, you'll never miss a message from a customer and will always be able to get back to them in a timely manner. Secondly, a virtual assistant makes your business appear very professional. 
A lot of businesses are now taking advantage of a virtual assistant for customer interactions. After all, if you don't have one in place, your clients will be unable to leave a message during your off-hours. This brand-building element of your cloud communication system leaves a highly professional impression on callers, and they will know you are serious about not missing a customer call. 
With a virtual assistant, you also don't need to worry about lost voicemails––you are sure to receive them with the message being forwarded directly to your email address.
Virtual assistants can also promote self-help for the customers. They can be fed with FAQs and the simple touch of a number on the keypad will allow the customer to resolve minor issues without the need of a service agent. They can also redirect the customer to the right department, eliminating the need for an additional agent to do so, while also saving valuable time on both ends.
Enhance your brand with the amazing features of cloud communication
If you're looking to enhance your brand reputation and performance, clearly, cloud communication is the way to go. With plenty of amazing features, it makes your business appear more professional, established and reliable, streamlines work processes, and benefits customers. It is easy to strengthen your brand image in the eyes of your customers without shelling out too much!
All of these features don't just enhance your brand, they also make it easy to run omnichannel marketing campaigns. You can broadcast messages across different channels, or use the online portal to ensure customer notes are up-to-date and your agents can deliver truly personalised service to customers on any platform of the latter's choosing.
By using the features of a hosted phone system you can simplify and strengthen your communications and deliver smooth customer service experiences from start to finish every time.
To find out more about cloud communication and how it can help enhance your brand, connect with one of our experts today at 0800-084-3663 or drop us an email at [email protected].

Acefone provides a broad range of cloud communication services to businesses of all sizes, which includes Hosted Phone Systems, Free Phone Numbers, and Cloud Contact Center Solutions. Being the UK's leading provider of VoIP service provider, we always strive to provide excellent customer service and high-quality custom solutions to our customers.
https://www.acefone.com/blog/wp-content/uploads/2021/05/brand-building-elements-that-the-cloud-offers.jpg
376
737
Acefone Editor
https://www.acefone.com/blog/images_acefone/logo.png
Acefone Editor
2021-05-05 05:30:40
2023-03-21 08:26:16
Brand Building Elements That The Cloud Offers