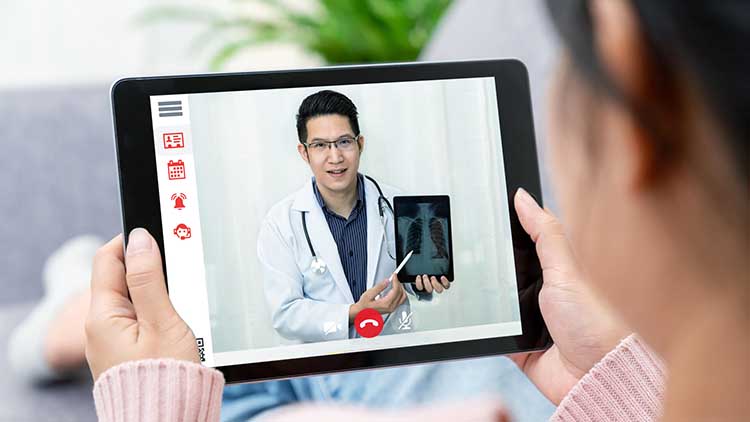 The COVID-19 pandemic put a massive strain on healthcare organisations across the globe. Patients or not, people were concerned about the availability of professional help and medical resources. 
The panic led to an influx in inbound queries, which, coupled with social distancing and lockdown norms, became quite the challenge for customer support agents working in the healthcare industry. 
To successfully cater to people's queries and concerns, healthcare organisations had to shift their support operations to a virtual contact centre. 
What are virtual contact centres?
A virtual contact centre is a solution that allows customer service representatives to operate from different locations, as opposed to working from a single site. 
Since it runs over the Internet, a virtual contact centre allows agents to work remotely and handle customer issues via multiple channels like phone, chat, email, etc. 
Working in a virtual environment ensures safety, increased agents' productivity, and elevated customer satisfaction levels. 
Patients no longer want to wait in lines for medical processes such as booking appointments, collecting their diagnostic reports, and so on; they expect robust and contactless methods of instant care. 
This is where virtual contact centres come into the picture—they help healthcare service providers offer quick and seamless services. 
Moreover, these contact centres allow healthcare institutions to be there for their clients much after billing. Patients can receive post-treatment medical care like contactless medicines, online appointments, and teleconsultations. 
So, without further ado, let's understand how a virtual contact centre helps healthcare providers communicate with their patients effectively. 
Tips for virtual contact centres in the healthcare industry
Virtual contact centres can be tweaked to cater to the needs of various industries. 
Some tips that virtual contact centres in the healthcare industry can follow are:
Implementation of new workflow processes to prioritise COVID-19 emergency calls over other medical inquiries

Introduction of COVID-19 related scripts to accurately route medical questions to relevant departments

Allowing agents to handle increased call volume and collaborate with other departments with the help of cloud-powered tools

Making agents aware of their key performance metrics to enhance their performance

Development of an internal website that query resolution with the help of chatbots and frequently asked questions 
Challenges for the healthcare industry
Healthcare organisations face different challenges every day. From the lack of adequate medical equipment and a weakened workforce to emergency cases, new curveballs in the form of new variants—there's much for them to tackle.
Given below are some obstacles they commonly face. 
The uncertainty regarding the pandemic and its symptoms meant people were booking appointments even for illnesses like the seasonal flu, stomach infections, etc.
Due to the increase in queries, patients had to wait in long call queues to connect with agents. As a result, they disconnected the call without interacting with the agent, resulting in a high call abandonment rate.
The surge in COVID-19 cases and a workforce shortage created a lack of emergency services such as ambulances. People had to call up multiple healthcare providers before they could book an ambulance for themselves or their loved ones.
This resulted in delayed service, accelerating the urgency of treatment. 
Since people couldn't and didn't want to venture out, they could not collect their diagnostic reports on time. Not only did this delay their treatment, but it also turned into a logistical issue for those working at laboratories.
Healthcare organisations found it difficult to attract and retain patients. Contemporary patients demand a streamlined self-service experience to complete simple tasks independently, such as downloading immunisation records, paying their bills, checking their account status, etc. 
Instead, traditional healthcare delivery methods require people to physically visit centres to collect their reports, receive diagnoses, and the likes.
How virtual contact centres can help the healthcare industry
Virtual contact centres provide the necessary tools and features to help healthcare providers deliver better patient experiences. Some of these are:
Real-time tracking
The real-time location system (RTLS) feature provides immediate tracking and management of medical equipment, staff and ambulance. It ensures patients reach the hospital in time, avoiding any serious medical problem. 
For instance, when a patient dials an emergency number, they are redirected to the nearest local driver in their region with the help of location-based routing. 
The real-time location service promotes patient safety and reduces hospital-acquired infections within facilities. It also helps locate healthcare staff in hospitals when a patient or other staff member requires assistance during an emergency.
Moreover, RTLS also helps track the physical movement of patients who have dementia and Alzheimer's to ensure their safety. 
In-app integration
Integrating contact centre solutions with the management system allows people to book appointments from within the app. 
Patients no longer need to seek manual support or wait on hold to fix a consultation slot with a doctor. They can now do it from the comfort of their home with just a few clicks. 
Furthermore, the integration allows you to create patient IDs and keep track of their history, assigned doctor, and consultation time. 
With the help of patient profiles, you can send timely alerts and reminders for medicines, blood tests, etc. These alerts and reminders can often be a lifesaver for patients with chronic issues. 
Report alerts
The best way to enhance a patient's experience is by improving communication and reducing their workload. 
Offer omnichannel communication by sending e-reports to your patients via email, messaging apps or simple SMSes. Allow patients to view their test results and reports online and save them the hassle of coming to the hospital physically.  
In simpler terms, report alerts enable you to reach patients outside of the hospital environment personally. 
Securing patient records
Data breaches are a very common phenomenon in the modern world. But, healthcare systems cannot afford to let patient data be at risk as they would have to pay a hefty penalty for violating compliance standards. 
Security compliance can help organisations save valuable patient records and information from data theft. 
Therefore, medical organisations must invest in security measures to remove the threat of ransomware attacks and data breaches and protect sensitive patient data. 
You can also integrate CRM software into your system to access the patient data and history at your convenience. 
Engagement after treatment
A patient's journey does not end once they pay the bills and get discharged from the hospital. Sending timely reminders for regular checkups and health tips via emails, SMSes etc., can help bolster doctor-patient relationships. 
Such reminders also help patients look after their health and take necessary precautions. 
Conclusion
Virtual contact centres help healthcare organisations form personalised relationships and improve customer satisfaction levels. 
They also help heathcare providers work remotely and provide excellent features and services to patients. 
Furthermore, omnichannel platforms help providers communicate with patients via different channels. They also simplify tasks like booking an appointment, collecting reports, sending reminders, etc. 
To know more, get on a call with our experts at 0800-084-3663 or drop an email at [email protected].

Saurabh is a content writer at Acefone. He is a fan of standup comedy, football, and Hindu mythology. He is fond of travelling to unexplored places, meeting new people, and having newer experiences that enrich his soul. Connect with him on Linkedin
https://www.acefone.com/blog/wp-content/uploads/2022/03/Create-a-Virtual-Contact-Centre-for-Healthcare-Organisations-1.jpg
422
750
Saurabh Sharma
https://www.acefone.com/blog/images_acefone/logo.png
Saurabh Sharma
2022-03-07 12:24:52
2023-01-30 13:05:07
Create a Virtual Contact Centre for Healthcare Organisations