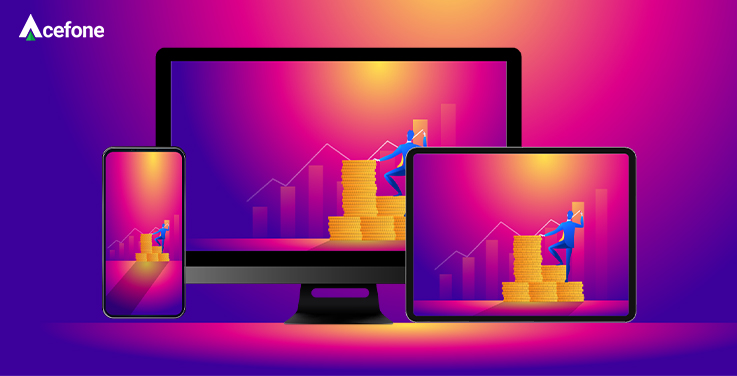 In the Finance industry, it is important to remain connected and contactable at all times.
Clients need to be able to get in touch with you quickly and sometimes in an emergency, so a robust and reliable phone system is a must for any business in the financial industry.
Financial businesses are often dealing with highly sensitive data from customers, so to build this trust you must ensure that your phone system is as secure as possible and that attackers cannot reach your customer's precious data.
We've outlined the role hosted phone systems play in the finance industry and how you can make your phone system work for you as a financial professional.
Always Be Available To Talk To Clients
The beauty of a hosted phone system is that your staff can work from anywhere in the world, and can connect remotely to your phone system using an internet connection and their compatible device.
They can access all your customer data and work seamlessly with your team to answer client queries.
We understand that financial businesses often have customers globally, so it is important that each of these customers can contact your business should they need any assistance.
A hosted phone system lets you hire remote workers anywhere in the world, so someone will always be available to take customer calls as they will be working in different time zones.
This is great for customers to get 24/7 service as finance is not a nine to five occupation and clients will often need you at all times of the day.
Hosted phone systems help to ensure customer needs are met and show clients that you are heavily invested in ensuring optimum customer satisfaction.
Never Miss A Lead
A hosted phone system has many features designed to ensure you never miss a lead.
Firstly, you can answer calls from any device, anywhere as long as it is connected to the internet meaning that even if you are travelling for business or working from home you will not miss a lead and can carry on with business as usual.
Hosted phone systems also give you the opportunity to add a virtual assistant to your phone system.
The virtual assistant can take messages from customers and forward voicemails straight to your email inbox, so you can pick up on any messages and follow up when you are free.
This is particularly useful when you are a sole trader and may not be able to answer calls at all times.
Clients will be impressed with the level of professionalism and the value you place on their messages; as they will be able to leave a message they are less likely to move on to a competitor as their message has been taken professionally by a virtual assistant.
So, you can go wherever your business needs you to without worrying about missing any calls or lucrative leads.
Secure And Compliant
A hosted phone system has multi-level security measures helping you ensure that incoming and outgoing calls are completely secure.
We know it is important for Financial businesses to adhere to compliance regulations and ensure that they are completely secure and compliant and so a hosted phone system lessens the burden of regulations and makes your phone system fully compliant.
Your business can store sensitive information with confidence as Acefone's hosted phone systems store customer data in the cloud, fully adhering to PIC, FCC, GDPR and CPNI regulations.
Data is also stored and backed up in different geographical locations.
Adding an extra layer of protection for your business in the event of a crisis or should something happen to your business' physical premises, we can get you set back up right away with the minimum of downtime.
Acefone also provides security from threats so your client data is safe from any attacks, increasing the level of trust between you and your clients.
We take care of any updates and ensure your phone system is safe and secure so you can focus on working with your clients.
Manage Your Teams Remotely 
If you have teams based all over the world, you may think it would be difficult to keep track of their work.
With a hosted phone system, this is not a worry for managers as they can use an easy to use online portal to ensure that staff are productive and costs are within budget.
Contact centre managers can see every call coming into your company and can also monitor staff productivity all through your hosted phone system.
With Acefone's online portal, you can access all the analytics and information you need to ensure your team is working effectively and productively.
As a manager you can access any call recording you need in the event of a complaint or query and can use these secure call recordings to help train new recruits.
Analytics can be accessed in real-time, so you can log in at any time and see how your contact centre is running and redeploy staff if you need to.
With all the information you need at your fingertips you can manage a hosted contact centre with workers all over the world easily with a compatible device and an internet connection.
Keep Your Business Moving And Growing
With 99.9% uptime, a hosted phone system will allow you to keep your business running no matter what happens.
As your phone system works over an internet connection, we can have you back up and running in minutes from any compatible device so your staff can continue with business should anything happen.
As hosted phone systems are portable, your staff can keep moving wherever they need to go and are not restrained to their desks.
Hosted phone systems are fully scalable and will grow with your business, so you do not need to worry about extra costs should you need to hire more staff.
You can add lines with just a few clicks on the online portal and can add as many as you need to cope with demand on your business.
Hosted phone systems can play a vital role in the Finance industry and can help ease some of the worries which face Financial professionals in terms of security and compliance while freeing up staff to go where they are needed and work from wherever they need to.
If you would like to find out more about how a hosted phone system can help your business, call our team on 0800-084-3663.

Acefone provides a broad range of cloud communication services to businesses of all sizes, which includes Hosted Phone Systems, Free Phone Numbers, and Cloud Contact Center Solutions. Being the UK's leading provider of VoIP service provider, we always strive to provide excellent customer service and high-quality custom solutions to our customers.
https://www.acefone.com/blog/wp-content/uploads/2020/04/hosted-phone-in-finance-industry.jpg
376
737
Acefone Editor
https://www.acefone.com/blog/images_acefone/logo.png
Acefone Editor
2020-04-29 06:27:03
2021-08-03 14:22:06
Role Of Hosted Phone Systems In The Finance Industry