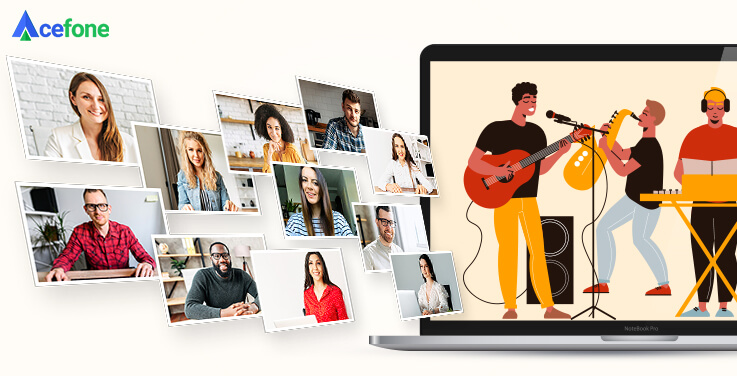 The show must go on! We've all heard that statement at least once in our lives. However, when CoVID-19 hit the world, it seemed to no longer hold true––after all, everything came to a complete standstill. 
This was especially true for the entertainment industry. Shows and events that were scheduled way in advance were cancelled in an instant. Public gatherings became prohibited and not only were performers locked in along with everyone else, they suddenly had no means of earning a living. 
Despite all the roadblocks though, the show did go on. 
Cloud communications, powered by the Internet, enabled artists across the globe to take their gigs online and entertain their fans without leaving the safety and comfort of their homes. Considering the Internet is already a huge part of our daily lives, this solution seemed natural.
Cloud technology offers not only a great way to connect with people but helps artists communicate with the audience better. 
Let's take a look at some features that make online gigs possible and are guiding the industry through this situation.
1. Audio and video conferencing
One of the most popular features of cloud communication is conferencing, both audio and video. With audio conferencing, the artist can initiate a group call with the selected audience and deliver performances such as stand-up comedy shows even without a video. 
Video conferencing takes these capabilities a step further. Audiences can enjoy musical performances, dance shows, comedy acts, and even virtual parties with unique games and magic shows. The possibilities are endless. 
Cloud conferencing was one of the first features to come to artists' aid. Even when they couldn't get on a stage, they could still perform for a live audience.
These gigs emerged like saviours, raising everyone's morale. There was a way to connect and communicate seamlessly again. Not only could people see and talk to each other in an almost lifelike manner, but they could also hold one-on-one conversations via in-meeting chat during ongoing events without disturbing others. 
2. Secure virtual waiting rooms
Suppose you want to host a gig for a special audience––an exclusive event. You obviously wouldn't want someone uninvited to join your show. The cloud has you covered. You can share invite links with the people you want to include and keep everyone else out. 
And if they invite someone you don't wish to include, there's a solution for that too. 
With virtual waiting rooms, every participant will join a waiting channel or room at first, and only after the host's approval will they gain access to the real event. This eliminates the chances of anyone misusing the link. Even if someone unwanted joins, you can filter them out with just a click of a button and the show remains unaffected. 
It is not uncommon for artists to include a presentation in their events. They often present some photos and videos or even add a light show (which is very cool honestly) to their gig. However, CoVID-19 seems to have made all this cool stuff impossible. 
Although light shows still have to wait a little longer, with screen sharing performers can present visual media during their gig. Additionally, with unlimited meeting duration, even if the gig doesn't conclude in the allotted time, artists can stretch their shows a little longer to entertain their audience without any interruptions.
4. Reminders for upcoming gigs with SMSes and voice broadcasts
Cloud technology offers various ways to make sure your audience never misses out on any of your virtual shows. Schedule reminders, block calendars, and send notifications via emails, texts, or even missed calls, in a jiffy. 
Voice broadcasting allows you to connect with a large number of people at once. You can personally record an exciting message and automate the delivery process to save time and labour.
Also, out of sight does not have to mean out of mind. Stay connected with your audience online to deliver timely updates and keep the connection going. This is especially helpful for people who anticipate a gig but never get to know the when and where. 
Use voice broadcasting or SMSes, quick and easy ways, to communicate and ensure your audience never feels left out or ignored.
5. Easy transactions and identification with OTPs
Providing your customers with a safe portal for transactions is crucial for the success of any event and, eventually, the business. If people don't trust your payment mediums, they will hesitate to take any monetary action. 
Cloud offers various security features, such as end-to-end encryption and Bcrypt hashing that enable safe transactions. Also, a part of this list is One-Time Passwords (OTPs) that help with identity authentication. Coupled with  24×7 availability and 99.99% uptime, these features make your portal trustworthy and customer queries can be handled like a breeze.
Another easy way to safely communicate with your audience is via email. Provide them with a booking link within the email or instructions to guide your customers straight to the payment gateway. This will help avoid any possible frauds. 
Not to forget, emails are a more professional and organised way to communicate that can help make events look more white-collared and well-curated. 
Wrapping up
The global pandemic has been a phase of suffering for artists and audiences alike. Going online was the only option left for many to even survive in the industry. However, cloud technology came in like a ray of hope in dark times, offering a plethora of features that enabled seamless communication and helped keep spirits high. 
People like to watch gigs on their laptops and mobiles now more than ever. That would explain all the specials Netflix is churning out and the number of concerts being held online. Even magicians have found ways to virtually entertain people with their tricks and games.
This just shows the power of the cloud and how it has redefined our world.
If you also wish to take your business online and remain connected with your customers even through the toughest times, look no further than Acefone. We provide the best-in-class cloud solutions, customisable plans, and features that are unique to your needs at unbeatable prices. 
Connect with our experts today at 0800-084-3663 and explore the realm of possibilities on the cloud.

Ratnam is an SEO enthusiast and content writer working as a Digital Marketer with Acefone. He is fond of traveling and new experiences. He is a huge Marvel fan and is always open to learning.
https://www.acefone.com/blog/wp-content/uploads/2021/04/hosting-a-gig-what-it-used-to-be.jpg
376
737
Ratnam Sinha
https://www.acefone.com/blog/images_acefone/logo.png
Ratnam Sinha
2021-04-26 04:57:59
2023-03-21 08:29:21
Hosting A GIG Isn't What It Used To Be. It's Online Now!