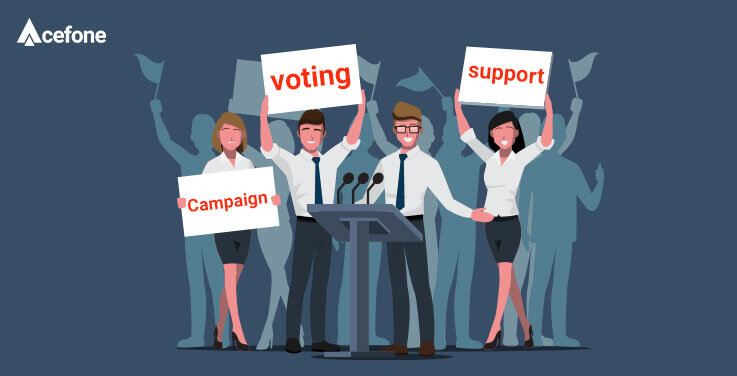 The COVID-19 pandemic has transformed the way businesses operate, yes. They have adopted remote work and implemented several state-of-the-art technologies to emerge from this pandemic successfully. 
Apart from businesses, however, other entities are also striving to overcome challenges imposed by the pandemic. With elections around the corner, how do political parties gear up for campaigning amid a lockdown? 
Here's how: cloud telephony is not just for businesses, in the current scenario, even political parties can utilise its capabilities to interact with the people. 
With COVID-19 cases on the rise yet again, several states have begun to impose lockdowns with stringent rules on social distancing. Political leaders have been advised to limit public exposure and avoid gatherings.
So, how is cloud telephony being implemented by leaders this political season? Here are a few ways:
1. Provides voice broadcasting options
Automated cloud telephony solution is an emerging trend. This medium of communication is being used in a myriad of areas and the political arena is no exception. 
Let us understand more about voice broadcasting as a part of cloud telephony solutions.
Voice broadcasting is a medium wherein you can record customised messages and send them to your contact list. Let us see the steps in detail.
Political leaders may record messages about their agenda

A list of recipients is prepared. This is similar to a contact list that includes the recipient's information

An appropriate time to send the message is scheduled
The rest is taken care of by the cloud telephony service provider.
What are the benefits of this solution?
2. Helps track performance
Voice broadcasting and smart dashboard application enable performance tracking for various campaigns. Individual campaign managers can gauge the number of recipients who have heard the message and shown interest. The service providers also offer advanced analytics and important campaign management data via the interactive dashboard. 
3. Provides flexible options
Voice broadcasting campaigns can be scheduled at varying time slots. This is a great advantage for political parties because they can trigger the campaign at a particular time of the day when people are active and willing to listen. 
Furthermore, scheduling campaigns based on time will ease the process of categorising them based on performances. Also, this solution offers last-mile connectivity, all a potential voter needs is a phone connection to attend and listen to the call.
4. Is cost-effective
Unlike other communication techniques that need additional manpower and time, voice broadcasting does not need extra resources. The text-to-speech feature allows easy recording which can be instantly broadcasted to potential voters. This saves funds and time for political leaders.
5. Enables feedback
It is pivotal for every enterprise, political or otherwise, to be able to receive feedback from their target audience. Voice broadcasting enables the same. This service can be coupled with an Interactive Voice Response (IVR). The target audience may use this option to send their feedback to the political leaders. This way, stakeholders can understand their campaign performances and gauge voter preferences. 
6. Facilitates personalised messages
Different people will relate to different approaches during a political campaign. Some voters might prefer soft and heartfelt speeches whereas others may like agendas or statistics in the manifesto. 
Multiple voice broadcasting campaigns will help tweak the message based on different requirements and target the voters.
7. Supports SMS marketing
Sending text messages is one of the most direct and effective mediums of communication for political parties. All they will need to do is frame their text message, prepare a contact list with telephone numbers, and send out the message. 
This medium allows political parties to reach thousands of voters in a single click. Moreover, smartphones have now become a prerequisite across age groups. 
When people receive this text message, they will easily understand your political message. Furthermore, you can add a call-to-action with the message. By clicking on this link, the receiver will be able to register his/her support for your political party. This way, you will be able to gauge support from different areas. 
Moreover, SMS marketing does not involve any specific equipment or device that needs to be employed. It can be simply triggered with the help of the cloud telephony system. Therefore, it proves to be cost-effective as well.
8. Utilisation of UCaaS and CCaaS
Unified Communication as a Service (UCaaS) and Contact Centre as a Service (CCaaS) focus on streamlining communication. They are both based on the cloud and offered by service providers. 
When considering UCaaS, it intends to break through internal silos and facilitate the free flow of information across the various departments in an organisational setup. On the other hand, CCaaS improves customer experiences by integrating multi-channel communication. 
Beginning with UCaaS will help maintain a centralised repository of voter information, campaign contact list, and other important details. This will eliminate individual dependencies. 
In the case of CCaaS, it will provide a holistic view of the performance of different communication channels used by the politicians to contact their voters. This will include social media platforms, email, automated calls, and text messages.  
Moreover, both CCaaS and UCaas offer comprehensive data related to analytics. These reports will detail individual campaign performances and constituencies that support particular politicians. This information will enable political parties to revisit their election agenda and target their voters in a better way.
Next, a combination of UCaaS and CCaaS can help conduct large scale town hall meetings. This pandemic has ruled out the chances of addressing people in person. The capabilities of UCaaS and CCaaS together can enable virtual meetings that will help politicians create a personal impact on the electorate. 
In order to conduct said meetings, the stakeholder will need to inform the service provider about the virtual town hall meeting and its agenda. An appropriate link will be created. This link can be circulated across social media accounts of the political party, emails can be sent, recorded voice messages can be triggered, and the response can be measured. 
While UCaaS facilitates a better collaboration of internal components of the political party, CCaaS will ensure that audience interaction is dealt with effectively. Organising these townhall meetings empowered by technological tools will help gauge the support of the voters and thereby sense their pulse.
9. CRM integration
Voice broadcasting solution readily integrates with tools like Customer Relationship Management (CRM). This supports the campaign managers to personalise messages based on receiver information. They may include the name of the receiver and could catalogue a tentative political inclination of the voter. 
This cloud-based system includes toll-free numbers or vanity numbers that can be used by the political parties to either send messages or make outbound calls to reach out to their supporters. When a unique toll-free/vanity number is used in integration with the CRM, it improves the way the political party is perceived, a pivotal aspect during election campaigning.
This way of campaigning will strike the right chord among the people and help political parties win support. 
Wrap up
Technology has always been the lifeboat during an unprecedented crisis. Even during this pandemic, politicians can rely on state-of-the-art, cloud-based solutions to back them during elections. These tools will help politicians reach out to their voters, strike the right chord among them, and emerge victoriously.

Olivia is an outgoing person who enjoys writing, is an SEO enthusiast, and often interacts with others in intellectual conversations. She enjoys listening to music in her free time. Connect with her on Linkedin
https://www.acefone.com/blog/wp-content/uploads/2021/04/how-parties-and-politicians-can-use-cloud-telephony-for-better-campaigning.jpg
376
737
Olivia Trott
https://www.acefone.com/blog/images_acefone/logo.png
Olivia Trott
2021-04-28 12:31:06
2023-03-21 08:28:45
How Parties and Politicians Can Use Cloud Telephony for Better Campaigning?