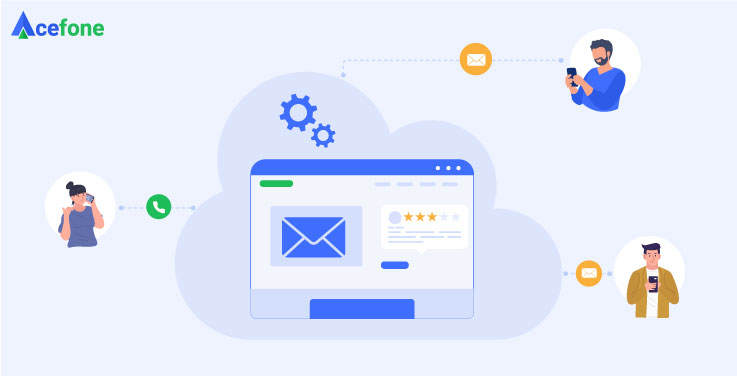 After a customer makes a successful purchase, you might think that the job is done. 
However, this isn't the case!
If you don't offer any post-purchase service, you could be at risk of losing a potentially loyal customer. Some customers may also be dissatisfied with the care they receive after the sale, making them return the product, and you losing the sale. 
The post-purchase experience is integral for keeping your customers happy and ensuring they make repeat purchases with your brand. 
This article will explore how you can enhance post-purchase experiences and their effects on your sales and customer satisfaction rates.

Automated emails to enhance the post-purchase experience
Automated emails are a great way to enhance your customer's post-purchase experience. You can trigger emails to be sent at different intervals and make sure that you remain on your customer's minds whenever they need your service. 
There are a few different ways to use automated emails to keep customers informed and build trust: 
Order confirmation emails
Once customers have made a purchase, they want an immediate response confirming their order. Without this, customers might think that their order has not been processed correctly and may either purchase the product again or go elsewhere.
Order confirmation emails serve a few different purposes. While they tell a customer their order has been successfully placed, they also inform the customer of the next steps. You can detail the whole delivery and dispatch process in this email so as to be transparent and manage customer expectations. 
These emails enhance post-purchase experiences by providing customers with all the information they need about their order. Moreover, they also provide an opportunity for you to introduce other offerings of your business to the customer.
While thanking customers for their business in these emails, you can also direct them to similar products and encourage them to purchase again. You can even include incentives such as discount codes for their next order. 
Whatever you may choose, you shouldn't miss this opportunity to start building a rapport with your customer. 
Shipping notification emails
Shipping is the period where a majority of customer complaints arise. Therefore, sending notification emails ensures that the customer is kept informed about the status of their order. 
These notifications provide timely updates on the progress of their delivery and help reduce the number of customers reaching out for updates. 
You can also add different support options in your emails to further enhance the post-purchase experience and ensure customers see you as a trustworthy and transparent business. 
Add links to different support options and connect customers directly to your agents from their email. If you have a hosted phone system, you can ensure that customers are always responded to, regardless of the channels they use. 
With a hosted phone system connected to your CRM, you can pull order status and share this with the customer. This saves your agents time and makes customer service run more smoothly.  
Delivery confirmation emails
Upon successful delivery, you can trigger automated emails to check in with the customer and gain their feedback on the delivery process or offer further support. These can include how-to videos for their purchased product. 
Such emails show initiative from a business to reach out to the customer with more information about the product. It also helps to reduce the number of calls about common queries. The customer will see this as a testament to your service offerings and feel that you care about their experience with your product.
By gaining feedback from the customer while the order is fresh in their minds, you can gain highly actionable insights on your delivery process. This can help inform future developments and benefit future customers too.
Follow up emails
Once the customer has had a few weeks with their purchase, you can trigger a follow-up email to check in with them. This follow-up can include complimentary items that the customer may want to purchase with their current product or suggestions on new products that may interest them.
By using follow-up emails, you ensure that you keep in touch with each customer and stay at the top of their mind when they are out for their next purchase. If a company provides timely and relevant updates, they are sure to be favoured by customers in the future. 
Automated calls to follow up with customers
Another way to follow up with customers is to use automated calls. These calls can be used to suggest new products, check if the customer has any questions, or simply to build a relationship.
Follow-up calls can be scheduled right from your hosted phone system, and auto-dialers make this process easier than ever. Without the need for manual dialling customers, your agents can use automatic dialers and get connected. Hosted phone systems also allow them to see all the relevant information about that customer.
Automated calls create goodwill with your customers and show that your business is willing to put in the time and effort to deliver to them a great experience. These calls build up trust and ensure that your sales agents are more accessible to customers, making it easier for them to make repeat purchases.
Naturally, when customers are speaking to your sales or customer service team more often, there is more opportunity for sales to be made. This ease allows customers to become familiar with a brand, creating a satisfied customer who is more likely to make repeat purchases. 
When combined with emails, automated calls can make a fantastic addition to your post-purchase strategy.
Enhance your post-purchase experience with automation
It is easy to enhance your post-purchase customer experience when using automation. By sending simple emails or making follow-up sales calls, you can build strong relationships with customers and increase your sales output!
Your hosted phone system is fitted with all the necessary tools to make this a reality. With it, you can schedule messages, make calls, note important information and so much more.
If you are interested in increasing your sales potential with an improved post-purchase strategy, you can call us on 0800-084-3663 or write to us at [email protected] and talk with experts to find which tools work best for your business.

Olivia is an outgoing person who enjoys writing, is an SEO enthusiast, and often interacts with others in intellectual conversations. She enjoys listening to music in her free time. Connect with her on Linkedin
https://www.acefone.com/blog/wp-content/uploads/2021/11/automated-emails-and-calls-for-post-purchase-service-2.jpg
376
737
Olivia Trott
https://www.acefone.com/blog/images_acefone/logo.png
Olivia Trott
2021-11-29 09:28:46
2023-02-20 07:03:30
Enhance Post Purchase Experiences for Customers with Automated Emails and Calls