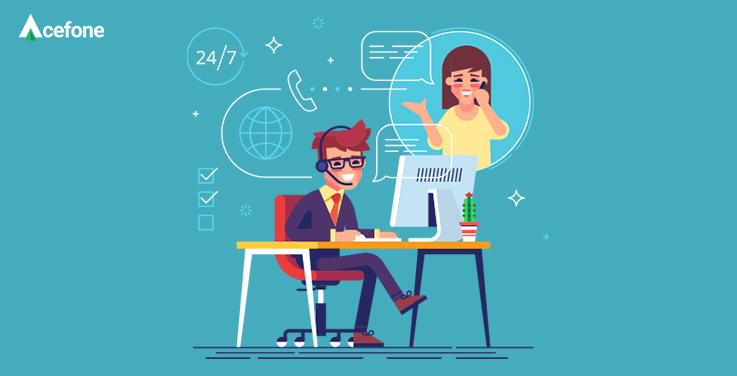 A virtual number can be used to put across whatever image you want to your customers. A virtual number can act in many different ways to help your business build better customer relations and improve both your business' reputation and your profits.
Acefone has put together some of the different ways a virtual number can help strengthen your customer relations.
Increase Trust Between You And Your Customers
If your business does not have physical premises, then customers may feel uneasy about dealing with your business.
Depending on the industry, customers expect a physical place where they can find your business, so if they can see a telephone number to contact you on which corresponds to the area you are based in customers may be more inclined to call you.
A virtual number will give the impression that your business is well established and provide a more professional image, even if you are just starting out.
So, a virtual number can give you a competitive edge when customers are researching as they may feel more comfortable calling a landline number rather than a mobile.
Customers seeing only a mobile number may feel that this is less trustworthy, as mobile numbers can be easily swapped and changed in the unfortunate event something goes wrong; so a landline number, even if virtual, will take any doubt from their minds and break down a potential barrier between your business and your customers.
Any calls can be directed to any device so you can pick up calls the same as if they were going directly to your mobile phone.
Increase Ties To The Community
More and more customers are choosing to shop and support local businesses with changes in the economy, so ensuring that you have a local number increases your business' ties to the community and can serve to increase trust between your customer and your business.
If a customer is looking for a product or service, for convenience, they may choose a provider who is local.
When searching through Google or any other listing site, if they see a mobile or non-regional phone number they may not look further into where your company is based and may be more inclined to purchase from a competitor who has a local number listed.
Customers want the easiest solutions and will often buy for convenience, so a local number is a great way to ensure you are first in their minds when researching.
With a hosted phone system, you can choose to have a local number to increase these community ties – all calls will divert to your office wherever that might be, and customers will see no difference when making the calls to your business with the seamless call connection of a VoIP system.
Break Down Barriers With A Free Phone Number
You can also choose to have a free phone number for your business. This is a great way to remove any barriers which might be stopping a customer from calling – they have nothing to lose by calling you, which gives your agents more opportunities to talk to customers and potentially close more sales.
A free phone number can also instil trust in a customer as it gives the impression of a more significant, national business which hints to customers that you are well established in your field.
Particularly with larger purchases, customers will want to know they are dealing with a reliable and established company; so a free phone number is perfect for showing this to them.
Customer relations will be improved as you have indicated to them you have made the investment in your phone system and ensuring that they can contact you at any time free of charge should they have an enquiry.
Help Customers Remember You With A Memorable Number
For customers possibly purchasing a service or product which requires them to be in contact quite frequently, a memorable number could help them quickly and easily call you when they need to.
Customer relations will improve as they will have your number front of mind when they need it if you have chosen a memorable number, so they will appreciate the ease of calling you and could be more likely to become a long term customer.
You could also use a free phone number to support your marketing, creating relationships with new customers as your memorable number can be a big part of your marketing campaigns.
Your business will be able to accurately measure the impact of your campaigns with the easy to use the online portal from Acefone, where you can track calls to specific numbers on your campaign and see which marketing strategy has the most impact.
To find out more about how virtual numbers can build better customer relations, call Acefone on and talk to our team of experts.

Acefone provides a broad range of cloud communication services to businesses of all sizes, which includes Hosted Phone Systems, Free Phone Numbers, and Cloud Contact Center Solutions. Being the UK's leading provider of VoIP service provider, we always strive to provide excellent customer service and high-quality custom solutions to our customers.
https://www.acefone.com/blog/wp-content/uploads/2020/03/virtual-phone-number-build-better-customer-relations.jpg
376
737
Acefone Editor
https://www.acefone.com/blog/images_acefone/logo.png
Acefone Editor
2020-03-05 09:15:06
2023-01-23 05:53:35
How To Use A Virtual Number To Build Better Customer Relations