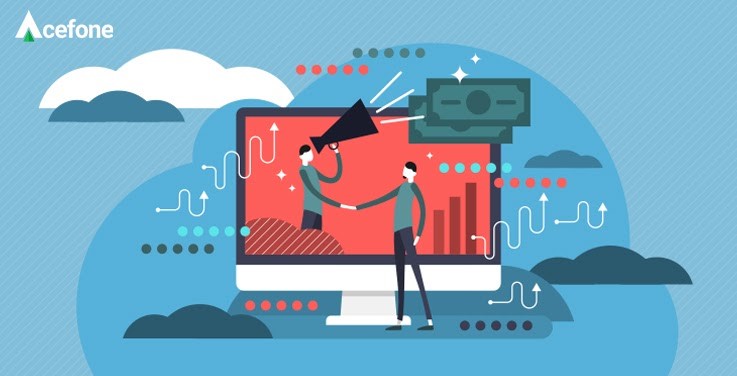 The power of affiliate marketing is omnipresent. 
You witness it in the restaurants you visit, the clothes you wear and the online wishlists you create. All of these activities are propagated through solid word-of-mouth by your known associates. 
Businesses rely on such partnership programs with publishers and other organisations to broaden their customer base. In fact, research has shown that affiliate marketing is on a steady rise. Over 80% of brands and publishers now engage in some form of affiliate marketing. This has resulted in a 27% CAGR growth of money spent on this program. 
Rise of the Cloud
As the pandemic forced businesses into a work-from-home setup, they were eager to jump to cloud services. 88% of businesses in the United Kingdom use cloud services in one form or the other. With the current economic climate and businesses under pressure to keep costs to a minimum, 67% are looking to invest further into this service. 
Companies are now understanding not only the operational but also the financial benefits of converting to the Cloud. 
This growth was consistent during the pre-pandemic timeline too. As global trade becomes more digitised, so does the desire to reach out and explore new technologies. Thus making the growth of cloud services work in tandem with the growth of the increasingly digital world. 
Affiliate marketing and its benefits
Affiliate marketing is one type of performance-based partnership program between a business (client) and a publisher or another business (affiliate). In this, the client pays a small commission fee to the affiliate whenever they lead a customer to purchase the service. 
This program helps not just the client, but all the stakeholders involved. 
While the affiliate gains a slice of the (commission) pie, the customer is introduced to an exciting new product or service. For the client, the program not only brings in new customers but also provides legitimate leads. 
Why become affiliates for a cloud service provider?
Cloud services are easy to sell
As mentioned above, with work from home becoming the new normal, businesses are now shifting their focus to cloud-based services. Not only are they cheaper than legacy storage and communication systems, but also enable businesses to improve productivity, promote easy transfer and access of information, provide more security to data and offer seamless communication.
Commissions on converted leads are a major benefit for affiliates to invest their time into affiliate marketing. And since the adoption of cloud services is on the rise, the more businesses reach out, the more solid leads they would generate. 
Additionally, commissions are not one-time payments but a source of regular income. Commission models vary with different providers, but generally, providers offer fixed compensation for the first lead convert. 
Thereafter, if the lead continues with the services of the client, then the affiliate gains a recurring slice of the pie. Thus, not only does the affiliate get a first time bonus, customer retention offers a continuous source of revenue to the affiliate. 
Affiliate marketing works best when the businesses engaged in partnership have similar customer bases. While this is good for the client to pull credible leads from the same pool of industry, the affiliate benefits from it too. 
On top of the commission received per successful conversion, affiliates get to feature global cloud service providers on their websites. This partnership attracts weight and improves the credibility of the affiliate. 
In a world where content has been declared the king, paid advertising practices have become an ancient tool to generate revenue for clients as well as affiliates. If your business continues to run paid digital marketing campaigns on their website, then a look at affiliate marketing will do wonders for your revenues. 
Thus, affiliate marketing helps not only clients but provides affiliates with a new and structured source of recurring income.
No investment just returns
The rise of affiliate marketing is often attributed to its financial model. As affiliates are not required to invest their money into the program, they are more likely to enter into partnerships with cloud providers. 
This is an extremely low-risk option for affiliates as all marketing efforts are only based on performance. That means, if a lead is successfully generated, affiliates reap the benefits. But, if no lead is converted, then there is no loss to either the affiliate or the client. 
One of the primary reasons businesses shy away from affiliate marketing is the possibility of hoarding the product's stock for the client. However, there is no physical product that you would need to store with cloud providers. Since all services are Internet-based, there are no issues between affiliates and clients about stocking. 
Leverage existing platforms
The boon of affiliate marketing comes with the use of existing platforms to communicate with customers. Affiliates do not have to create new touchpoints to engage customers with cloud solutions. Since your business already has a presence on different platforms—be it emails, texts, calls, social media, websites—these platforms are all you need to get started with affiliate marketing. 
Other types of partnership programs
If affiliate marketing does not feel like your cup of tea, then there are several other ways you can partner with cloud providers to avail mutual benefits: 
These partnership programs work on the model of purchase and sale. Here the cloud provider allows your business to purchase your services and further sell them to their own customer base. 
Similar to the reseller program, this partnership includes two businesses that enter into an agreement to sell the other's service using their own brand name. 
This partnership uses your businesses existing sales network to bring about sales for your partner business too. 
Final Thoughts
The time is now. Both the cloud service and affiliate markets are on the rise. The benefit of affiliate marketing is not limited to just finances, but this partnership also can help your business evolve into a credible and global brand.
 Interested in learning more about how the Cloud can benefit your business? Contact Acefone at 0800-084-3663.

Karan is a communications graduate with a passion for film and writing and is on an indefinite journey to search for and capture stories from around the world. He is currently exploring the world of content marketing to bring to life the products and services we use every day. Connect with him on Linkedin
https://www.acefone.com/blog/wp-content/uploads/2021/06/why-your-business-should-look-into-affiliate-marketing.jpg
376
737
Karan Beniwal
https://www.acefone.com/blog/images_acefone/logo.png
Karan Beniwal
2021-06-11 08:11:14
2023-03-21 08:09:51
How Cloud Providers are Your Best Option for a Partnership Programme?