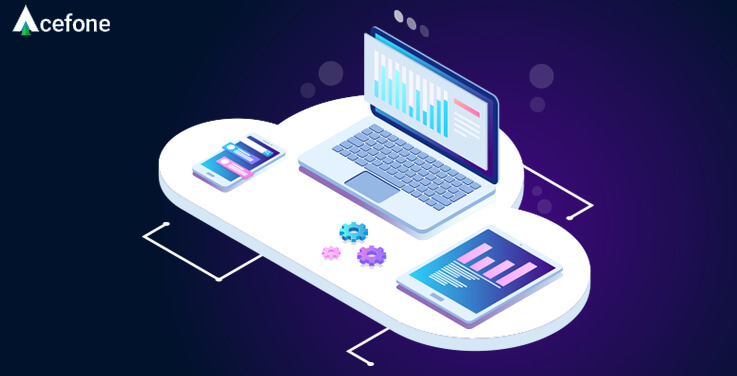 Consider this: a customer repeatedly tries to contact a business representative, only to find that they are unavailable. This customer, a UK resident, has been trying to reach an agent in Los Angeles. Owing to the difference in time zones, the representative is unable to attend to the customer. 
Although the brand has maintained a distributed environment across the globe, it isn't able to offer optimum customer services. And this can cost the business heavily, in terms of both reputation and profits, considering customers prefer one-on-one interaction. In fact, the global live chat software market is expected to reach $987M by 2023.  
However, businesses can resolve such customer service gaps by deploying softphones. 
So, what are softphones and how do they benefit companies? Read on to find out.
What Are Softphones?
A softphone is a downloadable application that is compatible across various devices and platforms. The application enables users to make calls over the Internet.
Softphones do not come as a standalone product but are coupled with VoIP systems for a better communication experience. Their interface looks similar to that of a smartphone keypad. However, it includes additional information about the caller's identity like name, their location, previous purchases, interaction history, etc. 
Softphones, dovetailed with VoIP systems, come with features that include video conferencing, call recording, monitoring, and analytics among others. 
A commendable advantage of the technology is that it ensures unfettered availability. Representatives need not be tied to their desks anymore––they can attend a call from anywhere. All they need is a reliable Internet connection and a smart device. 
How do softphones work?
Like we said, you don't need much to get your softphones going––an Internet connection, microphones, and headsets. Simply download the app, follow the setup instructions, and voila! You are ready to make and receive calls.
This also means that softphones do not need on-premise infrastructure. They work on Session Initiation Protocol (SIP) which initiates voice-over IP sessions, and converts analogue to digital signals through a reliable Internet connection. 
It improves the capabilities of cloud-based VoIP systems and supports a unified communication environment. Softphones are especially beneficial in a distributed ecosystem as they support mobility and facilitate all the features of a state-of-the-art communication system.
What are the benefits of softphones for businesses?
Supports geographical flexibility
The technology's Internet-enabled calling capabilities empower your employees to serve customers from anywhere around the world. 
The CoVID-19 pandemic has pushed businesses to look for alternate ways to connect with their customers. Softphones allow your contact centre representatives to establish these connections via their desktops and or any other communication tools used on-premise. This way, they can speak to customers and clarify their doubts straight from the comfort of their homes. 
Furthermore, softphones have proved to be a boon to businesses with an augmented global reach. Customers may try reaching out to your contact centre at any time, even during the off-hours or public holidays. 
However, with softphones, your employees will be able to attend to calls and speak to customers irrespective of their geographical location and time zones. These capabilities ensure uninterrupted customer services, thereby showcasing your brand as a reliable one. 
Enables integration with tools
Integration of softphones with Customer Relationship Management (CRM) tools helps in importing customer contacts into a single interface. Customers dread entering personal details and providing their query information repeatedly. And for an already aggrieved caller, having to repeat themselves often becomes the dealbreaker. 
When softphones are coupled with CRM, the representatives get access to customer details like name, location, and history of interactions with your brand.
This practice allows the customer and your representative to resume the conversation from where it was left off rather than having to start all over again. This saves time and eliminates the chances of agitating the customer, thereby helping with customer retention and satisfaction.
Improves team collaboration
Team collaboration is cardinal to every business' success. You should focus on maintaining a collaborative environment, even more so when working from distributed locations. 
Softphones come with features like video conferencing, one-on-one calling, instant messaging, etc. All these capabilities allow your team members to reach out to each other in case of any urgency.
Video conferencing capabilities allow meetings and casual interactions such as icebreaking sessions within the team members. In a situation like the ongoing pandemic, these apps will help in engaging your staff and eliminate the chances of them feeling isolated. 
Your team members may need assistance while clarifying customer queries and may wish to reach out to a supervisor instantaneously. Softphones have in-built messaging tools. These allow employees to message each other immediately and seek clarifications. 
In case there is a need to escalate calls, softphones indicate the availability status of the supervisor or other colleagues. For example, if the status says "busy" or "do not disturb", the representative can direct the customer accordingly. 
Moreover, softphones provide better insights into queue monitoring for sales and support teams. In peak times, supervisors can monitor the caller queue and route calls only to agents who are free and available. This will eliminate unwanted waiting time, missed calls, and confusion over the availability of agents, resulting in a streamlined process. 
Helps engage more contacts
33% of customers feel highly frustrated when asked to hold. Others feel agitated when asked to repeat themselves to multiple representatives.
Not all customers like speaking to agents on a call––they may have varying capacities to communicate. Therefore, text messaging services are just as important as voice calls. 
In the case of text messages, customers can easily connect with a business without the need to speak to a live agent. 
Yet another advantage of text messages is that you need not be instantly available to answer a text message. Customers will send SMSes that remain in your representative's inbox; they can check them when they're not occupied with calls.
These messages can be replied to in-between calls or during non-peak times. Therefore, softphones help in expediting resolutions.
Softphone software needs regular updates. You may simply opt for the latest version of the software within the application interface. This does not include additional charges and is readily available for use without adding equipment to the already existing devices.
To conclude…
Softphones are a quintessential asset for next-gen communication systems. Businesses can utilise these phones to connect over remote working ecosystems and avoid the need for employees to stay glued to their desks. 
Integrations with high-end tools and improved team collaboration are other advantages of the technology. Therefore, softphones are just the solution you need for your communication system.
Get in touch with us at 0800-084-3663 or send an email to [email protected] anytime to get started with cloud solutions. 

Olivia is an outgoing person who enjoys writing, is an SEO enthusiast, and often interacts with others in intellectual conversations. She enjoys listening to music in her free time. Connect with her on Linkedin
https://www.acefone.com/blog/wp-content/uploads/2021/04/benefits-of-softphones.jpg
376
737
Olivia Trott
https://www.acefone.com/blog/images_acefone/logo.png
Olivia Trott
2021-04-12 05:30:49
2023-03-21 08:33:28
7 Benefits of Softphones